Hôtel-Dieu Goes Green
Sunday April 7th, 2013
Posted at 10:00am

Hello time traveller!!

This article is 1930 days old.

The information listed below is likely outdated and has been preserved for archival purposes.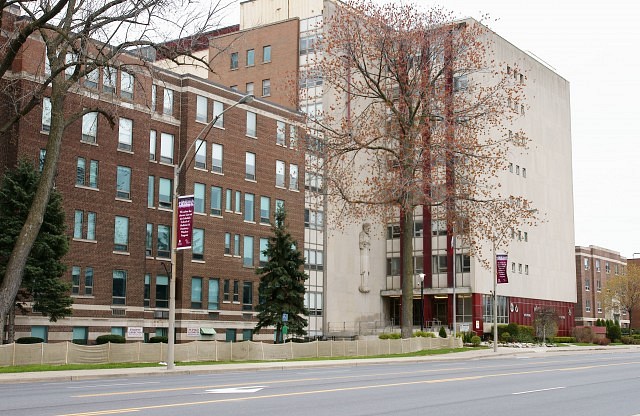 Hôtel-Dieu Grace Hospital is going green with a new environmental management system that will significantly lower landfill use.
The hospital received funding through the Ontario Hospital Association's Green Hospital Champion Fund to help support this initiative. The funding, combined with the hospital's own contribution, will enable the implementation of the Hospitals Environmental Management System which consists of various initiatives, both new and ongoing, to help minimize landfill waste.
Some of the major initiatives include:
•Recycling of "blue wrap" used to keep instrument trays sterile. HDGH's blue wrap is now recycled and is made into railroad ties and rubber mulch. This move will divert a total of 43 tonnes of blue wrap from landfill annually.
•Installation of new industrial composters which will convert organic waste from food into fertilizer overnight. This will divert 83 tonnes of food waste from landfill annually.
•Installation of new, automated bedpan flushers in each nursing unit. The technology will eliminate the plastic bedpans and urinals sent to landfill when they can no longer be adequately cleaned for patient use, and minimize manual cleaning done by nurses.
•Switch products made with Styrofoam to plastic or paper, both of which can be recycled.
•Reuseable pharmaceutical containers will be used to safely dispose of waste medication. The contents of full containers will be properly disposed of and the container sterilized and re-used. This will divert hundreds of pharmaceutical containers from landfill each year.
•Reusable biomedical waste bins will eliminate the use and waste of over 16,300 plastic bags per year. The contents of full biomedical waste containers, used to safely dispose of biomedical waste, will be disposed of properly and the container sterilized and re-used.
The successful application was led by Taylor Purdy, a Master's student in environmental engineering at the University of Windsor, who joined HDGH's Environmental Services team in spring 2012. Her business case included a significant analysis of how HDGH currently deals with waste, and what can be done to reduce its environmental footprint.
"HDGH will be one of the first hospitals to implement a thorough Environmental Management System to help reduce landfill waste and reduce our costs," said Ken Deane, president and CEO of HDGH. "I am extremely proud of Taylor's dedication to the environment and her development of an incredible plan to position HDGH as a true leader in waste reduction for our province and provide an excellent template for waste reduction that other hospitals can employ."
A dedicated "Green Team" comprised of HDGH staff will keep track of the hospital's progress during and after the implementation of the Environmental Management System. HDGH is also committed to more vigorous recycling of the hospital's paper products, glass items, plastics and metal.
"We see the Green Hospital Champion Fund as a catalyst for helping Ontario's hospitals adopt and implement projects that are good for the environment and help enhance overall organizational performance," said Pat Campbell, President and CEO of the Ontario Hospital Association. "We are thrilled to see Hôtel-Dieu Grace Hospital undertaking this ambitious initiative and believe it will lead to environmental and financial performance improvements for the organization and the community it serves."