Fit-Life Challenge: Raw Talk with Neviana
Saturday October 27th, 2012
Posted at 8:00am
Hello time traveller!!

This article is 3622 days old.

The information listed below is likely outdated and has been preserved for archival purposes.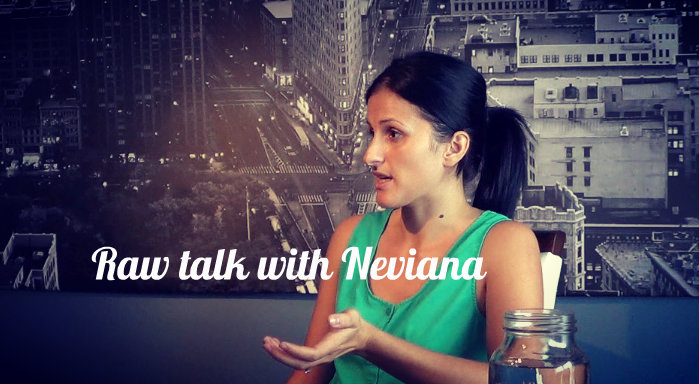 So I sat down with Neviana today to talk and get to know her more and pick her brain on the way she eats and why.  I wanted to share it with you all because CK and I just adore Neviana , we love every post she shares on axfit.com and she is one of the coolest humans we have in our life.  She is an amazing mother, photographer and wife and has done some amazing research on everything to do with food.  She is self taught not only because she had to for her own health but it's her true passion.  She is dedicated to it and wants to educate everyone she can on it, which truly gives us longevity in life.  She is a hero if you ask me and we are  honoured to have her a part of Adrenaline and with this Fit-Life Challenge.  She is my go too girl for anything to do with FOOD.
So a few weeks ago Neviana inspired me to quit coffee and I am feeling better then ever, my skin feels great and I love the fact that I am not "hooked" on anything.  Well I'm hooked on my Hot water and Lemon, but thats a good thing.   So after meeting with Neviana today and having the conversation we had below in the video, I have decided this weekend I am going to upgrade my pantry & fridge .   I am also going to drop gluten and like she said start with a 2 week period and then go from there. Setting a small goal is more practical to accomplish and from there I can keep setting them .   Besides they have some great gluten free bread, crackers and cereal at most grocery stores these days,  Zehrs has the biggest gluten free and organic sections than any other.   Unless you go to whole foods in the states but for around here Zehrs is great.
We challenge YOU … you at home reading this to even just change a few things in your diet, we can always improve in many aspects in life.  This one is actually easy to control so let's start today and gear towards whole foods that give us the nutrients our bodies need and are starving for.  If you don't think it's worth it then what are you here for really?  We must be thankful for what we have here on this earth and give back all that we  possibly can.
Here's a list of the things I, myself am going to change this weekend.  I'm starting off simple as you should too.  Nevianna told me the worst thing you can do is jump in over your head. She said start simple, even by just changing your milk to plant based and drinking more water with lemon.
My List of changes I am making this weekend and for the next 2 weeks. 
Change my skim milk to Coconut, Almond or Rice (gonna try them all and whatever one i like best will stay)
NO MORE BREAD unless it's gluten free bread. (yes its more expensive but you don't fuel your car with crappy gas do you?)
DRINK MORE WATER!!!
Buy local veggies & fruits as much as possible ( All the produce shipped from all over the world is picked when it's green, missing a lot of nutrients it should still gain from its growth.  Then they are also sprayed before going on these trucks to be shipped.)
Make 3-5 loafs of Neviana's Healthy Banana Bread  and freeze it to toast and have in the morning with my Hot water and lemon.
That's it, that is where I will start on my journey to a healthier lifestyle. I'm keeping it realistic and I'm going to achieve it. So you can try these with me or pick your own, but start small and reasonable.  Maybe for you it's just cutting out the fast food and boxed preservatives, pick some small goals and let's do this together!
[youtube]http://youtu.be/9eLwFEKEJTE[/youtube]