Fit-Life Challenge: Fight or Flight…let's FIGHT!
Thursday October 18th, 2012
Posted at 4:10pm
Hello time traveller!!

This article is 3632 days old.

The information listed below is likely outdated and has been preserved for archival purposes.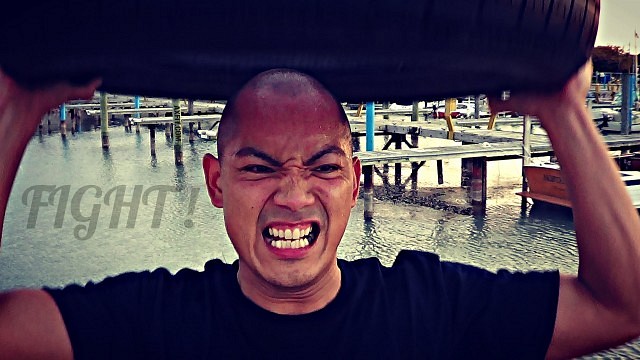 Workout #1 is happening tonight (October 18th 2012) at the WFCU Center!
We expect contestants will be a bit sore from their Fit-Test on Tuesday and plan to remind them quickly that being "a bit sore" is a way of life for the next few weeks.
We are really happy with the attitudes and dedication shown by ALL contestants in Episode 1. We know that as the intense workouts begin and contestants begin to be challenged and pushed to their limits, attitude becomes the number 1 factor in determining success or failure.
It is  fight or flight. Too often what happens is people quit ("flight") or end working out when pushed to their limits and required to overcome current fitness levels. What needs to happen and will happen with our contestants is to break through ("fight") plateaus and reach a higher fitness level.  It's very simple – Don't Give Up! Stay Positive! Don't Forget Your Goal! (have you been writing down your goal when you wake-up and before bed?)
EPISODE 2: PREVIEW
In Episode 2 we will be in the face of contestants and pushing them through their workouts. We expect frustration, bitterness, and A LOT of soreness this weekend. Let's see how each contestant does in an Adrenaline Class and how they have been making out this week on their new diet/nutrition plans. Stay Tuned for Episode 2 October 19th!!
Let's FIGHT through the workouts tonight and take our lifestyle to the next level! 
FIT-TIP OF THE DAY: MUSCLE SORENESS
Muscle soreness typically is just a result of trying something different, working ignored muscles or pushing your body in a way in which it isn't accustomed. We plan on shocking contestants bodies for the next 2 months and as such…hear about it.  We do want to make a point of letting the audience and those doing Fit-City Challenge know muscle soreness is not required to build muscle or burn fat…it is just a result of working muscle's that have been idle for a while.
WHAT TO DO ABOUT MUSCLE SORENESS
 Warm-Up Before Workout
 Stretch After Workout
It's actually better to get in a good warm-up before you exercise and save the long stretching for afterward, when your muscles are already warm. If you are looking for more help…a couple of natural substances have been touted for preventing sore muscles, including antioxidants like vitamin C. You also might find relief from post-workout soreness by beefing up on protein.
We will be posting a Warm-Up Video & a Post Workout- Stretch Video for you all in the Fit-City Section sometime in the next few days.