Become A Contestant On The Fit-Life Challenge
Monday October 1st, 2012
Posted at 9:43pm
Hello time traveller!!

This article is 3647 days old.

The information listed below is likely outdated and has been preserved for archival purposes.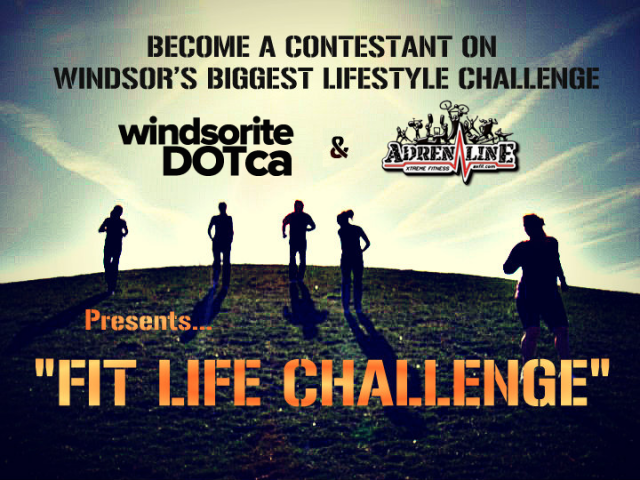 [youtube]http://www.youtube.com/watch?v=mU_GJc2zZ4c[/youtube]
WINDSOR'S "FIT-LIFE CHALLENGE"
windsoriteDOTca & Adrenaline Xtreme Fitness have partnered up to deliver Windsor's first ever online lifestyle challenge. Complete our application form for your chance to be chosen to take part in this 2 months life changing journey to become the Fit-Life Challenge Winner!
You will take part in Adrenaline workouts, follow nutrition guidelines, and share your experience on windsoriteDOTca.
This challenge is going to be amazing and you will feel so empowered and proud of everything you will be doing. This life is not a practice run.. we are only here once, so make it count baby!!! You will not only be a part of a challenge but amongst an amazing group of Adrenaline Junkies, that will support, motivate and inspire you to push your limits and give it everything you got!
Updates will be provided daily for viewers to follow and cheer for their favorite contestant.
HOW IT WORKS?
5 contestants will be chosen to take part in a powerful 2 month life changing challenge to see who can make the most radical lifestyle transformation. The challenge is to transform your fitness, nutrition, and all around lifestyle!
Beginning October 19th 2012 training will begin with Adrenaline Xtreme Fitness (AXFIT.com) and the journey of 5 chosen contestants will be documented on windsoriteDOTca.
Updates will be provided daily for viewers to follow and cheer for their favorite contestant.
Fit-Life challenge will conclude December 20th 2012 and a winner will be determined by the viewer's through online voting.
WHAT TO EXPECT?
Expect by the end of this 2 month journey to be the best version of yourself, EVER! Expect to feel energized, strong, and confident! We have changed so many lives over the years and know how to bring out your full potential. Expect to be supported through the struggles and coached through all of your training, eating, and lifestyle transformations.
WHAT ELSE TO EXPECT?
Expect to be filmed…a lot!
Expect to be inspired…a tonne!
Expect to put in hard work…daily!
Expect to wow…all your friends and family!
Expect to go outside… your comfort zone!
Expect to be welcomed…by all AXFIT members & windsoriteDOTca readers!
Expect to change your eating…in a GOOD way!
Expect to pushed to the limit…and then some more!
WE STRONGLY URGE YOU TO APPLY IF:
You are over the age of 18 and have struggled with your fitness and healthy lifestyle habits. If you truly want to shape up and have the personality, desire and passion to take on this publicly documented challenge.
WHY APPLY?
This is an opportunity of a life time! You will receive 2 full months of personalized lifestyle training, compete to win a grand prize, and take part in Windsor's biggest online reality challenge series. This will be a positive experience that will inspire and make change in not only your life but hopefully inspire others to make healthy changes in their lives too.
THE PRIZE:
2 Year Membership at Adrenaline Extreme Fitness.
Video Documentary of your Journey by K4 Digital Media.
Assorted Gift Basket From Local Sponsors.
APPLY HERE:
To Be Chosen as a contestant on "Fit-Life Challenge" applicants must meet the following requirements:
Must be at least 18 years of age.
Agree to release Adrenaline Xtreme Fitness, windsoriteDOTca and its affiliates from liability related to the activities they undertake in class and during filming.
Applicants must agree to release their personal information for use to use on the show and website.
Must agree to allow their image, audio recordings, voice, video footage and all application information to be used.
Applicants must agree to allow all rights to edit all video footage.
Contestants must be ready to change their eating habits and keep a food log book of everything they eat and drink.
You must be comfortable with having cameras in your face and around you at anytime.
Applicants must be comfortable with and agree to allow video footage being taken in their home for "surprise visits" to check up on you and your fridge.
First 2 weeks of Challenge you must attend a minimum of 2 Adrenaline classes a week.
After first 2 weeks must attend a minimum of 3 Adrenaline classes a week.
1 Home Workout/Audio Workout to be completed each week.
If you or someone you know is a good candidate for this challenge complete the application form!
FREQUENTLY ASKED QUESTIONS:
If I am selected to participate on the show, what is my time commitment?
If you are selected as a contestant you must be available to commit yourself to the competition and taping of the show for approximately 2 months (October 2012 – December 2012). Dates are always subject to change.
Will I be notified if I am selected or not?
Unfortunately, we cannot contact every person who applies and inform them of their status. However, we will update our website, Facebook and Twitter accounts as soon as all the finalists have been selected and notified.
Should I quit my weight loss plan since I am applying for a weight loss show?
Absolutely not. We encourage you to continue with your weight loss throughout the process. If you are not selected for the show, then you are already on the right track to a healthier lifestyle and meeting your weight loss goal.
Can I nominate someone who I think would be great for the show?
Yes! Please send nominations to [email protected]. Please include your name, age and place you reside and the nominee's name, age, current city/state and why they deserve the chance to be on Fit-Life Challenge.