Featured Local Artist: Julie Sando
Wednesday March 14th, 2012, 2:15pm
Hello time traveller!!
This article is 4030 days old.
The information listed below is likely outdated and has been preserved for archival purposes.
Between surveying Detroit Rock City's art scene and having a persuasive influence in our local artistic developments, Julie Sando is one of our own. This fellow Windsorite spends her energies teaching and creating. By day Sando is an Instructor and the Information Officer at the School of Visual Arts at the University of  Windsor but by night she is a local artistic heart throb. You should catch this internationally renowned photographic artist lecturing students on the importance of images in her Contemporary Visual Culture class. No stranger to culture she fully embraces what the city of Windsor has to offer.
Sando's approach to image-making has allowed her to combine her unique interests in each art piece she creates. Usually with an underlying performative approach, her photographs focus on the topics of identity, gender and romance. Drawing upon themes from advertising and other aspects of visual cultural, Sando successfully unites pop culture with her own personal accounts of everyday life.
Currently working on a new series titled Loving (In Stereo), Sando spends countless hours sifting through old 45's. The staff at the locally owned and operated Dr. Disc know the drill. She'll make her way up the stairs to the back room where she will rummage through neglected boxes full of these once loved discs. Allowing herself only 30 minutes each visit, she sets aside the records that catch her eye hoping to create a display of the music that once boomed throughout Windsor and Detroit alike. With her keen sense of detail she acknowledges the differences between the A side and the B side of each 45 as unique cultural signifiers. She searches for unintentionally artistic markings created by former owners (sometimes a star highlighting "the good side" or a signature indicating property), but it is more than the material value that is explored.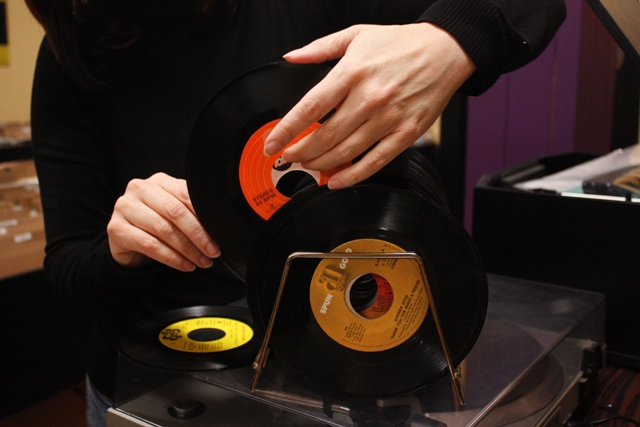 What summoned this project? After focusing her attention on her Tapping Jack project where "Sando retyped Jack Kerouac's novel On the Road to create a simulated scroll highlighting the author's cultural romanticization of lost boys, bop musicians and migrant farmers" she has set her sights on our very own culture in Windsor.
Her archaeological approach to mining local cultural artifacts has led her to study Motown's legacy and other influences in Windsor over the years. "Music and art are indicative of large social issues" says Sando "I'm looking specifically at records that were collected by people in the Windsor/Detroit area because I believe they reveal our community's social outlook as well as our tastes and preferences."
Sando does collect records in other cities and is quick to note the differences in what is available here and elsewhere. The day I met her for this interview was the week that Soul Train creator Don Cornelius died.  She commented that "during the 70's, there were public displays made of the destruction of disco records and I recall people wearing DISCO SUCKS t-shirts. Disco posed a threat of some kind (especially to white rockers, rock n' roll radio stations and record labels). It is interesting to me that a music genre that was not overtly political became politicized in this context." Turn the Beat Around : The Secret History of Disco by Peter Shapiro, is one of many interesting books Sando has dived into while developing her series.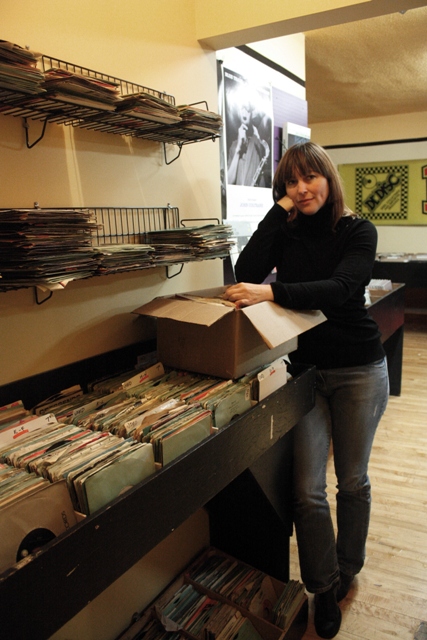 These among other ideas get this artist's mind going. Sando describes the importance of "intellectual stimulation for an artist" and "being surrounded by open-minded people". Although this industrial city in the past has focused strongly on the automotive business, she says it best "things get made here and that's inspiring". As Sando continues to alight a disco inferno in the minds of many she also continues collecting and working right here in Windsor, Ontario. Visit her website for upcoming shows and events.
Content Continues Below Local Sponsor Message
Content Continues Below Local Sponsor Message
Content Continues Below Local Sponsor Message