Flash Mob 2012 in Windsor Essex Happens Feb 29 and You're Invited to Make History
Monday February 20th, 2012, 12:15pm
Hello time traveller!!
This article is 4051 days old.
The information listed below is likely outdated and has been preserved for archival purposes.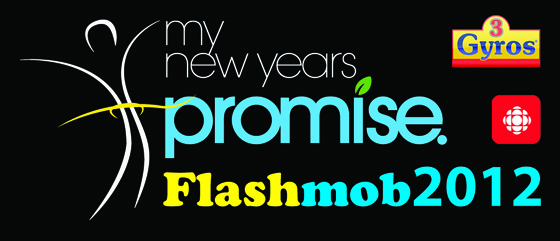 Written by Eric Bonnici
Flash Mob 2012, positioned to become the biggest flash mob ever in Windsor Essex, is giving members of our community the opportunity to become part of history. The purpose is to inspire Windsor Essex to join together and spread a message of healthy living through an "exercise flash mob". Anyone interested is invited to join. So far over two hundred people are onboard. The Windsor Essex flash mob is unique because it's happening at multiple locations simultaneously. There will be a main flash mob and several smaller satellite flash mobs. Key local players include a well-known media personality, a salad dressing company, an award winning chef, a director of fine arts, a professional dance choreographer, and a Team Canada Olympic competitor.
Flash Mob 2012 is sponsored by 3 Gyros, producers of zero calorie salad dressings, in partnership with CBC Windsor to support the national CBC Live Right Now (CBC LRN) initiative. The alliance makes perfect sense because Flash Mob 2012 evolved from the My New Year's Promise (MNYP) challenge that 3Gyros began sponsoring on January 1, 2012. MNYP brings together Lake Shore Fine Arts director Sarah Ilijanich, Olympic qualifier and Team Kersey Cardio Kickbox and Cage Fitness owner Krista Kersey, and award winning chef and lifestyle nutritionist Angela Olivito. Former Windsor resident Kimberly Siepmann from Kiki's Kitchen provides support for those with gluten challenges.
The idea behind MNYP is to spread a message of health and wellness at no cost to participants by offering support, education, and motivation to people who want to live a healthier lifestyle. Prior to MNYP Kersey helped Ilijanic lose 100 pounds but she put 25 pounds back on. MNYP documents Sarah's journey to lose those pounds once more as she strives to live a healthier lifestyle. Together the ladies are harnessing the power of social media to offer free coaching by producing videos, blogging, tweeting, and using their Facebook page to create that critical support system that inspires people to reach their health and fitness goals.
Similarly, CBC LRN aims to inspire Canadians to join together and change the health of this country. Their goal is to make a big impact by encouraging Canadians to make small changes to the way we move and how we eat.
As word of the event spread others in the community have gotten involved. WETech Alliance's Yvonne Pilon is offering her skills to organize the event. Dancing With the Stars Windsor choreographer Glenn Baccaro joined the team to create the hybrid dance/exercise routine. The Windsor Essex Economic Development Corporation is supporting the initiative. CBC News at Six host, Susan Pedlar proudly advocates the message behind the Flash Mob.
"Windsor – Essex County is a great place where we look out for one another and support each other in all kinds of way, and that can apply to health and fitness too," says Susan Pedler, who has helped to encourage more than 2000 people to walk daily as part of the Live Right Now Windsor Walks activity.
There will be one large main flash mob along with several satellite flash mobs across the region. Schools, sports teams, seniors, and more are taking part. Dance routine training videos are available online for participants so they can practice for the event. The location of the main flash mob is being kept secret in order to preserve the element of surprise but will be released to participants a day or so before it takes place. Anyone interested in supporting Windsor Essex to spread a message of healthy living can easily join Flash Mob 2012 by going to FlashMob2012.com.
[youtube]http://www.youtube.com/watch?v=SOusrpckFOc[/youtube]
Content Continues Below Local Sponsor Message
Content Continues Below Local Sponsor Message
Content Continues Below Local Sponsor Message