Stayin' Alive – CJAM's Annual Pledge Drive Kicks Off This Friday
Thursday November 3rd, 2011, 11:15am
Hello time traveller!!
This article is 4161 days old.
The information listed below is likely outdated and has been preserved for archival purposes.

Starting this Friday, November 4th and continuing for seven days, Windsor-Detroit's campus community radio station, CJAM 99.1 FM will be holding it's annual pledge drive.
During this time, the station will be reaching out to the community asking for donations that will help to keep things running for the next twelve months.
As a campus-community station, CJAM's airwaves are full of alternative music, news, and talk shows that are all hosted by volunteers with a passion for their respective program type. With a multi-language platform, various genre shows, and block-programming, listeners in the Windsor-Detroit area are always able to hear something that won't be found anywhere else on the airwaves.
Although show hosts perform their duties on a volunteer basis, there are still costs to running the station. To help cover these bills, CJAM holds this annual pledge drive that brings in about 20% of the station's annual income
Last year the purpose of Pledge Drive was to help raise money for a signal increase, so that a larger area can be bathed in the glow that is campus-community radio. The final amount raised through the station's efforts was nearly $30,000, and what was not needed from that to pay the bills that keep the station afloat has been put toward this project. It's true that the increase has yet to occur, but this is a lengthy and expensive process that is currently being tackled by CJAM administration.
This year the station's goal and slogan are much simpler; Stayin' Alive. Yes, it is a reference to disco music, and no, the entire week of pledge drive won't mean listeners are bombarded with the sounds of the 70's. This is just the station's way of being honest about what we're doing – raising money to keep the lights on.
The overall goal for this year's fund-raising is $30,000, up a bit from the usual $20,000, it's true. But what we're looking to do is raise the minimum needed to keep things going for another year, and perhaps bring in a bit extra that can go to other projects such as studio maintenance and upgrades, and the power increase.
Like every other year, there are incentives for those who pledge money to the station. The always popular CJAM T-shirt will be available, as well as CD's, a tote bag, and this year's new introduction – a beer stein.
There will also be a series of musical events held in Windsor and Detroit, with show proceeds going towards the station.
Friday, November 4th, 2011
FM Lounge (156 Chatham Street West, Windsor)
Loud Showcase:
Cellos
Surdaster
Silent Movie Type
$7 – 19+ – 10pm
Saturday, November 5th, 2011
Cadieux Cafe (4300 Cadieux Road, Detroit)
Detroit Showcase:
The Muggs
Jarrod Wolny (of Grayling)
$10 Minimum Donation – 18+ – 8pm
Sunday, November 6th, 2011
Phog Lounge (157 University Avenue West, Windsor)
Film Screenings:
Nirvana – Live at the Paramount (presented in collaboration with A Man, A Plan, A Canal)
Saturday Night Fever
By Donation – 19+ – 8pm
Thursday, November 10th, 2011
The Room Nightclub (255 Ouellette Avenue, Windsor)
Dubstep Dance Party!:
Dstruct.o
KERO
Martin Deck (Wake The Town)
$5 Minimum Donation – 19+ – 10pm
Friday, November 11th, 2011
The Phog Lounge (157 University Avenue West, Windsor)
Indie Rock Showcase:
Imaginary Cities
Child Bite
Menos Mal
$7 Minimum Donation – 19+ – 10pm
There will also be events at the station during the week of pledge drive, including a 24 hour bed-in by Oracle (Mondays, 9:00 – 10:30 a.m.) host Renee Morel, and live on-air performances by Windsor punk group EVL on The Windsor Scene (Wednesdays, 5:00 – 6:30 p.m.). Tune in throughout the week to see what other shows have going on for this event.
CJAM is an integral part of the music and arts community of the area, as well as a fantastic platform where everyone can have their voice heard. Help keep this outlet open by pledging today.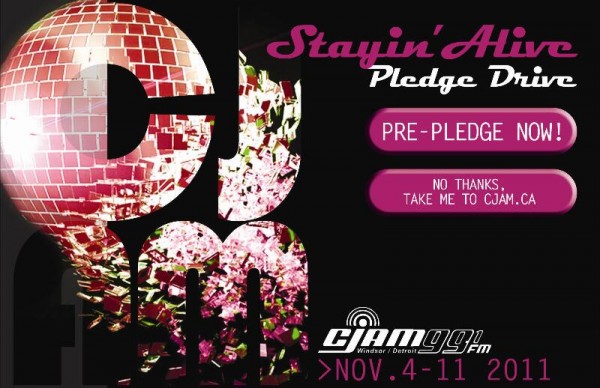 Content Continues Below Local Sponsor Message
Content Continues Below Local Sponsor Message
Content Continues Below Local Sponsor Message