NOW OPEN: Burger Lounge – Organic Burgers Lead New Dining Trend
Wednesday October 26th, 2011, 3:15pm
Hello time traveller!!
This article is 4239 days old.
The information listed below is likely outdated and has been preserved for archival purposes.
Green is the new black in business these days and restaurants are no different as a new trend toward healthy, planet-friendly eating creates demand for a new niche between unhealthy fast-food burgers and expensive but still-unhealthy, gourmet burger restaurants.
The Burger Lounge opened this week on Ottawa Street in Windsor, a joint venture by partners Joe Fallea of Il Gabbiano and Gus Bressan of the former Tony Macaroni's.
HEALTHY
"We're bringing a healthier choice to the burger restaurant experience," said Joe Fallea.
Haven't we heard this before?  Burger places adding salads or wraps to their menus in order to minimize the losses of health-conscious customers?  Except this time, it's different.  When Fallea and Bressan say healthy, they really mean it.  And they don't sell pizza or wings, thank you very much.  The Burger Lounge is strictly for burger lovers.  Beef, turkey, or vegetarian.
The entire menu at Burger Lounge was literally built from nothing as Fallea and Bressan overcame obstacles to make their vision happen.  "I told my baker what I wanted for the bun and he said it can't be done.  It won't hold and it won't last," said Fallea.
"We've produced a bun that is as soft as a regular hamburger bun with almost 100% whole wheat and no preservatives.  So what if it only stays fresh for one day? We get fresh bread every day. You buy buns in the grocery store and they stay soft in your cupboard for a week because of the preservatives."
The 3 ounce bun is a specially designed shape so it has fewer carbs but still holds the larger 6 ounce patty.
"Everything is local. We use local grains, a local baker, local tomatoes. Our cheddar cheese is produced 100 kms away."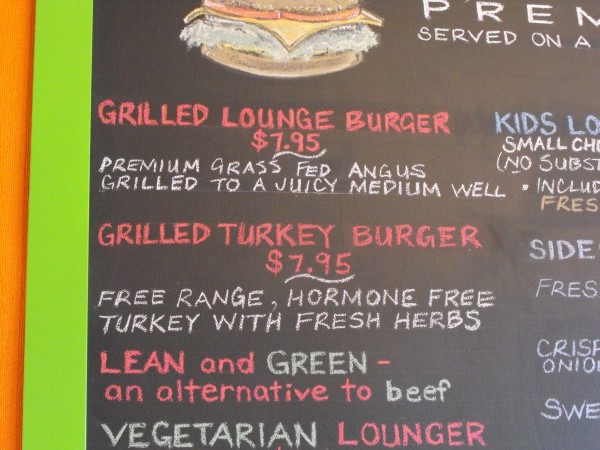 GRASS-FED BEEF
"Our beef supplier didn't want to sell to us at first," said Fallea.  He explained that the farmer came to personally speak with the owners and inspect their facilities before deciding to supply them with his coveted beef raised under strict protocols.
"In North America the majority of beef is still corn fed.  Times have changed," he said.
"Demand for grass-fed beef is growing but restaurants aren't there yet."
"Grass-fed beef is leaner.  Our burgers have only a 15% fat content.  The meat also contains higher Omega 3 levels and it's hormone-free, so our burgers taste much better and are better for you."
FAST CASUAL
According to Wikipedia, the fast-casual restaurant "is a type of restaurant that does not offer full table service but promises a higher quality of food and atmosphere than a fast food restaurant." Burger Lounge is likely one of the first to ride this growing trend as there are no wait staff, only counter servers.
"There's no waiting for a table, waiting to order, waiting for the bill.  There's no wasted time."
"We're not as fast as McDonalds but we're definitely more healthy," says Fallea.
I asked Fallea for his vegetarian burger recipe.
"The vegetarian burger is made of organic quinoa, with brown rice, carrots, zucchini, mushroom, garlic and beans," he said.
"Seasoned with love.  100% pure love."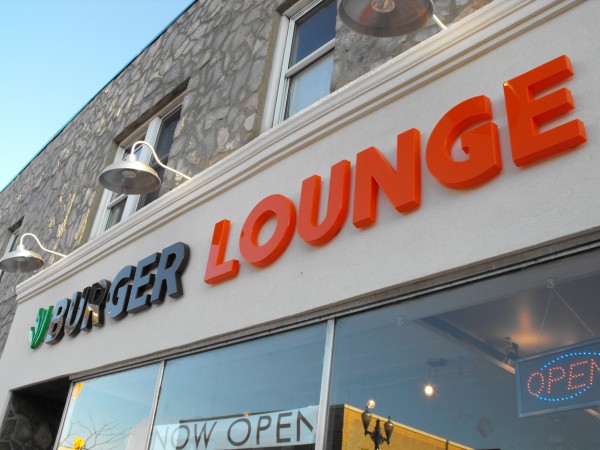 Burger Lounge is locate at 1459 Ottawa Street or online at  www.theburgerlounge.ca
Content Continues Below Local Sponsor Message
Content Continues Below Local Sponsor Message
Content Continues Below Local Sponsor Message