Our Lady Peace Bringing New Tunes and Renewed Energy to Tecumseh's Cornfest
Monday July 18th, 2011, 12:15pm
Hello time traveller!!
This article is 4338 days old.
The information listed below is likely outdated and has been preserved for archival purposes.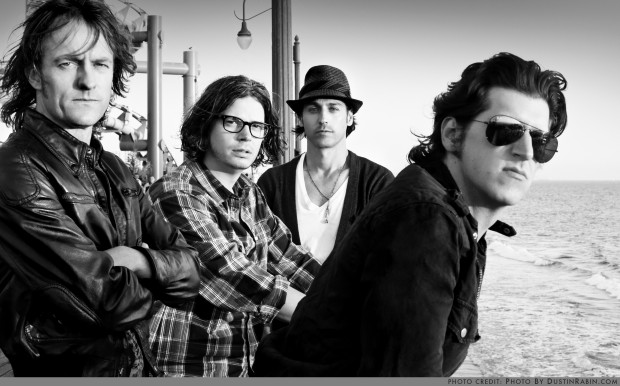 Riding a wave of creativity, Canadian band Our Lady Peace will soon return to Windsor-Essex county.
It's a performance 11-years in the making. Aside from lead-vocalist Raine Maida and guitarist Steve Mazur's 2010 acoustic show at The Spitfire & Firkin restaurant, OLP hasn't played here since 2000. On August 27, that streak will end as the band (including bassist Duncan Coutts and drummer Jeremy Taggart) headlines Tecumseh's 36th Annual Cornfest at Lacasse Park.
Known for hits such as Somewhere Out There, All You Did Was Save My Life, In Repair, Starseed and Superman's Dead, OLP's live performances have evolved a lot since their last visit.
"I think it's like night and day really," said Maida. "It's a whole different energy, like a VW bug compared to a freight train – which is normal. I mean you hope that's the way it goes you know, we've just gotten much better …Steve's a pretty phenomenal guitar player, he's really come into his own on the last couple of records and I just think that gives the band another dimension live that we didn't really have as much before. We've just developed into this live entity and that's how we think of music now."
The Cornfest gig is one of a handful scheduled for the summer, following an ambitious 2010 tour. After playing venues for two-night stands, (the first to perform their Clumsy album in its entirety and the second to do Spiritual Machines) something unexpected caught their attention.
Revisiting the past, Maida and his bandmates soon realized how it would influence their next move.
"I think Spiritual Machines in particular was a really interesting thing to undertake," he said. "I think back for us, that was pretty ambitious. We really took some chances musically and sonically and I think digging into some of those songs – in particular, a song called All My Friends and a couple of other things – we realized, wow, we haven't gone there much in the last few records."
Now working on a new album, Maida considers the music to be more experimental and ambitious than Spiritual Machines. Being about seven-eight songs into recording, they've also brought in Jason Lader (Maroon 5, Julian Casablancas) to coproduce. Friends with Maida, Lader is acting as gatekeeper, ensuring the band doesn't rest on its laurels while applying his musical sensibilities to the project.
While in studio, OLP has also embraced online technology to connect with fans. Album sessions have been broadcast via Ustream, giving listeners a unique peek behind the scenes. Offering a glimpse of where the band is going, those tuning-in have seen them work through early versions of new songs like The Wolf and If This Is It.
Maida thought the webcasts were interesting to try since the opportunity was now available.
"I think we did it – not as a trial – just as something we thought would be interesting," he said. "We're able to do that whenever we want now so why not try it? It was a lot of fun …I thought it was interesting. We definitely saw some of the feedback and it seemed like people are enjoying it. If any of our favourite bands when we were growing up, if we would've had a way to see into the studio for a second – as it was going on, instead of on a DVD three months later, that would've been cool."
Songs have changed shape since web streams as well. The Wolf, recently debuting at a Niagara Falls, NY, gig, was recut three times. Maida also mentioned a bridge and guitar solo Mazur recorded for If This Is It, which has also been developed further. While not the final ideas, the band hopes it will let people connect the dots and feel included in recording sessions without being in the room.
Continuing that idea, OLP will also test new songs on the road this summer. Maida admits they haven't really done so before an album was finished, aside from Clumsy. As a result, he believes the challenging material will make shows better.
"The music we're writing right now," said Maida. "The last record and this new record right now, it's just more ambitious musically so that stuff just leads to better live shows as well."
People can also expect an expanded light show and video, something OLP takes great pride in. After finding a groove on their last tour, Maida thinks the band will continue hitting high energy levels to make for some of the best shows they've performed to date as well.
Cornfest's Saturday admission fee is $5 and further information about the festival can be found online.
Content Continues Below Local Sponsor Message
Content Continues Below Local Sponsor Message
Content Continues Below Local Sponsor Message