Natural Earth Organics
Tuesday June 7th, 2011
Posted at 12:15pm
Hello time traveller!!

This article is 3789 days old.

The information listed below is likely outdated and has been preserved for archival purposes.
Natural Earth Organics Right to Your Doorstep
There's a little sprout in an open field in Essex County. Right now it's pushing its way through layers of soil, using the information stored in the tiny little seed to transform itself into a large, sprawling plant, opening solar-panel leaves to capture the warm sun energy and convert it into a fresh, nutrient-rich cucumber. This cucumber will be raised in the soils you walk in and absorb the same rains that touch your face. It hasn't been genetically altered and and it won't infused with dangerous chemicals, pesticides or synthetic fertilizers. It will only have to travel a matter of minutes to your home, and If you like, Linda Wonsel will go get it for you and bring it right to your doorstep.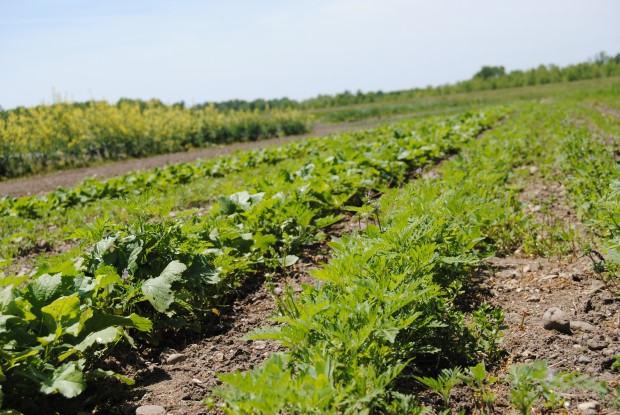 Seeking out local farmers who are growing organically, gathering their produce together and delivering it to residents of Windsor and Essex county is all part of the service Linda offers with her business, Natural Earth Organics.  The available fruits and vegetables are listed on her website, along with organic eggs, organic meat, and a variety of grocery items like sprouted grain bread and local raw honey to name a couple. Everything is organic and wherever possible it is local. The only exceptions are exotic fruits and vegetables like pineapples and bananas that can't grow in this climate. After you make your selections on the website, they are boxed up and then delivered, by Linda, right to your door for Windsorites and to designated drop off sites for county dwellers.
Linda took time out of her busy schedule running this "one man show" to speak to me. We met at Walkerville's beautiful Taloola Cafe, where Linda sipped an iced tea with a fresh lemon slice and spoke about her business and her passion for organics. Linda purchased the business six years ago from the two women who were running it at the time. She had met the previous owners when, tending to her gardens of organic wheat grass and sunflower sprouts, they approached Linda about distributing her produce. When the women decided to sell what was then called Natural Earth Gardens, Linda very happily stepped in. "I said, Um I'll buy it!" Linda laughs.
As for the choice to sell exclusively organic, "I've been growing organic food since I had a house, twenty or twenty five years," Linda says, "the sprays really did just bother me, because you're not just spraying to get rid of  a bug on the plant, that spray is going into the soil and into the plant." Linda found that synthetic pesticides and artificial fertilizers were unnecessary and organically grown vegetables produced yields that were every bit as successful as those treated with inorganic substances, and without the negative health and environmental repercussions. She recalls the reaction of her father, who had grown gardens all his life as a way to feed the family, to the organic zucchini being grown in some of her first gardens. Upon arrival at her home for a visit, Linda remembers, "he rounded the corner and just said, "Oh would you look at this!" The zucchini plants just had these HUGE leaves and that was just from compost and such. He was really proud of me!"
For those who don't know, the difference between conventional, natural, and organic food products is listed on the Natural Earth Organics website and it is eye opening to note that while natural sounds like a good option, the label is somewhat misleading. Although such products contain no artificial flavours, colours or preservatives, there may still have been artificial fertilizers, synthetic pesticides, irradiation and genetically engineered ingredients used in their production and of course, none of these are natural.
Those are some reasons for choosing organic produce, but there are also some very good reasons for choosing local wherever possible as well. These include supporting local agriculture and environmentally friendly practices by reducing the amount of emissions in the transport of the produce. In addition, the sooner the fruits and vegetables arrive in your home and are consumed after having been plucked from the fields, the more nutrients they retain and the fresher and more delicious they taste.
Natural Earth Organics does even more than bring organic, healthy and local, products together in one place and offer an extremely convenient delivery service, the website is a kind of hub for those interested in developing healthy lifestyles. There are a variety of recipes like Crispy Chickpea Patties and Asparagus Pasta Salad to inspire your meals, a listing of conscious businesses like ShopEco and Choices 4 Wellness that are devoted to promoting change and easing the transition, and regularly posted community- bolstering events such as Vegan Potlucks where you don't have to be a vegan to join in, just bring a vegan dish .
In addition to the many resources on the website, having an account with Natural Earth Organics means you can receive a weekly newsletter put together by Keith Lock, a contributing writer at RawFoodHealthWatch.com, updating you on new products, events and recipes as well as providing information about different health foods with amusing and fun trivia facts interspersed.
Although Linda says she would like to see everyone have a garden and be connected to source of their own food, producing it in environmentally friendly ways and being nourished by produce that is not harmfully altered, she realizes that this isn't an option for all families. "Having a garden is a good way to feed your family, as well as to relax and get exercise but a lot of people are so busy now that its just not feasible" she says, and that's where her service comes in, providing that local, organic, healthy produce. And Linda is happy to share with you where your produce is coming from and tell you about the farms and greenhouses where it grew so that you can still feel connected to the source of your food.