ShopEco; Inspirations For A Healthy Lifestyle
Tuesday May 10th, 2011
Posted at 11:15am
Hello time traveller!!

This article is 3864 days old.

The information listed below is likely outdated and has been preserved for archival purposes.
Anita Kaiser's vibrant spirit, genuine concern for people's well-being and commitment to promoting environmentally friendly lifestyles is clearly reflected in the unique and diverse products offered at ShopEco. Despite a growing awareness of the very detrimental effects of certain products and production practices on the Earth, and in turn on our own health and wellness, finding alternatives to fit our lifestyles still tends to be a challenge, not to mention finding them all together in one location. ShopEco offers conscious consumers a veritable haven for clean, environmentally friendly products, as well as providing inspiration for positive lifestyle changes. Kaiser has made it not only convenient to find these products, but with an ever-changing array of fresh items, she has managed to make it exciting as well.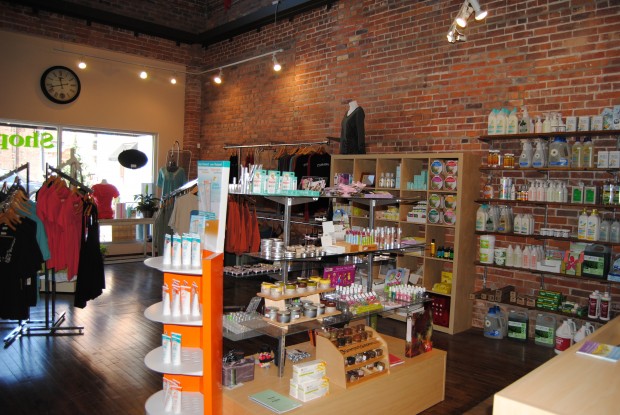 Kaiser and husband Richard Adshead purchased the business nearly four years ago from another couple who were operating in Tecumseh. "The timing just worked out," Says Kaiser, "this has always been my passion; organics and clean living." Attracted to the vibrant and burgeoning Walkerville neighborhood, Kaiser and Adshead relocated both the store and their own home (in order to lessen their footprint) to Chilver Road at Wyandotte two years ago. To keep the overall footprint of the store to a minimum, Kaiser and Adshead are dedicated to supporting local businesses by stocking products from Windsor-Essex whenever possible.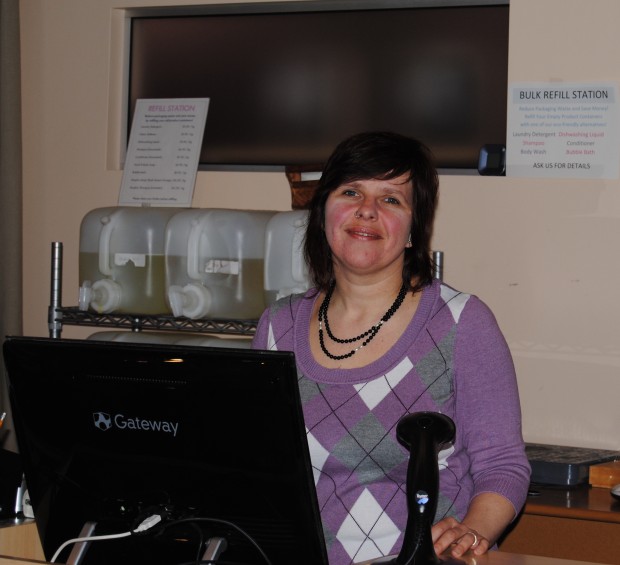 Some of the really unique items currently at the Shop include an eco foam acupressure mat which helps improve circulation, and ease ailments like headaches and general aches and pains, making it an excellent alternative to using medication, a light activated ionic toothbrush with titanium rod technology which removes plaque with negative ions, making water and toothpaste unnecessary, and cooperative games, which provide a respite from a very competitive society and encourage children to play together. "The first time I played," Kaiser recalls, "we got the game Max and I was expecting we would each have our own piece and I'd be an individual, but it doesn't work that way! You have to change your whole mindset, nobody is one piece, instead we're all working together to move the same piece and reach the end result." The items are always changing however as Kaiser seeks out new and unusual items to add to the inventory all the time, keeping the store fresh and making frequent visits a must.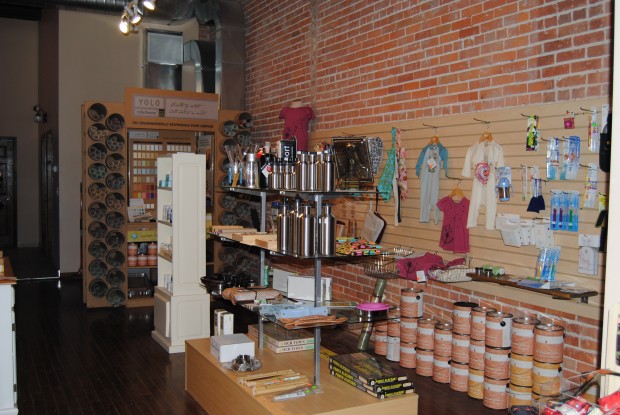 Of course, in addition to keeping fresh ideas and inspirations flowing through the store, ShopEco is always stocked with lifestyle staples like clothing, cleaning products and skin care, all of which are natural and organic.
Kaiser considers switching to natural skin care to be one of the most urgent lifestyle changes to promote a healthy body. This is a concern she addressed during a talk she gave at the city wide cleanse launch last week (for more details one the cleanse visit http://cleanse2011.com)The reason skin care products containing harsh chemicals, preservatives and synthetic ingredients are such a health concern, Kaiser explains, is because when you put such products on your skin, there is a 67% absorption rate, meaning that what is in the products ends up in your bloodstream. Furthermore, with liquids like perfume, a staggering 100% of what you're spraying ends up in your bloodstream. This is obviously a big concern with skin care products like lotion, shampoo, soaps and makeup, but there are also other less obvious ways that harmful substances are being absorbed into the body. For example laundry detergent, which is perhaps not considered to regularly be in direct contact with skin, generally leaves a residue on clothing which then gets absorbed by the skin. Even clothing itself can have detrimental health effects if it has been treated or dyed with harsh chemicals. Kaiser offers alternatives for all these problematic everyday items, from organic cotton and bamboo clothing to natural make-up.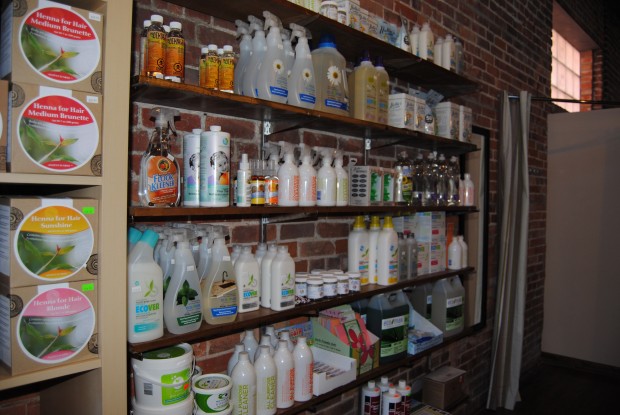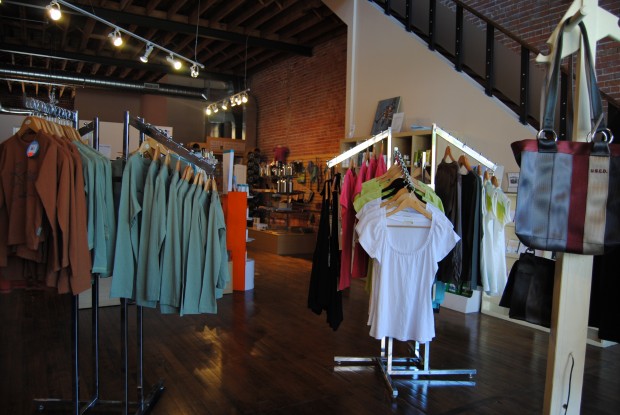 One of the really special features of the store is the refill station for shampoo, laundry detergent, fabric softener, body wash, bubble bath and conditioner. Not only is this station filled with natural products, but it also promotes recycling bottles and subsequently, keeping them out of landfills. To use the refill station you can either purchase one of the bottles already filled on the shelves and then continue to refill it afterwards or bring in any empty bottle you happen to have at home and fill that one.
Visitors to ShopEco can rest assured that any item offered for sale in the store, by virtue of being there, has been already thoroughly researched by Kaiser and given the stamp of approval. "I do a LOT of research because I want my products to be clean," Kaiser insists earnestly, " there are a couple of purposes for [opening] my store, one is so that people don't have to order online and another is so that people don't have to be as careful with the labels here as they do in many other stores." Being a business based on sincere values, ShopEco provides customers with the assurance that if an item is on the shelves it is there not merely for profit-based reasons but rather to provide an alternative to problematic products and to promote healthy lifestyle changes.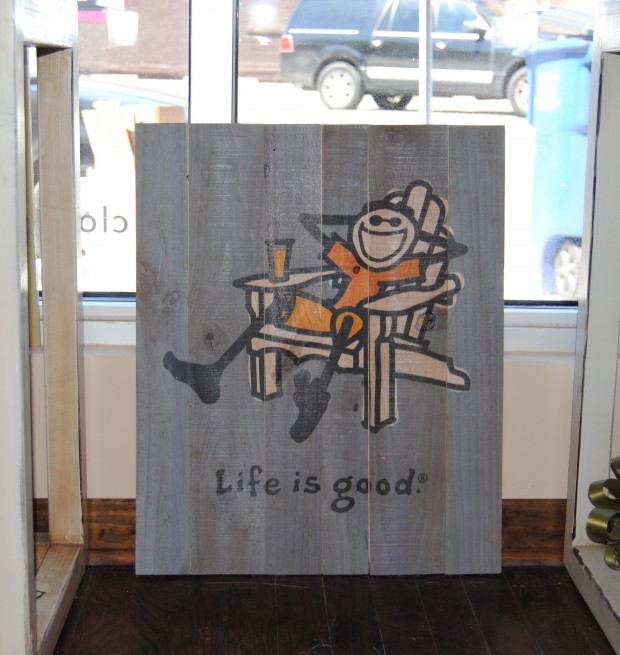 With a commitment to bringing healthy, environmentally friendly products to Windsorites, ShopEco can help you walk the green path and to do so with ease and inspiration. You can visit the store Monday from 12p.m. to 6p.m. and Tuesday to Saturday from 10a.m. to 6p.m. To check out upcoming events or to check out some of the items available you can visit their website.