Funnelfest 2.0 Next Weekend!
Saturday November 27th, 2010
Posted at 10:30am
Hello time traveller!!

This article is 3985 days old.

The information listed below is likely outdated and has been preserved for archival purposes.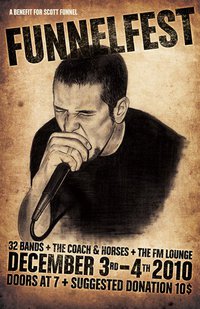 In the early morning hours of November 13, Scott Funnel was brutally attacked as he walked along Tecumseh Road East with a friend on their way to get some breakfast.  Scott suffered massive head injuries and had to undergo two brain surgeries.  Scott is now at home, but a long and expensive recovery remains for him.
That's where the bad part of this story ends!  As in typical Windsor fashion, out of every bad thing, the good of the community shines through.
Scott has been known to Downtown Windsor and the local music scene for years, and has helped many bands get there start, and now those musicians are giving back to him giving back to him.  FunnelFest 2.0 is a two day event that takes place Dec. 3 and 4 at multiple venues in Downtown Windsor. A complete list of bands and locations is below.  Suggested admission is $10, but any donation is appreciated!
WindsoriteDOTca will have extensive coverage of Funnelfest next week!
To stay up to date visit the Facebook Event Page
FRIDAY DECEMBER 3 @ The Coach & Horses
8-8:25- SILENT MOVIE TYPE
8:40-9:05 – THE HEAT SEEKING MOISTURE MISSILES
9:20-9:45 – HAMMERDOWN
10-10:25 – PITCH UNION
10:40-11:05 – GRAND MARAIS
11:20-11:45 – THE VAUDEVILLIANAIRES
12-12:25 – EXPLODE WHEN THEY BLOOM
12:40-1:05 – DEATH IN CUSTODY
1:20 – ?? – GYPSY CHIEF GOLIATH
FRIDAY DECEMBER 3 @ The Loop
7:45-8:10 – JACKIE ROBITAILLE
8:25-8:50 – THE STiG
9:05-9:30 – ALLUSION
9:45-10:10 – ERIC WELTON BAND
10:25-10:55 – WAKER GLASS
11:10-11:35 – YEARS OF ERNEST
11:55-12:20 – JAMES O-L & THE VILLAINS
12:30-12:55 – BULLETPROOF TIGER
1:10-?? – THE LOCUSTS HAVE NO KING
SATURDAY DECEMBER 4 @ The Coach & Horses
8-8:25 – AFTER ASHES
8:40-9:05 – SEVEN OUT
9:20-9:45 – BATTLESOUL
10-10:25 – TYBURN TREE
10:40-11:05 – LODOWN
11:20-11:45 – GOLIATH
11:55-12:20 – BLOODSHOTEYE
12:35-1 – POUGHBOY
1:15-?? – FIFTYWATTHEAD
SATURDAY DECEMBER 4 @ The FM Lounge
7:45-8:10 – GEORGE MANURY
8:25-8:50 – SAME LATITUDE AS ROME
9:05-9:30 – DANIEL KEELER
9:45-10:10 – LONESOME LEFTY
10:25-10:55 – THE HUNG JURY/FOURLETTERWORD
11:10-11:35 – VULTURES!
11:15-12:15 – ALEX CARRUTHERS & THE RHYTHM BROS.
12:30-12:55 – SURDASTER
1:10 – ?? – GODHEAD