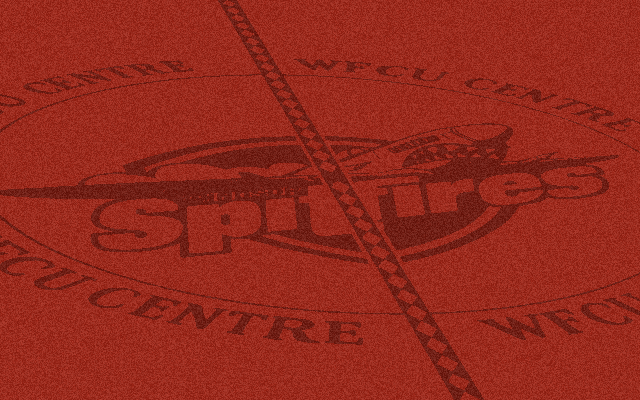 Ryan Foss opened the door on Mississauga, and Alex Fotinos shut it. The rookie Foss scored his first goals of his OHL career, a hat trick, while Fotinos stopped the 37 shots he faced. The Spitfires flew to a 6-0 victory over the Steelheads.
This was Fotinos' first game back after being injured in Owen Sound in late October.
In a period of straight hockey, Windsor came out on top. The Spits opened up the scoring six and a half minutes in. Brady Vail skated down the right boards and fired on net. Ty Bilcke got the rebound, but his shot was also saved by Spencer Martin. Ryan Foss was there for that bounce and put it in. The two teams continued their back and forth play until the buzzer sounded to close out the first period. Windsor was up 1-0.
The Spitfires picked up the pace for the second period. They did so in high-scoring fashion as the team lit up the visitors' net four times in the period. First, Cristiano DiGiacinto made a heads-up play and stole the puck from a Steelheads defender in the neutral zone. He skated in for a short breakaway goal for his team to go up by a pair. Next, DiGiacinto put up an assist when he passed to Vail. He found Ryan Moore all alone behind the defense, with an empty net to shoot in. Less than two minutes later, Foss scored his second of the night. Ryan Verbeek passed the puck to Eric Diodati, who was tied up in front of Martin. Verbeek and the goalie swatted at the loose puck. It ended up floating out to Foss as he battled for position. He was able to tip the puck in as the goalie was down.
The Mississauga miscue and Spitfires onslaught was enough for a goalie change, bringing in Dawson Carty.
Again, though, Windsor fired with guns blazing. Trevor Murphy skated down the left boards and threw a tricky shot toward the net that slid under Carty's glove.
A dominant Windsor Spitfires offense gave them a huge 5-0 lead after two periods.
Just as the scoring had started, it would finish – with a Ryan Foss goal. He scored just 1:23 into the final period to complete his own 1-2-3. Slater Koekkoek threw a soft shot to the net. As it slowed down, Foss grabbed it, stick-handled around Carty's leg before stuffing it under the goalie's arm with a backhand.
The Steelheads were flustered and frustrated as they engaged a couple Spits into fights. Windsor was worry free as time expired. The Spitfires skated off with a 6-0 win over Mississauga.
Ryan Foss deservedly earned the game's first star. Alex Fotinos was awarded the second star, and Cristiano DiGiacinto got the third.
The Spitfires return to the ice at the WFCU Centre Sunday, November 24th when they welcome the Whalers from Plymouth.