Fresh & Fantastic: Lake To Plate Dining In Windsor Essex
Monday September 18th, 2023, 11:17am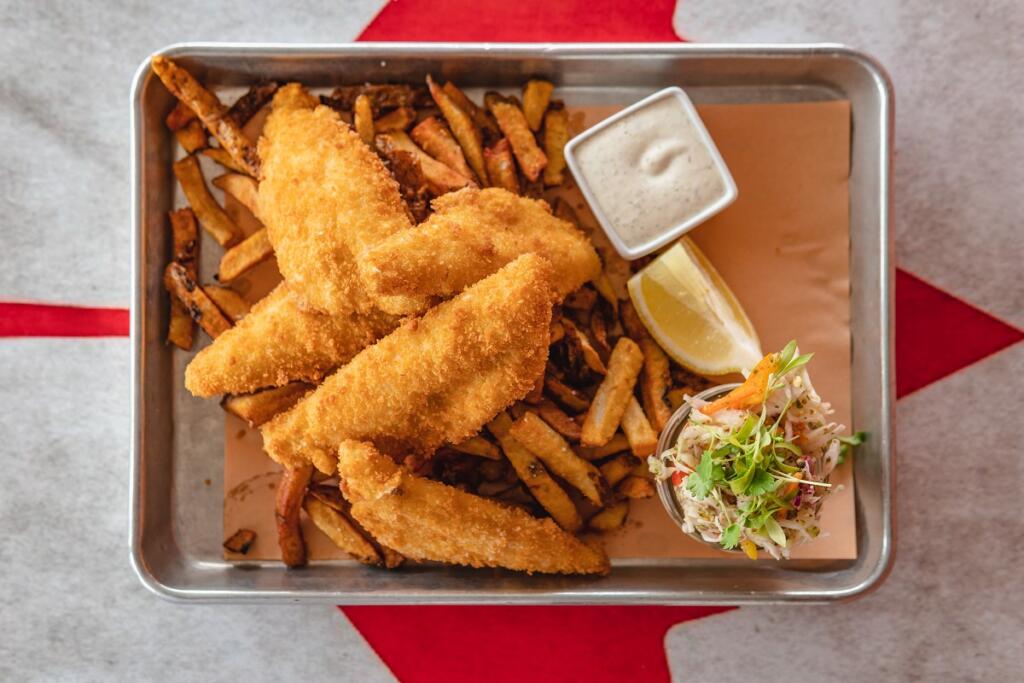 Fresh & Fantastic: Lake To Plate Dining In Windsor Essex
Original blog by Tailgate Takeout
Affectionately referred to as "The Hundred Mile Peninsula," Essex County is known for its sparkling waterways. Not only are these rivers and lakes the ideal destination for boating, kayaking, and swimming, they're also teeming with fresh water favourites like perch, pickerel, muskie, and more.
Consider yourself more of a land lover but crave a good fish dish? With so many fantastic restaurants across Windsor-Essex offering up their own unique twist on freshly caught favourites, you don't have to be a fishing enthusiast to enjoy these tasty swimmers.
Whether you prefer the quintessential "fish and chips," perch tacos, fish burgers, or all of the above, here are a few of my top picks for lake to plate dining in YQG:
THE GOOSE KITCHEN & BAR – JUST OPENED!
New name, same amazing local fare. While Jack's Gastropub may have recently revamped their menu and rebranded to The Goose, they have kept their ever popular Lake Erie perch, pickerel and chips. How could they not? Crunchy batter, melt-in-your-mouth fish, and the most deliciously seasoned French fries. This dish is perfection right down to the dill aioli and side of slaw.
Of course, it doesn't surprise me at all. Known for their strong partnerships with local farms and fisheries, this Kingsville institution exemplifies both farm to fork and lake to plate dining and is a must visit if you're in the area. Even if you're not in the area, trust me; it's well worth the drive.
Pro tip: pair your fish dish with one of the amazing craft beers from Jack's brewing wing: Banded Goose Brewing Company (Who, coincidentally, also serves some delicious panko perch tacos at their tap room on Main Street.)
FREDDY'S COCKTAIL LOUNGE & RESTAURANT
A Leamington favourite for over 25 years, this welcoming family-run restaurant has an entire section of their menu dedicated to Lake Erie yellow perch and pickerel items including perch tacos and blackened pickerel.
There's just so much to say about this place. First of all, the coleslaw on those perch tacos is *chef's kiss*. Creamy yet tangy and the perfect complement to the crispy fried fish. Also, the breading on the pan fried pickerel is well seasoned and light yet crunchy. They even make their own craft beer which pairs perfectly with their menu (I had a lovely orange sour during my last visit.)
Their slogan is "you're only a stranger once" and with their thoughtfully prepared dishes and friendly, impeccable service, it's very likely you'll become a regular customer.
While obviously known for their award-winning whiskey and other spirits, Wolfhead Distillery in Amherstburg also features a popular restaurant serving up mouth-watering apps, sandwiches, entrees, and of course, local fish.
I love pairing the pickerel dish with one of their refreshing cocktails and enjoying the ambiance of their spacious patio. It's like the ultimate summer lunch (or spring, or fall, or dinner, or any time really.)
The Lake Erie pickerel is buttery and flakey and there's a uniqueness to the house-made tartar sauce that I can't quite put my finger on but I thoroughly enjoy. A great complement to the fish, and I even dip my fries in it too.
THE WRECK AT COLCHESTER HARBOUR
What better way to cap off a day at the beach than with a delicious meal and a cold beverage?
Located on the beautiful Colchester Harbour, The Wreck is Canada's southernmost mainland sit down dining experience. This adorably unassuming roadhouse bar and grill offers spectacular views of Lake Erie from the panoramic windows and double decker patio.
The ambiance isn't the only draw, of course. They also feature every YQG'ers favourite fish dish: Lake Erie Perch & Chips. I mean, you CAN swap the chips for rice or the potato of the day, but let's be honest; those thick cut fries are where it's at. I also love that they take it really easy on the breading and let the fish really shine in this dish; I find it to be filling and satisfying without being heavy. Fin-tastic!
Here in Essex County, the only thing more popular than our lakefront views is our wine region. Getting to enjoy the bounty of our waters with a glass of locally produced wine? It just screams "Summertime in YQG."
While I love all our wineries equally, I will admit Oxley has always been one of my favourites when it comes to food. With seasonally-inspired menus using fresh, locally-sourced ingredients, you can taste the care and attention their culinary team puts into each dish.
One menu item that has been a constant is the Lake Erie perch and chips. I love the crunch from the panko breading and those fresh cut fries are ADDICTIVE. I could drink the tartar sauce too; it's got the perfect amount of dill and lemon and I suggest ordering an extra side of it.
They recommend pairing it with a glass of their 2020 Reisling and who am I to argue with the experts? Cheers!
Spending the weekend camping at Wheatley Provincial Park? Looking for a destination dining experience after a scenic county drive? Taylor Fish Company's chip truck is THE place for the freshest fish this side of the Great Lakes. How do I know? They catch it themselves every morning!
Each day, the Taylor fish boats head out to make a fresh catch of perch and walleye. They then process it themselves (in like, THE cleanest facility I've ever seen in my life) and prepare it for sale at their retail location and for use on their very own on site food truck.
The family-owned truck is open from May to October and dishes up a mouth-watering assortment of options including their pickerel burger and fresh yellow perch dinners; all served with crinkle cut fries, slaw, and a sweet roll.
Pro tip: be sure to pick up some frozen fillets and a bag or two of their signature one-step breading while you're there and enjoy a delicious fish fry at home any night of the week!
KINGSVILLE GOLF & COUNTRY CLUB
Billed as "The Most Beautiful Course in Essex County", Kingsville Golf & Country Club should also be known as "Essex County's Best Kept Secret for Amazing Fish."
Chef Lori has been with the club for over 20 years and a brief conversation with her revealed just how passionate she is about the food she prepares, including the Light Side Perch; a menu favourite for both lunch and dinner service. The recipe has remained unchanged since the club opened because, well, why mess with perfection? One bite and I instantly understood. Lightly battered and fried golden brown, it's a menu mainstay for a reason.
While I obviously recommend the fish, I also advise you to save room for some of their other menu items, including the cobb salad and anything off the dessert menu (omgggg the key lime tart is to die for.)
With a welcoming waterfront patio and a diverse menu, River's Edge Tap & Eatery in Windsor's east end has been one of my favourite neighbourhood hangouts since moving to the Riverside area.
Craving fish but looking for something a little less fried and heavy? Their Lemon Pepper Pickerel is a MUST. I honestly can't say enough about it; an elevated fish dish that's light and so incredibly flavourful. Like, wow. Perfectly cooked lemony fish served with a fluffy rice pilaf and seasoned vegetables. Probably one of the healthiest dine-out dinners you can have, and at a very affordable price.
After speaking with head chef Robert and finding out he's originally from the east coast, it makes total sense. The man knows his fish. In fact, he has some very sage advice: "It gives you better hair, better skin…everyone should eat more fish!"
Original Blog Post By Jen Brignall-Strong of Tailgate Takeout
Sponsored story by Tourism Windsor Essex. For more details on Tourism Windsor Essex click their website, or visit them on Facebook, Twitter, or Instagram.
Content Continues Below Local Sponsor Message
Content Continues Below Local Sponsor Message
Content Continues Below Local Sponsor Message