The Game MD
Saturday August 31st, 2013, 12:55pm
Hello time traveller!!
This profile is 3566 days old.
The information listed below is likely outdated and has been preserved for archival purposes.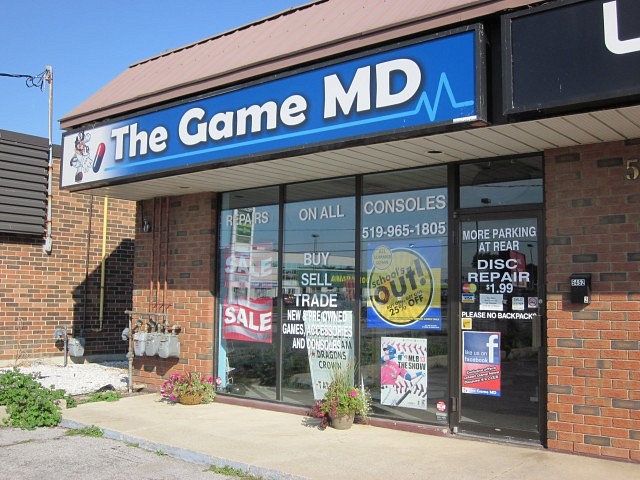 With the game over at his past job, one businessman used his extra life on a new quest.
Since opening The Game MD (5452 Tecumseh Road East) a year-and-a-half-ago, owner Roy McLean and his wife Dawn have seen a steady increase in customers. Providing popular titles from yesterday, today and a game repair service, it has a lot of things you can't find anywhere else.
Although business thrives even through construction (as McLean's store is located at a traffic light for easy access) it was very much created out of necessity: while his current location was needed for the space, the original home business was crucial to the couple's family.
"Originally I was a tool maker for almost 13 years," said the 37-year-old store-owner. "The hustle and bustle of the tool trade is that it's feast or famine. You're either working overtime and then as soon as there's no overtime, unfortunately they lay everybody off or cut your hours down dramatically. Anyways, the last time I was laid off, my wife and I decided, 'that's it', we're gonna have to create our own rat race. That's when we went into business for myself — it just trickled from there."
Getting into game repair was an organic process for McLean. Having been in the tool trade for so long, he had plenty of experience troubleshooting problems on his own. After fixing his XBox, McLean mentioned it to some co-workers and was soon doing it for them too. Ads were placed on kijiji for his services and business took off from there. After working out of his house for a year, McLean and Dawn decided to take the business into its current location. While making the house safer for their two children, it gave them more room to facilitate ustomers as well.
Putting that extra space to good use, McLean expanded his horizons. Beyond repair, The Game MD's fun decor also houses game-related merchandise ranging from t-shirts to memory games and other decorative items. There are plenty of unique console accessories too.
Still, the business' bread and butter are retro video games. This covers systems ranging from the Atari 2600 to Playstation 2. Sega's Game Gear, Nintendo's Game Boy and Playstation PSP games are available as well.
Choosing to focus on this emerging market sets them apart from their bigger competitors. Not only does The Game MD carry these games, they also have many cost-effective ways to play them.
"We've got everything from the Atari 2600, the original pong machines, Nintendo, Sega Genesis, Intellivision," says McLean.
"We also carry the new retro consoles which are the FC3s, the FC2s — where you can play a couple of different console-type games on one system," said Dawn. "With this system you'd be able to play Sega, SNES, NES, original games on this new console. We carry those as well. We're really trying to focus on these because you can't go to [big box stores] and get the old generation games."
Indeed, retro games account for 40% of The Game MD's business. Many people trade in their games for cheaper titles without needing cash. Previously-owned games are also about $1 cheaper than the competition, meaning buying 10 games can save customers up to $10.
Other benefits of being an independently owned store include ordering a specific game and having it the next day. Unlike big box stores, The Game MD is its own headquarters and orders direct instead of receiving inventory in bulk. Those who shop at the store can get a loyalty card too, which pays off after someone purchases just 10 games over $4.99. This entitles them to either a free $18.99 previously-owned game or discount of that amount on one that's more expensive.
Although a lot of things are similar, much has changed in a year-and-a-half. While The Game MD started with about 50 games, one wall alone now holds 2,000 different titles. Several customers who were around when the business was in his house still visit but it's become much bigger.
On September 16th, the store will host a midnight sale of Grand Theft Auto V, its second such event since moving. Last year's Black Ops 2 had 85 people lined-up to the road — including Windsor Police.
Excited to please their customers, such growth isn't something the McLeans take for granted.
"It's so exciting to work every day and see the business grow," said Dawn. "With so many people coming in and saying, 'we didn't even know this place existed and 'this store is amazing, I'm gonna shop here from now on.' You never get tired of hearing that, that's for sure!"
The Game MD is open Mondays to Fridays, 9am to 7pm and Saturdays from 10am to 5pm.
All photos by Jeannette Catherine
Content Continues Below Local Sponsor Message
Content Continues Below Local Sponsor Message
Content Continues Below Local Sponsor Message