Smoke & Spice
Monday January 23rd, 2012, 2:32pm
Hello time traveller!!
This profile is 4329 days old.
The information listed below is likely outdated and has been preserved for archival purposes.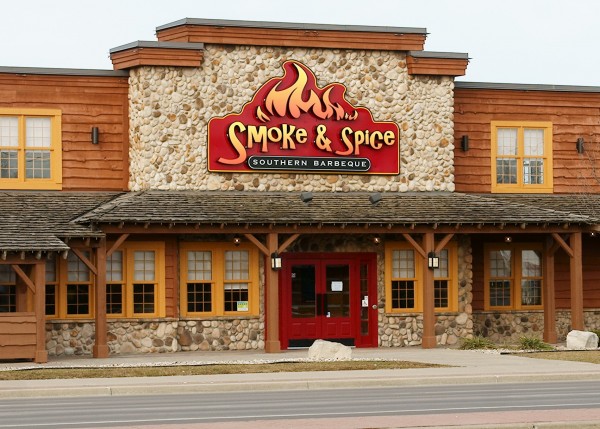 If you've never had southern barbecue food before, you're in for a real treat. If you have tried it and loved it, then Smoke & Spice is one location in Windsor you need to try!
Smoke & Spice — billed as "Windsor's Home of Authentic Southern Barbeque" — is a restaurant that is all about a love affair with pork of all cuts and shapes. Pork propaganda adorns the walls, piggy-banks line a glass case at the entrance to the restaurant and pork is about 80% of what you'll find on the menu at Smoke & Spice (plus delicious sides).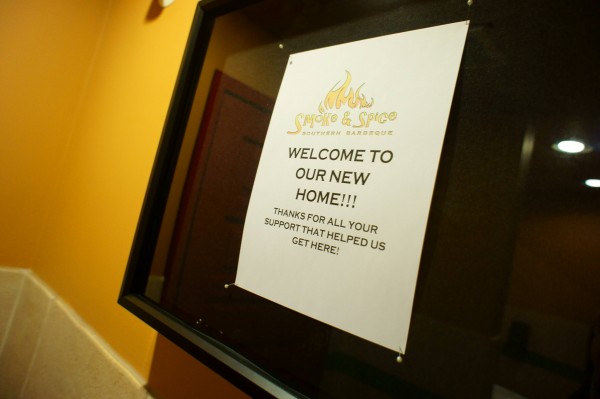 Smoke & Spice recently moved to their new location, the home to former CARA chain-restaurant Montana's at 7470 Tecumseh Road East (between Lauzon Parkway and Annie Street). The restaurant was previously located at 1515 Ottawa Street (the location of which will be introducing a new food concept shortly).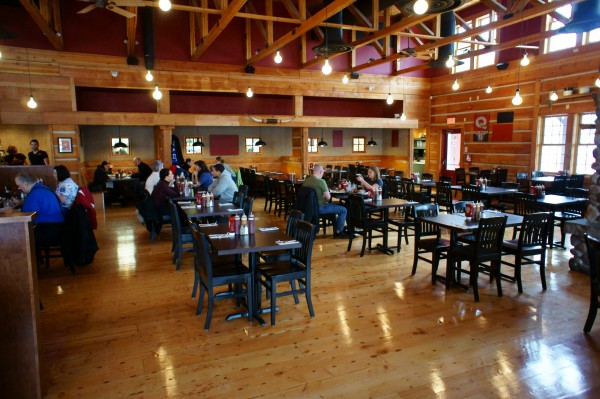 The interior is highly casual, warm and inviting, open-concept with plenty of natural light during the day and features a lot of wood and wood-like elements.
On a typical day for lunch, you can expect a medium to moderate crowd (heaviest around 12:30pm); for dinner, the place is usually packed with pork lovers and southern-cooking aficionados! If there is a wait, it's not usually more than a few minutes. They do take a limited number of reservations.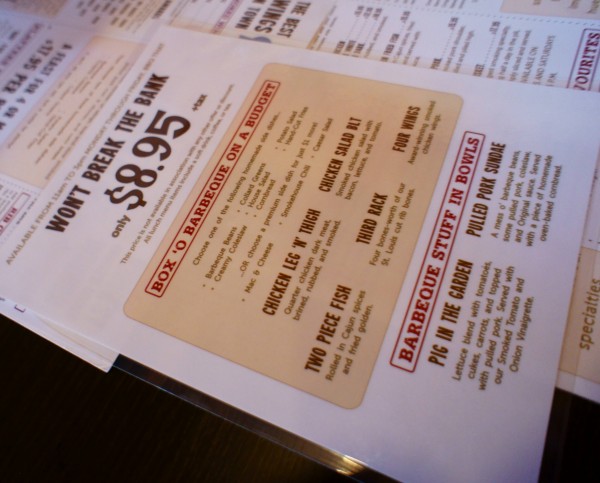 Smoke & Spice features an $8.95 "Wont Break The (Piggy)Bank" lunch menu from noon – 3pm Monday through Friday. For $8.95 you get a main including a chicken salad BLT, two pieces of fish, a 1/3 rack of ribs, four wings or two pieces of chicken; a side including BBQ beans, creamy coleslaw, house salad, collard greens, cornbread, potato salad or hand-cut fries; and a drink including fountain beverages or coffee or tea.
For a dollar more, make your side premium and get a bowl of their chili or delicious home-made Mac & Cheese.
Smoke & Spice previously offered their pulled pork sundae as part of the $8.95 special, but now it comes with cornbread and a drink for $8.95.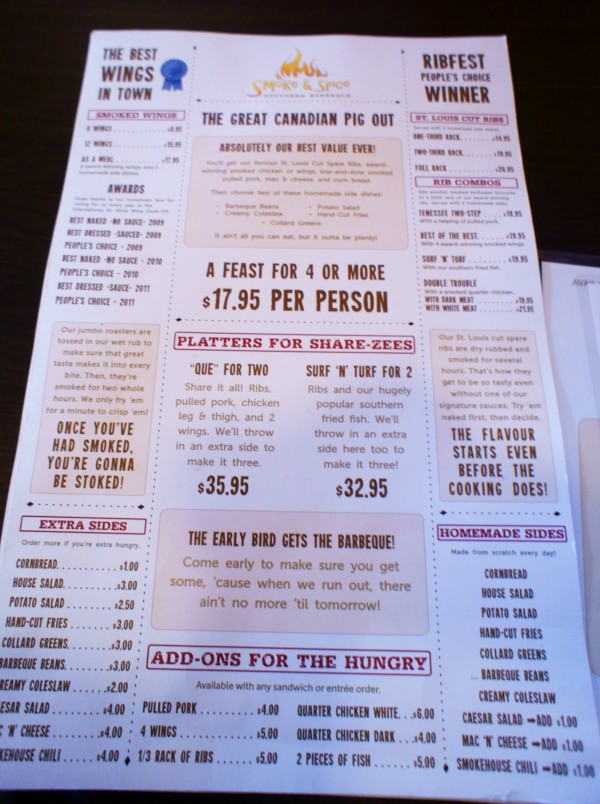 If you're visiting during a time other than lunch, the main menu contains some delicious goodies. Smoke & Spice has everything you'd expect from a barbecue restaurant including pulled pork sandwiches, smoked wings, mouth-watering racks of ribs and combo platters for the family to try.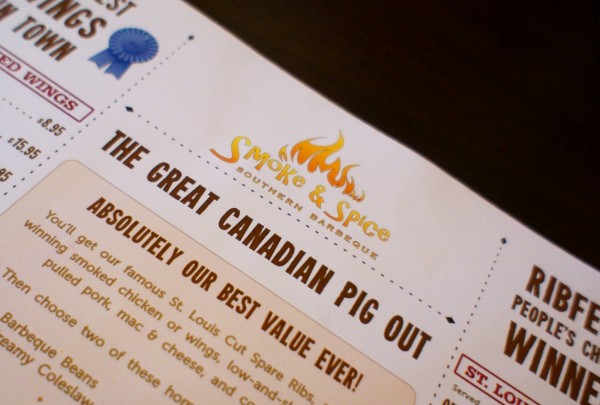 The Great Canadian Pig Out is an enormous amount of food. Bring your appetite and a backup too!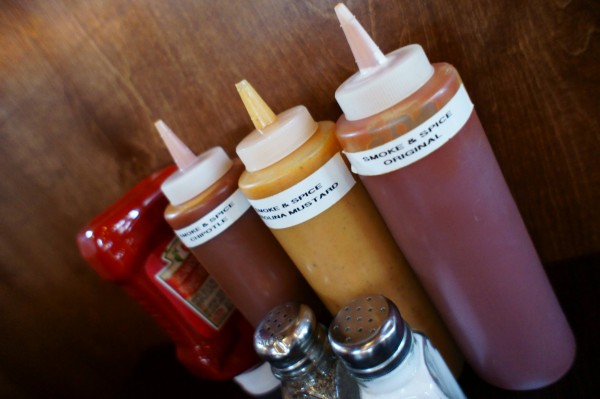 Smoke & Spice is renowned locally for their four barbecue sauces, three of which you'll find at every table: Chipotle, Carolina Mustard and "Original" (mild).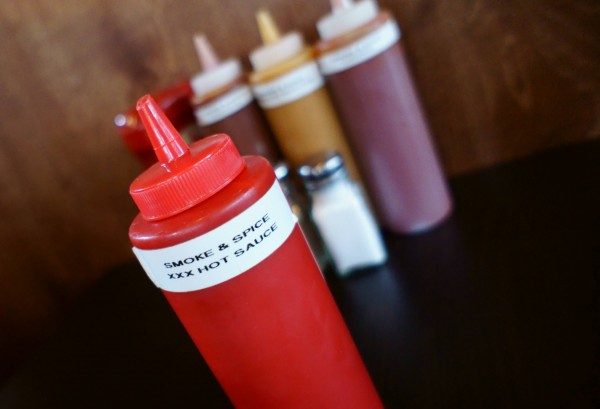 If you really want to add some kick to your food, ask your server for XXX Hot Sauce!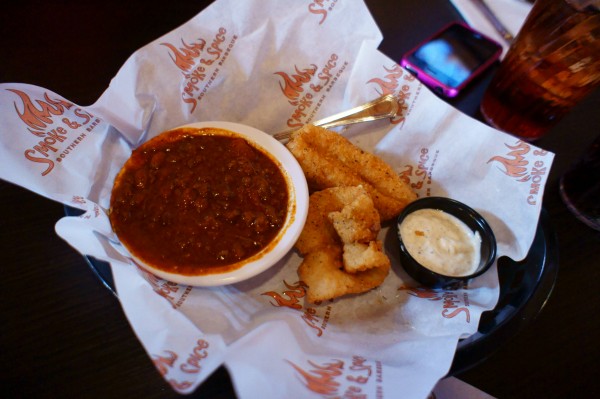 Cajun Fish: two pieces of fish rolled in Cajun spices and fried to perfection. Served with tartar sauce. Shown here with a side of chili.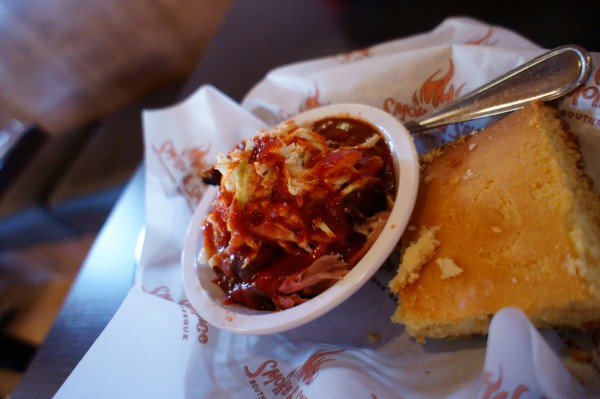 Pulled Pork Sundae: Whoever thought of putting coleslaw on pulled pork on cabbage should win one of the many awards Smoke & Spice has lining their walls! Ordering the Pulled Pork Sundae may very well be considered cheating on your dessert. Smoke & Spice's waitress described their pulled pork to us as something that "literally falls off the bone". And it's true and extends beyond their pulled pork: all of their meat is smoked to the point where its very tender, and you probably won't need teeth to eat it if that happens to be a problem!
Shown here served with cornbread.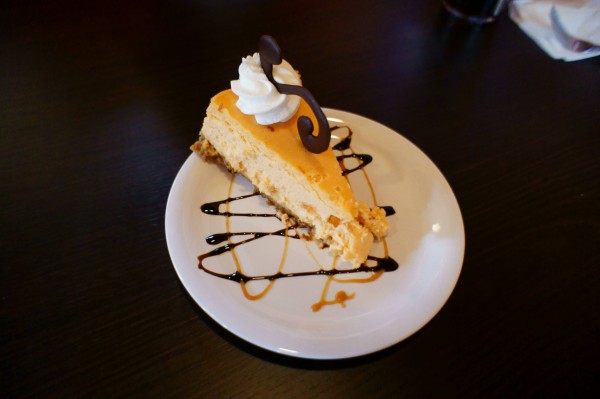 If you're ready for dessert after the generous helpings of meat and sides your server provides you with, Sweet Potato Cheesecake is one of two choices. This homemade treat is incredibly rich so you may want to ask your server for a free drink refill prior to indulging (or share with a friend). Contains a hint of pumpkin and a subtle flavour of sweet potato: don't think of it as a vegetable, it's most certainly dessert-food.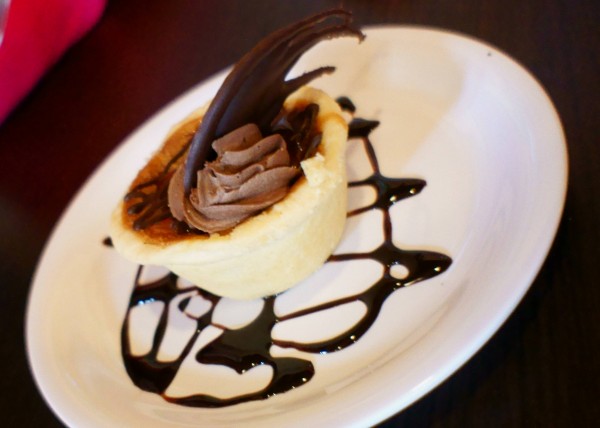 The other dessert option on the menu is the Turtle Tart — a warmed butter tart filled with chocolate sauce.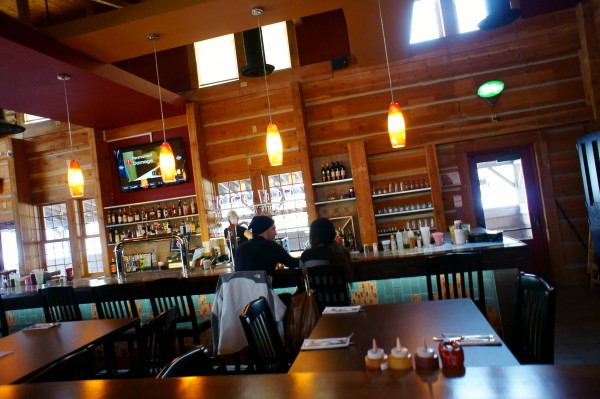 Smoke & Spice also has a full-length bar, most of the time you can catch one of many games on one of many of their TVs.
Smoke & Spice's new location is at 7470 Tecumseh Road East (near Lauzon Parkway). There's plenty of free parking on the west-side of the building (near Petro Canada) and a half dozen spots on the side of TriOS college. Smoke & Spice's hours are Sunday-Thursday open from 11am – 10pm and Friday and Saturday from 11am – 11pm.
Their phone number is 519-252-4999 or visit their website at http://smokenspice.com/
Content Continues Below Local Sponsor Message
Content Continues Below Local Sponsor Message
Content Continues Below Local Sponsor Message