Open Streets Windsor Returns Celebrating Community, Culture, Wellness & Rosalie Trombley
Monday August 28th, 2023, 3:20pm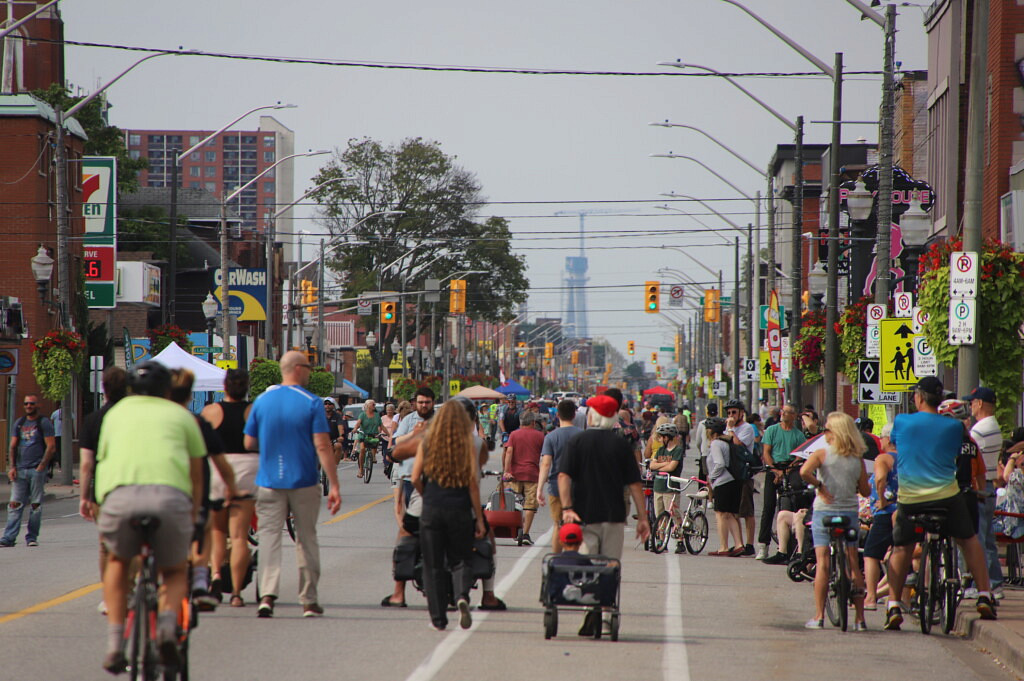 Open Streets Windsor returns this September with a special edition to honour a pioneer in radio broadcasting while connecting our diverse neighbourhoods and people across the community. This year, the popular outdoor event offers a slightly updated route, a special theme, and spin-off activities that all take place Sunday, September 17th, 2023, at various times and locations throughout the day.
Open Streets Windsor "The Big 8" Kilometre Edition will run from 10:00am to 2:00pm and will stretch from Sandwich Town in the West to Ford City in the East.
In addition to providing a space for people to walk, cycle, roller blade, and more along the route, eight unique hubs will also include some great activities and entertainment. Hubs are designated for community partners, including individuals, businesses and organizations, to carry out activities that promote health, physical activity, arts and culture. Activities are free and encourage participation from people of all ages and abilities. The City will also host special entertainment at each hub to honour Big 8 radio pioneer Rosalie Trombley's contributions to the performing arts. Tribute performers have been invited to apply to bring their act, including covers of some of the songs made famous with Rosalie's help, to the event route. A limited number of artist honorariums will be available as part of this one-time initiative.
Also new this year, participants are encouraged to collect eight unique and complimentary vintage badges, one at each hub, featuring artistic renderings of some of Windsor's iconic places, people and stories. These badges will be available while supplies last.
Other Events:
Unveiling of the Rosalie Trombley Commemorative Sculpture – 10:30am
Corner of Riverside Drive East and McDougall Street.
With the Open Streets Windsor route open and folks exploring the city, members of Rosalie Trombley's family, artist Donna Jean Mayne, sponsors, partners, media, and other very special guests will join Mayor Dilkens and City Councillors in the morning for the official unveiling of the Rosalie Trombley Commemorative Sculpture. The sculpture is funded by the City of Windsor with generous support from St. Clair College. The interpretive panel and corresponding tribute website are funded by the City in partnership with AM800 CKLW-Bell Media.
Grand Opening of the Rosalie Trombley Commemorative Exhibition – 2:30pm
Chimczuk Museum, 401 Riverside Drive West.
Over at Museum Windsor's Chimczuk Museum location, the temporary Rosalie Trombley Commemorative Exhibition will have a ribbon cutting and grand opening ceremony in the afternoon. Remarks from family, dignitaries, and special guests will kick things off as the exhibition opens to the public. The Trombley family has been working hand-in-hand with the exhibition developers to provide an experience that will include biographical information, stories of Rosalie's life, musician features, records, audio recordings, fashion, vintage items and artifacts from the Big 8, awards, tributes and more. Along with the grand opening, admission to the Chimczuk Museum will be free on this day. The exhibition is researched, designed, created and installed by Chris Renaud and the team at HCA Mindbox.
Screening of "Radio Revolution: The Rise and Fall of the Big 8" – 6:00pm
The Capitol Theatre's Kelly Theatre, 121 University Avenue West.
Presented in partnership with WIFF (Windsor International Film Festival), and screening at the Capitol Theatre's intimate Kelly Theatre, Michael McNamara's 2004 documentary covers nearly every aspect of the iconic radio station's blaze of glory, from the technological wizardry behind its amplified "boom thump" signal to the ways CKLW furthered the careers of artists like Alice Cooper, The Guess Who, and Tony Orlando. This screening will be first-come, first-seated and available free of charge.
"The Big 8 CKLW" Remembers Rosalie – 8:00pm
The Capitol Theatre's Pentastar Theatre, 121 University Avenue West.
The historic Capitol Theatre will be the backdrop for an evening of stories and music to remember Rosalie Trombley. Join special guests Ted Richards, Pat Holiday, Les Garland, and others for a unique trip into the musical past of Windsor, Detroit, Canada and the United States through the lens of the life of Rosalie Trombley as told by some of those who remember her best.
Content Continues Below Local Sponsor Message
Content Continues Below Local Sponsor Message
Content Continues Below Local Sponsor Message