Six Meat Free Ways To Celebrate World Vegan Month
Saturday November 6th, 2021, 10:55am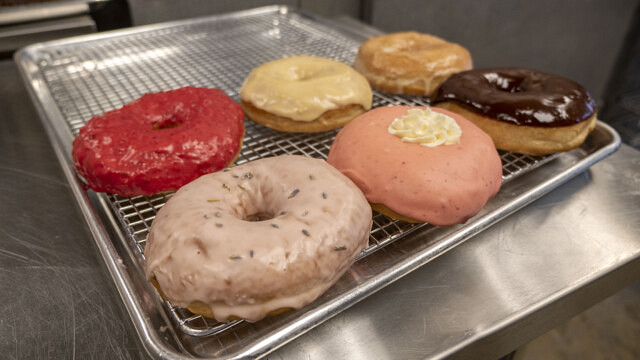 Celebrate World Vegan Month in Windsor Essex
All over the planet there are celebrations and festivals being held in honour of World Vegan Month, which runs the length of November.  This month of celebrates and promotes the joys and undeniable benefits of being vegan. It's the perfect time to dip your toe into the vegan lifestyle by learning more about plant-based cooking and expanding your veggie-filled view by trying out new local vegan-friendly spots.
The Vegan Society designated World Vegan Day not only as a day of celebration but also as a day to educate friends, families, and strangers about the values of vegan living and to share vegan meals.  We've put together a few local vegan restaurants and bakeries to help you explore plant-based eating!
6 Local Vegan Stops 
What better way to celebrate World Vegan Month than plant-based donuts!? Grab one of Plant Joy's festive fall flavours before they are gone!
From sweet to savoury, Healthy Mama has it all! Grab something from their grocery section, pick up a snack or dive into a delicious dinner!
Smoothies, Kombucha, Bowls and Sammies – there's nothing left off the menu at Carrots & Dates!
Known for their flavour-filled bowls, The Plant Base is a mindful eatery just waiting to serve you up something special!
We all love a charcuterie board! Make your next one vegan-friendly with plant-based "meat" and "cheeses" made right here in Ford City by the Vegan Gardiners!
Serving up Vegan soft-serve, donuts and sweet treats, The Wooden Spoon at Aziz Fruit Stand also has a great assortment of plant-based pantry items to choose from!
So no matter if you are ready to commit to a full-time vegan lifestyle or just want to incorporate more plant-based meals and foods into your diet, we have plenty of vegan and vegan-friendly options at our local restaurants and bakeshops.
Sponsored story by Tourism Windsor Essex. For more details on Tourism Windsor Essex click their website, or visit them on Facebook, Twitter, or Instagram.
Content Continues Below Local Sponsor Message
Content Continues Below Local Sponsor Message
Content Continues Below Local Sponsor Message