Return To Indoor Dining – Five Ways To Be Safe & Be Kind
Saturday July 17th, 2021, 10:55am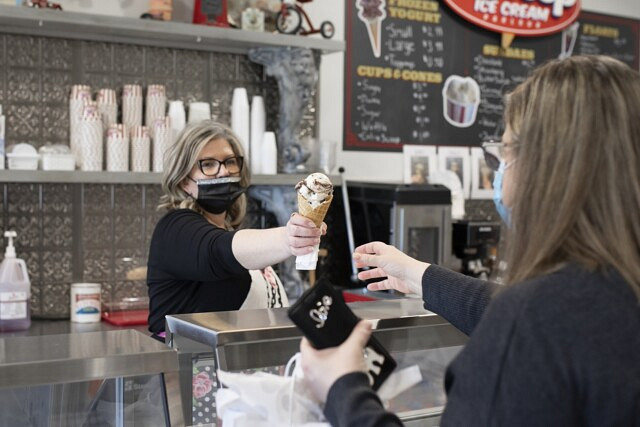 As the old adage says "You don't know what you've got 'til it's gone." If there is one thing that living through a pandemic revealed, it's that the everyday activities, like eating out in a restaurant, that many people take for granted until they're no longer for an option.  We are all happy to return to indoor dining and restaurant staff are getting ready to welcome you back but as we return to many of our favourite activities, it's important to remember that some rules and circumstances have changed.
To help plan your next foodie adventure, visit dineyqg.ca – your guide for everything dine-in, take out or patio hopping! Easily viewable by town or by food style so you can plan based on where you're going or what you're craving!
Be Courteous
Make a reservation – this helps restaurants prep correctly and be prepared with food and staff, eliminating waste and making sure that they are ready to make your dining experience great!  That said if you make a reservation and plans change, ensure that you cancel with as much notice as possible.  A no-show table means lost revenue and potentially could have allowed others to book in.  Being on time for a reservation is also key as restaurants may have time limits per table and want you to have a great meal, while they also stay on time for multiple seatings.
Be patient
Remember that restaurants are just returning to indoor dining and balancing both indoor and extended patio areas.  There are new staff that are being trained and returning staff that may need some time to get back into the swing of things – be prepared for things to take longer.  This goes for not only servers but also kitchen staff – getting food out may take a bit of extra time so please be patient.  Many workers have been furloughed or are brand new and learning the ropes, the menus and all are adjusting to new safety regulations and guidelines.
Don't Push The Limits
There may be a time limit for your visit as many restaurants have mandated time limits with limited seated.  This will allow for them to turn over tables in order to seat others and maximize revenue after so long closed.  This ties to the above point of being on time for a reservation and being understanding that other patrons also want to get out there and enjoy a meal out! Try your best to keep your eye on the time to help your server out and if you think it's not going to be enough time maybe make a reservation for dinner and then head somewhere else for dessert or drinks! This will allow you to visit more places and give everyone ample time to serve guests.
Be respectful
In addition to always saying "Please" and "Thank You", remember that restaurants can be heavily fined if they do not follow the rules for reopening.  Be respectful and follow their capacity guidelines and table limits – don't move tables or chairs around to add more – if you see a friend at a table over, wave hello from yours but stick to your area. Be courteous to the restaurant, as well as respect the space of other diners that may not feel comfortable having you too close. (And of course, say your please and thank you's!)
Be Safe
As with most of the past year and a half, safety is paramount.  Restaurants are following the rules mandated by the reopening plan – please be respectful and safe.  Remember the server at your table didn't make the rules, they are just trying their best to follow them.  If you don't want to give your contact info for tracing, don't want to wear a mask and don't want to follow guidelines, perhaps it's best to wait to return to the dining room until those restrictions are lifted.  Takeout is still a great option that you can enjoy in the comfort of home – give plenty of time when calling ahead to order!
And of course, if you aren't ready to go back out to eat, consider takeout using our Take Out & Delivery Guide and/or purchasing gift cards for future use.
Dining rooms that have sat empty over the past months are getting ready to welcome you back and there is a huge hope for returning to "normal" but it's important to keep in mind that things have definitely changed.  The best way we can support our favourite stops for eats and drinks is to be kind & courteous.  Tip well if you can and make sure to give a little grace to everyone getting back in the swing of things.  Support your favourite neighbourhood bar and restaurant – think about all the people that make your experience there a great one.  Now is the time to get back out there and give back by supporting our community.
Sponsored by Tourism Windsor Essex. For more details on Tourism Windsor Essex click their website, or visit them on Facebook, Twitter, or Instagram.
Content Continues Below Local Sponsor Message
Content Continues Below Local Sponsor Message
Content Continues Below Local Sponsor Message