2 New Deaths, 38 New Cases Of COVID-19 In Windsor Essex On Friday
Friday May 21st, 2021, 9:59am
Hello time traveller!!
This article is 926 days old.
The information listed below is likely outdated and has been preserved for archival purposes.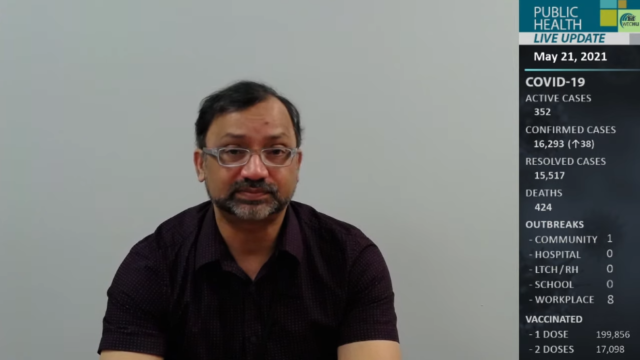 The Windsor Essex County Health Unit announced 38 new cases of COVID-19 in Windsor and Essex County on Friday, bringing the local total to 16,293.
New Cases

Cases increased from 16,255 on Thursday May 20th to 16,293 on Friday May 21st and 352 cases of COVID-19 are currently active in Windsor-Essex.
The Health Unit says 12 cases are close contacts of confirmed cases, 10 cases are community acquired, and the acquisition sources of 16 cases are still being investigated by the Health Unit's contact tracing staff.
Variants of Concern
The Health Unit says 1,516 preliminary or confirmed variant of concern cases have been identified to date (an increase of 16 identified since yesterday).
Variant case totals:
1,395 of the total variant cases to date have been the U.K. Variant (B.1.1.7) (increase of 11 identified since yesterday)
3 of the total variant cases to date have been the South African Variant (B.1.351)
4 of the total variant cases to date have been the Brazilian Variant (P.1)
The Health Unit says there is a time delay of several days between specimen collection, preliminary screening, and confirmation of a variant case's strain.
They say 159 variants of concern cases are currently active active in Windsor-Essex.
Vaccinations
Here's the Health Unit's vaccination update for today (residents of Windsor-Essex):
216,954 people have received at least one dose of a vaccine (+3,799 since yesterday)

199,856 people have received only their first dose of a vaccine (+3,277 since yesterday)
17,098 people have received both doses of a vaccine (+522 since yesterday)

A total of 234,052 vaccine doses have been administered to Windsor-Essex County residents (+4,321 since yesterday)
The Health Unit says Windsor-Essex's total population in 2021 is approximately 438,001. As of today, 49.53 per cent of Windsor-Essex residents have received at least one dose of a vaccine.
Getting A Vaccine (1st Dose)

There are three vaccination programs at this time:
Mass Vaccination Clinics (Pfizer or Moderna)

Those eligible include:

Adults 18 years and older, born in 2003 or earlier.
Essential workers who cannot work from home that are 16 years and older, born in 2005 or earlier.
Youth 12 years of age on the day of their appointment or older with "Highest Risk", "High Risk", or "At-Risk" health conditions listed in the Ministry of Health guidance document.

See WEVax.ca for full definitions of conditions and groups.
Vaccination booking is available at this link: https://wait.crowdhandler.com/wechuvaccination
Or you can call 226-773-2200 (but the Health Unit says the call centre is only for assisting people who can't use the website and the call centre has the same access to appointments as what's shown on the website)

Pharmacy Vaccinations (Moderna)

Adults aged 18 and older, living in "hot spot" postal code regions: N8X, N8Y, N9A, N9B, N9C, N8H, or N9Y can make an appointment with a participating pharmacy.
Please note: Despite the province's website stating the Moderna vaccine is available to adults 18 and over with no location restrictions, the Windsor Essex County Health Unit has directed that it is only available locally to residents living in hot spot postal codes.
See the province's pharmacy list and contact your chosen pharmacy directly to make an appointment: https://covid-19.ontario.ca/vaccine-locations/moderna

Pop Up Clinics

Saturday May 22nd from 1:00pm to 4:00pm at 2285 Howard Avenue (Dr. Doko's office, age 18 and over, Moderna vaccine being given, walk-in only, parking available)
For more information about vaccines and vaccination locally, visit WEVax.ca.
Getting A Vaccine (2nd Dose)
Health Unit CEO Theresa Marentette says people in certain priority groups are able to book an earlier appointment from what was previously scheduled and must call the call centre at 226-773-2200 to book.
For more information visit WEVax.ca.
The Health Unit will soon be releasing more information about when people can expect to schedule their second doses.
Resolved Cases

The Health Unit lists 15,517 total resolved cases.
That's an increase of 32 resolved cases since yesterday.
Deaths
The Health Unit announced two additional deaths from COVID-19 today bringing the local death toll to 424. They say a woman in her 50s from the community, and a man in his 60s from the community passed away. Dr. Wajid Ahmed, Medical Officer of Health says both people had variants of concern.
Hospitalizations
The Health Unit lists 15 hospitalizations of people from Windsor-Essex today: 14 people in acute care (decrease of 8 today), and 1 person in the ICU with confirmed cases of COVID-19 in Windsor Essex.
Cases listed on local hospital websites (note: these numbers are not updated at the same time as the Health Unit's):
Workplace Outbreaks
4 outbreaks at healthcare and social assistance workplaces in Windsor (2 outbreaks are positive for the U.K. Variant B.1.1.7)
1 outbreak at a healthcare and social assistance workplace in Lakeshore
2 outbreaks at manufacturing workplaces in Windsor (both outbreaks are positive for the U.K. Variant B.1.1.7)
1 outbreak at a mining, quarrying, and oil and gas extraction (positive for the U.K. Variant B.1.1.7)
Community Outbreaks
Southwest Detention Centre
School Outbreaks
No current school outbreaks.
Hospital Outbreaks
No current hospital outbreaks.
Long-term Care / Retirement Home Outbreaks
Note: windsoriteDOTca News makes every effort to track the changes in COVID-19 data each day. These numbers are subject to change as the Health Unit makes changes to their numbers throughout each day, and errors and omissions sometimes occur with their data. Please see this page for the latest, most up to date data throughout each day.
Content Continues Below Local Sponsor Message
Content Continues Below Local Sponsor Message
Content Continues Below Local Sponsor Message