Play Writing Contest Provides Hope In Uncertain Times
Thursday April 30th, 2020, 7:36am
Hello time traveller!!
This article is 1065 days old.
The information listed below is likely outdated and has been preserved for archival purposes.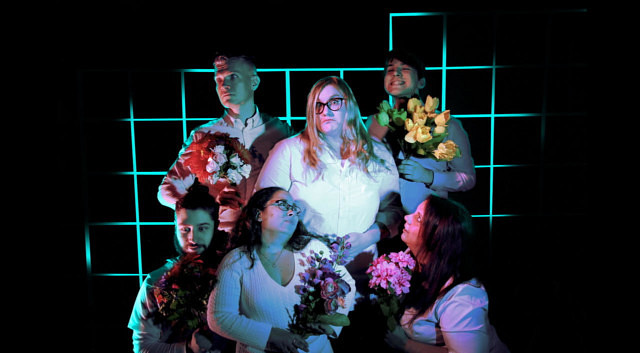 Despite local arts being in limbo, a Windsor group is continuing to provide opportunity.
With COVID-19 forcing the closure of businesses across Canada, focus has shifted to social distancing. While this prevents theatre companies from operating as usual, Windsor's Post Productions has been able to continue with an important part of their season.
As an April 30 deadline looms, the group's third annual Windsor-Essex play writing contest is set to close the door on submissions. Creating a double bill and solo show in two seasons so far, it factors heavily into their plans.
"People would probably be surprised by how seriously we take this contest," said Post Productions managing director Michael K. Potter. "It's so important to us that we plan our entire season around it. We don't finalize our plans for the next season until we know which script has won the contest. Every season we try to schedule plays at a time of year that seems appropriate for that particular story. We don't like to have two plays of a similar type in a season, so until we know the contest winner, we don't make a final decision on the other four productions."
Born out of a conversation between Potter, Post Productions partners Fay Lynn and Michael O'Reilly, the contest was designed to help playwrights get their work read and produced. Knowing firsthand how difficult it is, they wanted to give those participating useful feedback as well.
As with the origins of anything however, there have been some changes along the way.
"We've limited submissions to 'straight play' only, so no musicals," said Lynn. "Arts Collective Theatre now has a contest focused on musicals,, so that's good. We've given ourselves and the playwrights more time between deadlines. We found ourselves scrambling the first year, not only to read each entry, but also to review them, apply the rubric, draft the feedback, etc. We wanted to ensure that each entry received equal attention from the judges."
Those judges are another big part of the contest as well. Beyond Potter, Lynn and O'Reilly, past names include local playwright Matt St. Amand (who's work has been produced by Post Productions,) University of Windsor School for Dramatic Arts professor Michelle MacArthur, along with Sessional Instructor and former actor Simon Du Toit.
While credentials are necessary, balance and dedication are also crucial in selecting others.
"First we try to find people who are fairly well-versed in the world of theatre," said Lynn. "We try our best to put together a well-balanced panel each year. Having writers and educators on the team is a great asset. Everyone brings their own levels of expertise to the table, whether that's writing, directing, set design, etc.  Another important thing we look for in our judges is willingness and eagerness to participate in the process."
Providing development skills through feedback remains at the heart of this contest. Beyond that, Potter thinks it's a great way for people to create something in a supportive environment.
"The biggest challenge we face is convincing people who have a lot of promise to take the plunge and submit their work," he said. "Every year people tell us they wanted to submit something but they were afraid it wouldn't be good enough. I want to say to all the writers out there: you may be better than you think, so give it a shot. The worst thing that can happen is you'll get helpful feedback. We want you to succeed."
Such success was earned by Alex Monk's Autopsy, Joey Ouellette's A Haunting in E Flat and Edele Winnie's Pry It From My Cold Dead Hands. As co-winners for the first contest, the first two created an October double bill that fit in seamlessly with Post Productions brand. This past February, the most recent winner kept audiences laughing while doing more of the same.
It's something that wouldn't be possible without close collaboration though. Despite feedback from judges, this initial development is only the first step in preparing shows for the stage.
"I've been happily surprised at how open the winning playwrights have been to the necessity of workshopping," said Potter. "With a new script, you just don't know what needs to change until you see people act it out onstage. What looks great on paper may not work when performed by real actors. That's just the way it is. The three of us have been through this with our own scripts, so we know that what we write will probably change many times in many ways before an audience sees it. I was a little worried that our winning playwrights might not realize this and be resistant or upset. That hasn't been the case at all. They've been gracious, accepting and helpful each time throughout the process."
Lynn agrees and remains flattered by compliments she's received for past shows.
""With the two winning plays I directed, A Haunting in E Flat by [Ouellette] and Pry It From My Cold Dead Hands by [Winnie,] the biggest accomplishment for me was that the playwrights enjoyed the shows," she said. "We received messages from both Joey and Edele after they saw their respective plays. Both seemed genuinely delighted with the productions, the casts, the choices that were made in the staging, etc. Neither of them had any complaints. Edele said some truly wonderful things. Joey saw Haunting several times and that meant the world to me! I'm proud of that because it's their work and they trusted us with it."
Post Productions has also kept busy in other ways during the downtime. In addition to restructuring their website, production on plays has continued by creating promotional materials, sound files, prop lists and thinking of set designs. Working with the hope they can re-open in June, the goal is to be prepared to pick up where they left off before the covid-19 pandemic..
It's also forced the group to develop their shows through alternative methods.
"We held our last audition via self-tape and hosted the read thru as an online conference," said Lynn. "We started rehearsing online as well. It's different and takes some getting used to, but it's also very interesting. We miss the personal connections and energy that comes with in-person rehearsals, but online we can still listen to each other and focus on tone and character. What we do, what we've always done, is adapt. We structure, then restructure. Expect nothing and prepare for everything."
Although they can't say for sure, 15 to 20 entries are expected in this year's Windsor-Essex play writing contest. Interest is high and after last year's elimination of musicals, things are more varied: So far, submissions have ranged from campy comedy to crime drama and everything in between.
whatever comes out on top in the end, it'll most likely join the group's catalogue of popular shows.
" One way in which the contest has surpassed our expectations is that so far the productions have been enormously popular," said Potter. "They draw far more patrons than we expected, based on projections one would typically make for original plays. Original work tends to be a harder sell. People are likelier to spend time and money seeing a well-established play. The contest winners have been an exception to that rule."
Those unfamiliar with Post Productions can follow their facebook page for show retrospectives during the pandemic.
Content Continues Below Local Sponsor Message
Content Continues Below Local Sponsor Message
Content Continues Below Local Sponsor Message