Local Film Premiere To Benefit CMHA During Suicide Prevention Awareness Month
Tuesday September 3rd, 2019, 9:00am
Hello time traveller!!
This article is 1306 days old.
The information listed below is likely outdated and has been preserved for archival purposes.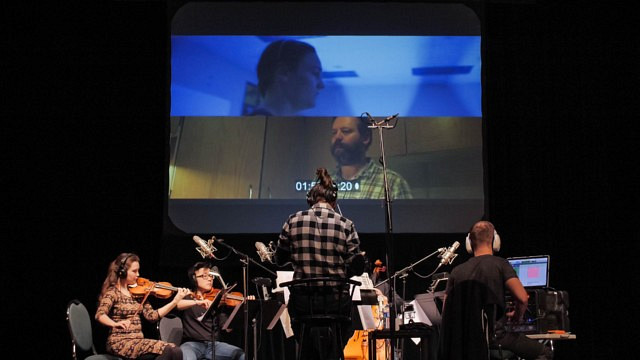 After winning awards at festivals around the world, a local director is bringing his film back home.
Taking place on Saturday, September 21st, Gavin Michael Booth's latest project Last Call will make its Canadian premiere at the Chrysler Theatre.  In addition to being the first screening in the country, proceeds from the event will also benefit the Canadian Mental Health Association (CMHA.)
Being filmed at locations such as St. Clair College's Mediaplex and having the score recorded live in the theatre itself, the director felt it was the only place to premiere his project in Canada.
"This just made perfect sense," said Booth. "When we premiered The Scarehouse in Windsor it was wonderful to have so many hundreds of people in attendance, but we had smaller theaters and couldn't have them all together. This will make for a much more engaging experience having everyone in the same room."
Last Call follows a suicidal alcoholic (Daved Wilkins) on the anniversary of his son's death. Trying to reach a crisis hotline, his misdial instead connects him to a single mother (Sarah Booth) working as a local community college's janitor. What follows is a life-changing conversation that plays out in real-time — the project was filmed in a dual single-take and is presented on split-screen.
While already enjoying success, the concept didn't come without some challenges. Travelling a long way from conception to finished product, it didn't turn out like the director had envisioned even a day before filming.
"The day before we started filming, after our last rehearsal, [Wilkins]and I made a big decision that the script wasn't working as it was written," said Gavin. "We needed to rewrite almost fifty pages of the script. We filmed the movie in a single take, which means no editing or changing it later like a traditional movie can. We had to get it exactly how we wanted as we filmed it."
Still, the same thing that created these challenges also pushed the movie to the next level.
"Filming in real-time, there is a tension for the crew and the cast – THIS. MUST. GO. RIGHT," he said. "It feels more electric and organic. You get different performances, happy accidents, camera moves and other happenstances that changed from take to take. In a sense, the director doesn't have control entirely over the movie and the excitement is trusting that the lack of control will bring new and improved changes to the final film."
That isn't to say that everyone was thrilled after filming wrapped. Experiences from cast and crew were mixed as many focused on mistakes or improvements they could've made with more time. Although it was a technical accomplishment, some didn't initially think the footage created a good movie even.
It wasn't until music and sound design was added that people began to come around. Once those elements allowed emotions to sink in, the previous doubters were mostly blown away.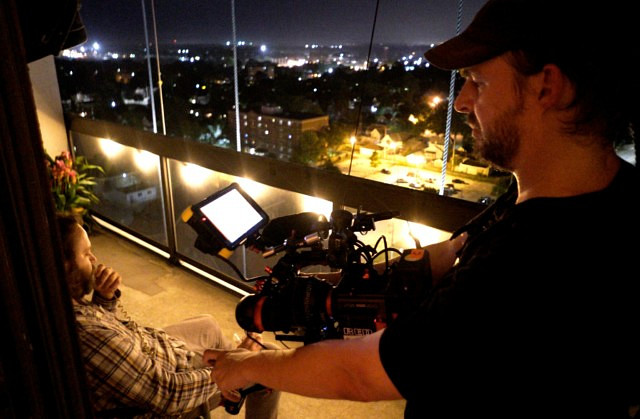 Hearing the score performed as his film screened at a live event, Gavin himself became emotional during the experience.
"I'm not going to lie, I cried," said the director. "The first time I heard Adrian Ellis' score performed by the musicians, watching it along with the projection of Last Call overhead, I cried. His music is beautiful and I don't think anything can top sitting in a room, listening to live musicians bring a score to life."
It's a feeling that's stretched from coast to coast as well. After the film's premiere at the Chinese Theatre in Los Angeles, grown men and others in the audience were in tears. The director was even given a standing ovation, something he admits was overwhelming.
Beyond the immediate praise, word as travelled as well. Receiving positive reviews, the film has gained attention internationally and won awards at almost every festival it's been a part of.
These include best feature at the Beloit International Film Festival, the Grand Jury Prize Honourable Mention at Dances With Films, Best Experimental Feature at Queen Palms Film Festival, Best Feature at the Not Film Festival in Italy, Best Screenplay & Best Actress at Social World Festival in Italy, Best Actor & Best Actress at Euphoria International Film Festival among others.
Not stopping there, the film will be at festivals in Sweden, Pennsylvania, another in Los Angeles and more pending acceptance.
living in L.A. though, Gavin actually didn't realize the Windsor premiere would fall during suicide [prevention awareness month. After organizing a seven city screening event with Flixbrewhouse for national suicide prevention week in the states, the idea to benefit CMHA was born.
Still, Gavin maintains it wasn't the original purpose of the film.
"We first want people to enjoy the movie and be moved by the story," he said. "Beyond the film, if it opens people up to discussing their own mental health or helping to remove some of the stigma around mental health to be a better listener `and friend to others in need, that would be wonderful."
Pulling no punches, the element of real-time means viewers connect with Sarah's character Beth as she tries talking a stranger off the ledge. Gavin's hope with this storytelling device is to show that acts of kindness towards each other can sometimes be all it takes.
Speaking of which, the kindness from many in the area is also what made this movie possible.
"The restaurants like Jimmy G's, Boston Pizza, The Dugout, Armando's — so many restaurants helped," he said, acknowledging those who lent a hand. "St. Clair College, Victoria Park Place apartment building staff, City of Windsor for closing off parking spots, The local media for following the production at each stage and helping raise interest and awareness as we created the film. Tourism Windsor for their help with lodging, Jeff Burrows and David Hunter for helping organize our premiere event. Vermouth Bar, one of our locations. The list is pretty endless. I think people will take some pride in Windsor when they see our end credits on premiere night."
After the hometown premiere, Gavin will bring the film to Toronto and Montreal. With no major distribution, such screenings are what make a difference for independent movies like these. Options are also being looked at to bring Last Call to other cities, along with formats like streaming and TV.
Finishing up his year, the director has two short films hitting festivals soon. On October 15th, Gavin starts his next movie as well, which is described as a science-fiction story that revolves around a band.
Admission to Last Call's Windsor Premiere is $15 plus tax and a theatre service fee. Tickets are available online and at the Chrysler Theatre box-office.
Those interested in seeing how the film was made can check out this video. A clip of the film is also available online.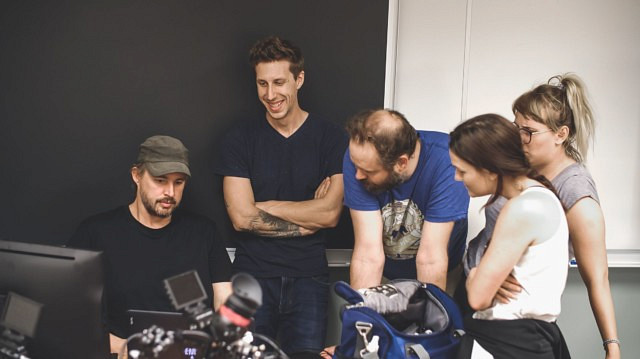 Content Continues Below Local Sponsor Message
Content Continues Below Local Sponsor Message
Content Continues Below Local Sponsor Message