Theatre Group Promises To Tell The Truth In Latest Production
Sunday April 21st, 2019, 2:58pm
Hello time traveller!!
This article is 1689 days old.
The information listed below is likely outdated and has been preserved for archival purposes.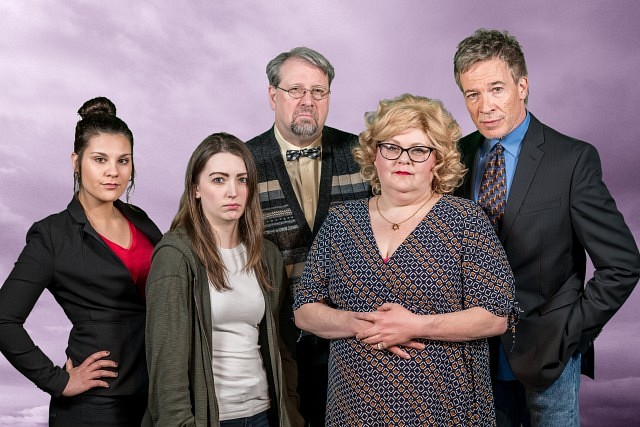 One local group is showing that it isn't always easy, to tell the truth.
Based on real events, Post Productions' presentation of Eve Lederman's Nothing But The truth is a first for the theatre company. Playing at the Shadowbox Theatre (located at 103B – 1501 Howard Avenue) on April  25th, 26th and 27th, the play will mark the only time they've produce an original show by a writer outside of Windsor.
"Nothing But The Truth is the first play Post Productions has staged that's directly inspired and influenced by real events, which gives it a rawness that feels fresh to us," said producer and Post Productions managing director Michael K. Potter. " [ Lederman] sent us the script in 2017, after we'd staged Oleanna and were working on The Worst Thing I Ever Did and True West, asking if we might be interested in producing it. We thought it seemed unusually promising. The only question was when we would produce it."
With two original plays set for 2018, this month was their first opportunity to do so. Showing a volatile relationship between a patient and her therapist, the events play out as a courtroom drama.
With a non-linear time structure similar to previous production Stop Kiss, the audience is left to figure out what's really happened throughout the play.
"Rachel is a vivacious yet distraught young woman exploring her family secrets with her maternal therapist Marilyn," said Lederman. "When Marilyn faces questions in a lawsuit for abruptly terminating Rachel's treatment though, she paints her as violent and an explosive life-altering battle ensues. The play shares a tale of betrayal that ignites a heated dialogue about the dynamics of therapy and the blurry line between obsession and love. The scenes alternate between the doctor's office and the deposition room: Marilyn testifies to one version of events and then the clock turns back to the doctor's office where the facts unfold."
It's also something the playwright thought was particularly relevant for the times.
"In our current cultural climate, I think a story that portrays a struggle about what the truth means and how we dispute facts presents a timely and provocative topic," she said.
In the production's early days, challenges arose during initial auditions. Looking for actors who suited specific roles, Post Productions also needed them to have the right chemistry. As a result, those trying out did so in a large group: This led to many different takes on the characters.
"The relationship between Marilyn and Rachel was key, but the right pairing among those who auditioned wasn't immediately apparent," said director Fay Lynn. "We also had more actors come out for this audition than any other we've held and each actor who auditioned for one of the two leads showed us a very different interpretation of the characters."
It's something Potter agreed with.
"A lot of talented women auditioned for the roles of Rachel, Marilyn and Carmen especially, so we were blessed with the problem of having to make difficult choices," he said. "We probably could have assembled three different casts and each of them would have been wonderful."
To avoid burnout, the group now uses a model of 24 rehearsals spread out across eight weeks for each production. Starting in mid-February, those involved began by focusing on the timeline in chronological order, along with technical staging aspects like basic blocking and scene transitions.
With that foundation in place, attention was then shifted to character and intention.
"We have been rehearsing three nights a week since mid-February," said Jessie Gurniak, who plays Rachel Klein. "I think what we've been focusing on the most is character development. Post really likes to dive deep into the minds of the characters and really make sure the actors know exactly why they are saying and doing what they are saying and doing. It makes it more believable if the actor understands their role thoroughly. That's what makes the difference between a person reciting words on a stage and an actor becoming their character and bringing it to life."
Playing into Post Productions' mission statement to draw from raw emotion, this play continues the trend. Basing it on real life events has only fuelled the overall content and created something that's been intense for the actors.
Keeping this in mind, they've used personal experiences to shape their performances as well.
"For me, I draw a lot of inspiration from my own life," said Gurniak. "I have an anxiety disorder and I know a lot of people with various mental health issues like depression and bipolar disorder. I've helped a few friends through panic attacks and rough patches in their life and they've helped me in return. I actually have notes in my script that are just certain days or a name of someone I know because that scene reminds me of something I've experienced so I'll draw inspiration from those key dates and people."
Even those lacking direct experience for their roles found personality traits that helped flesh out their characters. Each part only added to the overall message of the play.
"As an audience, you will witness a legal drama inspired by a real malpractice case, and see me portraying a powerful Latina lawyer," said Shayna Reiss, who plays Carmen Garcia. "As a female attorney, my approach to the character and the content was forceful and compassionate. As a powerful force in an industry in which women can be depreciated and harassed, my approach to the character was different than others. Discovering the truth and handling the truth about both Marilyn and Rachel's secrets created a variety of emotions on a whole other level."
Being in a play that identifies mental health issues was also important to the actress. Showing the challenges between telling the truth and disputing the facts, it's one of many hot button issues Post Productions has covered since its creation.
Potter was actually surprised at how well the group's 10th play fit in with their previous shows: As a result, it joins the company of some high-quality works.
"As a producer, the most exciting aspect of the process so far has been seeing how well the work of this fascinating new playwright fits into the Post Productions wheelhouse," he said. "I mean, think of it this way: Nothing But The Truth follows Pulitzer prize winner Jean-Paul Sartre's No Exit and will be followed by a play from the greatest living playwright in David Maet's American Buffalo — Yet it fits. So I'm reminded that there are voices out there that people haven't heard yet, voices that should be heard because they have important things to say and interesting stories to tell. I think the world will come to really appreciate the caliber of [Lederman's] work in the years to come."
From the play's subject matter, cast and crew hope audiences come away thinking of how relationships are sometimes complicated. While Rachel and Marilyn hurt one another, they also care as well. Through intimate staging and sound design, the group wants people to find empathy for those who inadvertently hurt them too.
Above all else however, honesty remains at the forefront of the play.
"It's most important for us to show nothing but the truth, which is filled with raw emotions," said Joey Ouellette, who plays Dr. Jerome Adler. "Sometimes it's humour, some pain, some shock, some outrage."
Lederman encourages others to express their emotions in a creative way as well.
"My personal message in writing the play is for people who've suffered any kind of trauma to turn their agony into art," she said. "Write, act, paint, sing, sculpt, dance and find your voice.
Each performance of Nothing But The Truth starts at 8 p.m. with doors opening at 7:30. Tickets can be purchased at Post Productions' website for $20 or at the door if available. Although original plays are only running for five dates (as opposed to eight for familiar stories) this year, they may run longer in the future if these shows sell out.
Why should the public see this play specifically though? Perhaps the playwright puts it best.
"Audience members have told me you can, 'expect to Fasten your seatbelt and ignore your watch,' 'Head to the street still engaged in debate,' 'Get back to your car and burst into tears,' 'Mull over the play for days and discover the subtext,'" said Lederman. "The play is kind of the turducken of drama: It's a love story, enveloped in a legal case, wrapped in a psychological mystery. It will challenge you to think, tear at your heart and kick you in the gut."
Content Continues Below Local Sponsor Message
Content Continues Below Local Sponsor Message
Content Continues Below Local Sponsor Message