Buy Local Gift Ideas: Michael Difazio Reclaim Artistry
Saturday November 24th, 2018
Posted at 11:00am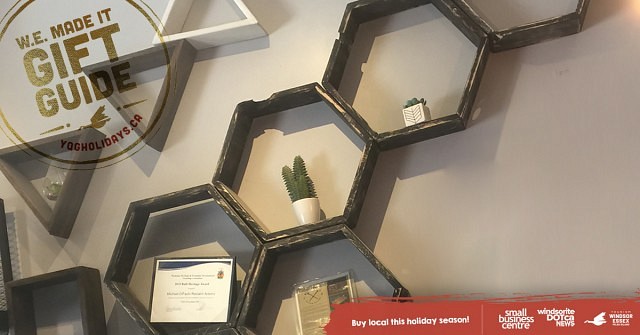 Buy local this holiday season with the Tourism Windsor Essex Pelee Island W.E. Made It Gift Guide, in partnership with the Windsor-Essex Small Business Centre.
The guide features ideas that are locally crafted and curated items that would make a perfect gift for someone that you care about this holiday season. It should make it easier for you to find local gift inspirations for everyone on your list! Get inspired – when you buy local, your money goes back to our community. There are so many unique items available locally, and your purchases help keep more money in our region this holiday season.
Check out this weeks feature artisan, Michael Difazio Reclaim Artistry.
Michael Difazio is a reclaim artist, I build furniture and art pieces out of older materials that no longer serve the purpose they were originally built for. Michael has been recycling his whole life as while growing up he got into woodworking and started really getting into history and appreciating old & vintage things.
Reclaiming is awesome to Mike – the fact that he gets to take something old and make it into something new, and it brings the character and story behind it. There's more to the pieces that Mike makes than just a simple piece of furniture, there's a story to tell. When you take something that already has history and a past, once it becomes something new, it takes on a new life, depending on what the material was, and you're creating its next life, because these materials aren't going anywhere else.
Mike likes to work with a customer to create what they want. He'll build the crazy ideas you can't get anywhere else. Reach out to Michael directly if you're looking for a unique and individual piece for your home
Feature holiday gift: a hand crafted hexagonal shelf made from reclaimed wood.
Want to find more ideas of locally made gifts to give this Christmas? Click yqgholidays.ca for their entire W.E. Made It Gift Guide featuring only locally made items, sponsored by the Windsor Essex Small Business Centre and Tourism Windsor Essex Pelee Island.
You could also win one of the feature gifts in the W.E. Made It Gift guide. Enter today – and enter daily – for your chance to win one of our W.E .Made It featured local makers or artisans. You can enter once per day by clicking here!
Sponsored by Tourism Windsor Essex Pelee Island and the W.E. Made It program, promoting local artisans and makers in Windsor Essex. For more details on the W.E. Made It program click yqgmade.ca.