WFCU Credit Union's 2016 Harold Hewitt Scholarship Recipients Announced
Tuesday November 8th, 2016
Posted at 6:51pm
Hello time traveller!!

This article is 923 days old.

The information listed below is likely outdated and has been preserved for archival purposes.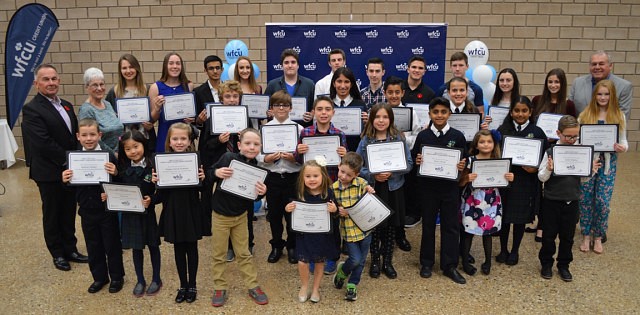 WFCU Credit Unionhas announced the recipients of the 2016 Harold Hewitt Scholarship.
The scholarship was inspired by the late Harold Hewitt, WFCU's long term Director on its Board.
This year WFCU Credit Union was able to increase in the number of recipients as well as the total amount of funds awarded for this scholarships to a total of $55,000 to thirty-three successful scholarship recipients.
Students were awarded scholarships that will have a value of $2,000 each by the time the scholar begins their post secondary education. WFCU Credit Union CEO Marty Komsa stated, "As a financial institution committed to our community, this newly enhanced program truly shows how WFCU invests in our youth."
The following youth were selected as recipients of the 2016 Harold Hewitt Scholarship:
JK – Grade 1 (awarded $1,200 scholarship each)
Carter Kipping – Grade 1 Academie Ste. Cecile
Connor Goulet – JK Essex Public School
Micayla Azzura Vitella – Grade 1 St. Joseph Catholic Elementary School
Stella Seguin – JK Holy Cross Elementary School
Grades 2-3 (awarded $1,300 scholarship each)
Shree Patel – Grade 3 Glenwood Public School
Austin Kohuch – Grade 2 Southwood Public School
Paisley Rachel Koekstat – Grade 3 St. Jules Elementary School
Matthew Hanaka – Grade 2 Academie Ste. Cecile
Chloe Wu – Grade 2 Academie
Grades 4-6 (awarded $1,500 scholarship each)
Noah Cherian – Grade 6 Academie
Avery Nosella – Grade 5 Bellewood Public School
Nihaal Dhaliwal – Grade 6 Academie
Riya Nair – Grade 6 Academie
Darian Dufour – Grade 5 Stella Maris
Xavier Durocher – Grade 5 M.A. Caron
Grades 7-8 (awarded $1,700 scholarship each)
Hannah Malus – Grade 7 Academie
Jaxon Nosella -Grade 7 Bellewood Public School
Ava Ryan-Soderlund – Grade 8 Sandwich West Public School
Olla Hilal – Grade 8 Academie
Grades 9-10 (awarded $1,900 scholarship each)
Matthew Randazzo – Grade 10 St. Thomas of Villanova High School
Breton MacDougall – Grade 10 St. Thomas of Villanova High School
David Hewitt – Grade 10 St. Anne's High School
Liliana DiGesu – Grade 10 Holy Names Catholic School

Grades 11-12 (awarded $2,000 scholarship each)
Nathan Leili – Grade 12 Kingsville District High School
Abigail Slack-Neves – Grade 11 Walkerville Collegiate Institute
Andrew Drury – Grade 12 St. Thomas of Villanova High School
Kristen Swaitoschik – Grade 11 St. Thomas of Villanova High School
Jeremy John Matthews – Grade 12 Vincent Massey Secondary School
2016 Graduates – awarded $2,000 scholarship each
Maria Miceli Graduate of Vincent Massey Secondary School
Mackenzy Metcalfe Graduate of Walkerville Collegiate Institute
Emma Atkin Graduate of Brennan
Laureen Provost Graduate of Holy Names High School
Mikala Malkoun Graduate of Cardinal Carter