Magician Pulls The Curtain On Scams & Hoaxes
Tuesday February 3rd, 2015, 12:00pm
Hello time traveller!!
This article is 3040 days old.
The information listed below is likely outdated and has been preserved for archival purposes.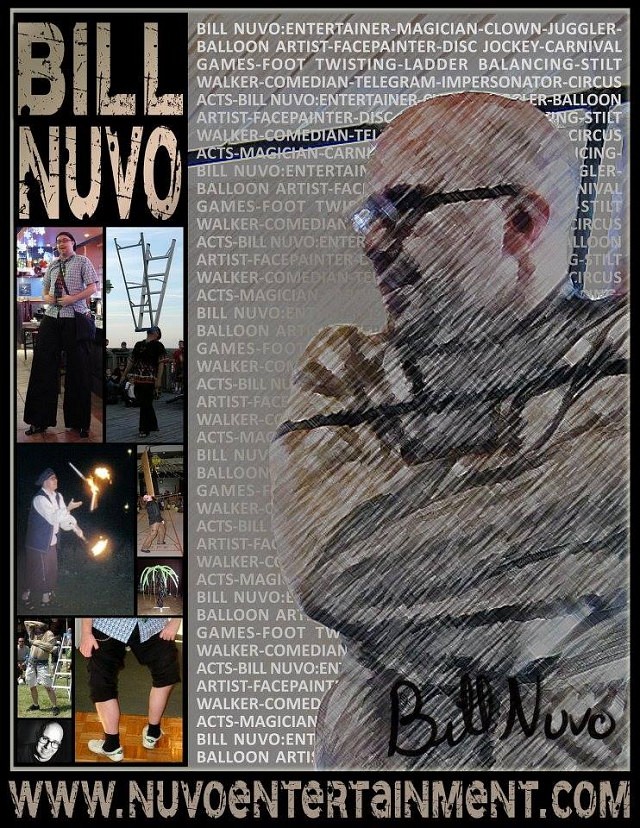 While scams can make cash disappear, someone is using magic to help those in danger.
Local magician Bill Nuvo has been fascinated by the craft for decades. While many are satisfied with putting on a good show, the veteran has instead made it his mission to debunk several scams and hoaxes for the public. With his course beginning on the afternoon of February 11 at Canada South Science City, the "honest liar" will use his experience to do so again.
Oddly enough however, his journey into magic began by accident.
"When I was seven-years-old, my grandmother had purchased two books for the two boys in the family — my cousin and I — at Christmas time," said Nuvo. "One book was on science experiments and the other was on magic and jokes. I was the brainiac of the family, having read an entire set of encyclopedias by age 5, and thus, was supposed to get the science book. She wrapped both of them up at the same time and accidentally switched the name tags. That was how it all started."
Nuvo learnt many tricks as curiosity intersected with his academics. Studying at McGill University, Karolinska Institute, University of Queensland, University of California (Berkley), Tufts University, and Wageningen University among others, he's well-versed in nutrition, chemistry, psychology, neuroscience and astronomy.
Needless to say, these have all played a key role in his development as a magician.
"Psychology, optics, physics and more play a huge role in magic," said Nuvo. "Of course there is the physical nature (mechanics) of the tricks and their execution, or what many people refer to as 'the secret.' Magic tricks are so much more though and this is where psychology and related sciences come in. I do this one trick demonstration to explain this in my course that I teach. The secret move is a simple sleight of hand method of making a coin seem to be in one hand but is actually retained in the other. The move literally takes less than a second, but yet the routine is three minutes long. This is because I utilize various psychological techniques to control an audience's perception of what happened, sometimes even creating a false memory."
Using several techniques scammers do, Nuvo is up front about cheating. Having this information, he was inspired to use it for educational purposes and has debunked several hoaxes over the years.
At $30, Nuvo's latest course will take place over the span of three days – February 11, 18 and 25. Each session will be two hours, but those expecting a boring time may be surprised. With over 30-years of experience, the course will be far from straight-forward.
"The course is entertaining thanks to my many years of performing, but it is also very informative," said Nuvo. "I do perform some magic tricks throughout the course to illustrate various points."
Showing video, cognitive and sensory illusions, Nuvo uses the first day to prove that anyone can be fooled. After this, he takes the second day to teach those participating some tools for spotting scams on their own. Wrapping up the course, Nuvo uses the final day to perform some live and video scam demonstrations. A review of what's been learnt then follows.
Although the magician doesn't hesitate to point-out scams, he also acknowledges his own profession creates some as well. While rare, Nuvo has met people who believe that magic is real and think with practice, they can walk through walls.
What surprises him more however is how people don't think psychics use magic.
"As a magician, when doing a mind reading effect, I'm required to be near perfect in my predictions," said Nuvo. "Whereas the charlatans can get away with being less then 20% correct (much worse than random chance in many situations) using the same tools. The difference is they will often prey on emotional topics which can lead to a reduction in critical thinking. It is interesting to note that magician James Randi has $1,000,000 up for grabs for evidence of psychic ability. Since it was introduce in 1964 not a single person has won the money."
These aren't the only scams he enjoys calling attention to either. Thanks to his psychological and nutritional studies, Nuvo often focuses on debunking health-related hoaxes: With the advent of social media, they spread quickly.
Nuvo has fought back, creating a meme with an apple to show that not all chemicals are bad. It went viral and inspired many similar images.
"A good rule of thumb is if it is too simple of a solution, it's often false — although there are always exceptions," said Nuvo about hoaxes. "This is very true of cancer cure claims. Most of these scams claim that cancer can be cure by simply eating one kind of food. This of course is not true. There are around 200 different types of cancers for humans. Each of these cancers has different causes, different genetics, different prognoses, and different pathophysiology."
At the end of the day, the magician was tired of seeing people he cared for being taken advantage of. It led him to start unraveling hoaxes decades ago and is the reason he continues to do so with courses like these. Hoping to make the world a better place, Nuvo is giving people tools to navigate through the over-saturation of information they're now faced with.
For those who can't make it though, he has one critical piece of advice.
"Pause," said Nuvo. "Before reacting, take a second or hours if the case warrants. We often react too quickly and want instant gratification. So if something appeals to our emotions, we want to act on that right away. Taking a pause and considering things critically can reduce being taken in by scammers."
Half of the cost from this course will go to Canada South Science City. Nuvo urges those interested to pre-register as soon as possible. Information on how can be found here.
Content Continues Below Local Sponsor Message
Content Continues Below Local Sponsor Message
Content Continues Below Local Sponsor Message