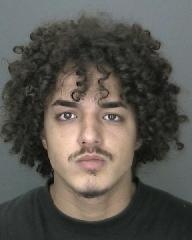 UPDATED: UWindsor Campus / Thirsty Scholar Pub Stabber Turns Himself In
Windsor Police are searching for a suspect after three men and possibly a fourth, suffered stab wounds on the University of Windsor Campus early this morning.
At 2:20am on Friday, March 9th, 2012, Windsor Police officers responded to the area of the CAW Centre at the U of W campus for a report of a stabbing.
Prior to arriving, officers observed EMS paramedics attending to a male at the corner of University Avenue at Patricia Street. The male was bleeding heavily from several lacerations to his right leg and buttock. The 23 year old was transported to Hotel Dieu Hospital where he was treated for life threatening injuries. He currently remains in hospital in stable condition.
The investigation revealed that at approximately 2:10am, an altercation occurred between a group of men at the door of the "Thirsty Scholar Pub". During this altercation, a 21 year old man brandished a knife and stabbed a 20 year old man in the back.
The suspect then slashed a 19 year old man who was also involved in the altercation. Both victims received non-life threatening injuries and were treated and released at Hotel Dieu Hospital.
After stabbing the first two victims, the suspect ran toward a group of people walking through the Assumption Church parking lot located directly north of the CAW Centre. It was at this location that a second altercation took place.
As a result, the same suspect responsible for the earlier injuries stabbed the 23 year old man in the right leg and buttock. He then swung the knife at a fourth male possibly causing a laceration to the victim's right arm. The fourth victim left the scene prior to the officers' arrival on scene.
Officers were able to identify the suspect responsible for the stabbings. Officers checked the area as well several addresses associated to the suspect but were unable to locate him. The weapon used in the stabbings has not been recovered.
The suspect wanted for three counts of Aggravated Assault these stabbings has been identified as Emad Adel Ben-Abdellah – 21 years old of Windsor.
The Windsor Police Service is requesting the assistance of the public in locating this individual. Police are advising the public NOT to approach the suspect.
Anyone with any information regarding the whereabouts of the suspect or anyone with any information regarding the events occurring early this morning to call Windsor Police Investigations at 519-255-6700 ext 4830 or anonymously to Crime Stoppers at 519-258-TIPS (8477).
Windsor Police are reminding the public that the knife used in the stabbings has not been recovered and that the suspect is to be considered armed and dangerous.
The Windsor Police service is also requesting the fourth victim who may have been stabbed during the second altercation to contact investigators.