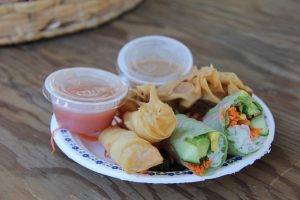 This two day event will be an exhibit of delectable tastes and unique talents, all at a beautiful waterfront setting nestled on Lake St. Clair.
June 15th, 2018 to June 16th, 2018
Runs both days from 5pm to 1am.
Must be 19 years of age or older.
Shuttle bus will run from Tecumseh Arena to Lakewood Park from 5:30pm to 2:00am each day.

FOOD:
KITCHN
Wrap Shack
Taste Buds
Perciballi Pizza
WINE:
Crew (Colchester Ridge Estate Winery)
Sprucewood Shores Estate Winery
Cooper's Hawk Vineyard

BEER:
Craft Heads Brewing Company
Walkerville Brewery
Frank Brewing Co.
DISTILLERIES:
Hiram Walker
$12.00 - One-Day Pass (June 15th or 16th)
$20.00 - Weekend Pass (June 15th-16th)
Lakewood Park, Tecumseh, Ontario