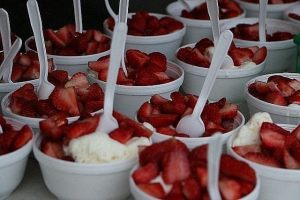 The variety of events that take place over the four days of the LaSalle Strawberry Festival appeal to young and old!
June 6th, 2019 to June 9th, 2019
Thursday, June 6th: 6pm to 10pm
Friday, June 7th: 3pm to 11pm
Saturday, June 8th: 10:30am to 11pm
Sunday, June 9th: 10am to 4pm
Parking
Parking is free in designated spots only and will be on a first come first serve basis, and at times will be difficult. Outdoor rentals on the soccer fields and ball diamonds are still taking place. If you park in a no parking zone, you could be ticketed.  They will be offering extended free LaSalle Transit service and shuttles to help alleviate parking issues. Accessible parking is available and located in the main Vollmer Complex parking lot with signage and is clearly identifiable. Patrons are encouraged to consider biking to the festival and taking advantage of the free bicycle valet service located near festival entrance #2.
LaSalle Transit
LaSalle Transit route 25 will be operating two buses for all of the hours of the festival. LaSalle Transit will be free from Thursday, June 6th to Sunday, June 9th.  The bus will drop-off and pick-up close to the festival entrance gate.
LaSalle Transit Shuttle - Friday, June 7, 2019
They will offer free  shuttle service to get you to and from the Friday Night Fireworks. In addition to the LaSalle Transit route 25 buses that are running the regular route, two shuttles will bring passengers to the festival. One will travel between the Vollmer Complex and Town Hall (Malden Road), and one between the Vollmer Complex and the old Centennial Arena site (Front Road at Old Front Road).
Fireworks
The fireworks will be launched on Friday night at 10:06 pm near the pond at the Vollmer Complex. The best viewing areas will be in parking lot 1, the main lot, at the Vollmer Complex, at the pavilion/playground area and on the hill behind the pavilion.

Parade
The parade will take place as scheduled on Saturday at 10:00 am along Front Road between Reaume Road and Sacred Heart Drive. Please note that Front Road will be closed from Morton Drive to Victory Street from 9:00 am to noon.
A full detailed event schedule can be found by clicking here.
$5 per person
Persons over 65 or under 6 get in free
Vollmer Center, LaSalle