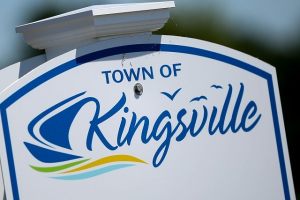 Celebrate Canada in Kingsville!
July 1st, 2018 to July 1st, 2018
Come out and enjoy activities for the whole family at the Kingsville Arena! The festivities begin at  4pm and end with a Fireworks show at dusk.
Schedule of Events:
Ride your bike to the festivities to participate in a bike safety program and for a free grab bag! (limited quantities).
Scouts BBQ
Orora Fresh, Free Hot Dogs from 6pm-9pm
Face Painting from 4pm-9pm
Captain Canada Stilt Walker from 4pm-8pm
Meet & Greet Characters from 4pm-6pm
On Point Beach Volleyball Demonstrations & Play Zone from 4pm-9pm
Fantasy Express Train Rides from 5pm-8pm
Border City Barkers Agility Shoes from 4pm & 5:30pm
Canada Day Cake Office Ceremony at 6pm
Bike Rodeo from 6pm-8pm
Windsor Circus School Guided Play Zone from 6pm-8pm
Mystic Drumz Presentations at 7pm and 8:30pm
Planet Earth Outdoor Concert from8:30pm-9:15pm
Fireworks at dusk
1741 Jasperson Lane, Kingsville, Ontario