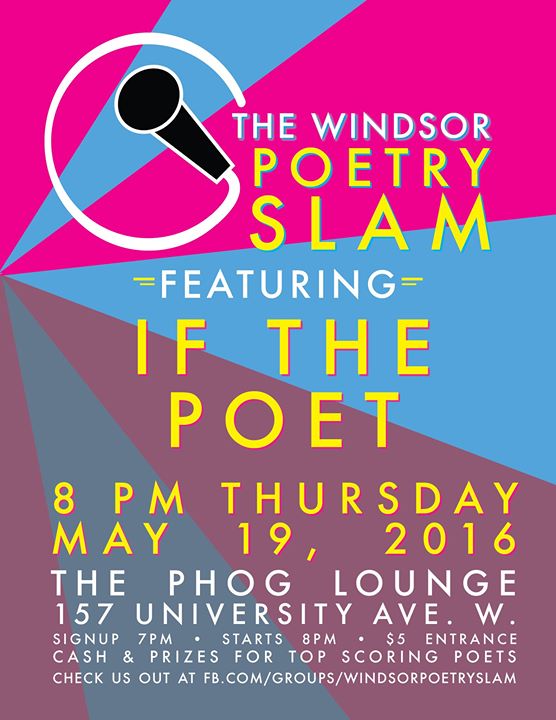 We're back for another addition of the Windsor Poetry Slam and yes, it's going to be amazing. Taking place at Phog Lounge on May 19th. Doors will be 730pm, show start at 8pm. If you want to slam please be there by 7:45pm at the latest to sign up. Earn points that go towards our standings and chance to compete for the 2016 Windsor Poetry Slam Team.
May's Feature is IF the Poet.
IF's poems channel the wisdom of Spirit, the rage of the wounded and the yearning that resides in every human heart. He says "every poem I write is a 'shout out' to the sacredness of our days, a three chord party jam, and a tribute to the triumph of love over fear."
IF is the 2014 Canadian Individual Poetry Slam Champion, a member of the 2013 National Champion Toronto Poetry Slam Team, and winner of 2013 Buffalo International Slam. He has performed at various festivals including the prestigious Word On The Street and Words Aloud. IF writes his best poetry while walking and can often be seen wandering the streets, gesticulating wildly and muttering to himself.
___
As always two rounds of three-minute poems. All work must be original but it can be work you've preformed before. 12 spots to sign up for the slam, if more than 12 poets sign up a random draw will be held. There will be cash and prizes*
*remember to bring your home made Mix Cd's (or tapes or sub drives or 8 track) for prizes.
Hosted by: TBD
Location
Phog Lounge
157 University Avenue West
Windsor, Ontario