Date
Thursday October 26th, 2017
Time
2:00pm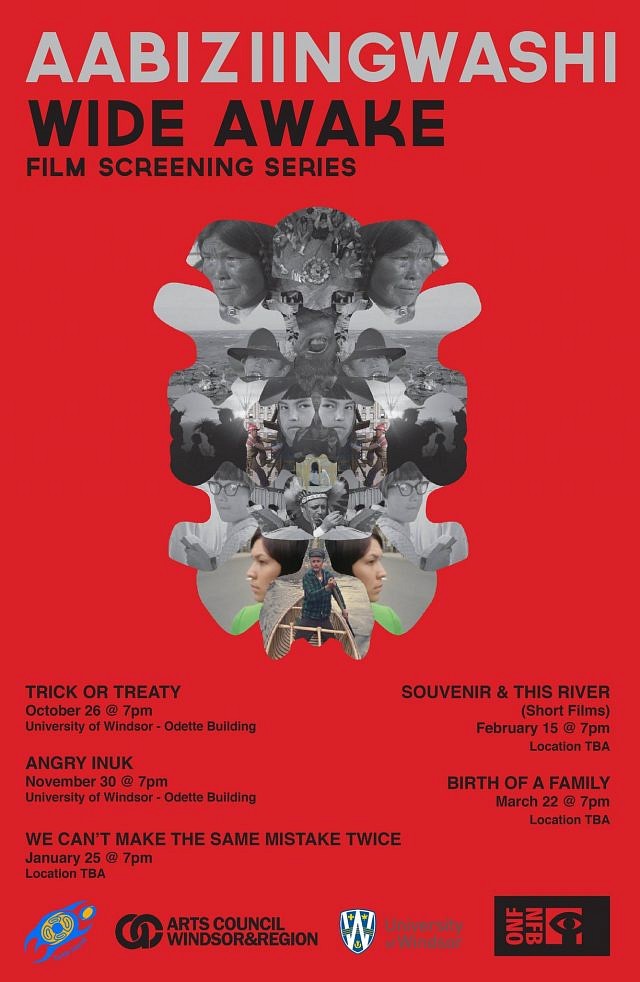 Free Admission
Arts Council Windsor & Region, the Aboriginal Education Centre at the University of Windsor, and the NFB will host AABIZIINGWASHI (WIDEAWAKE): NFB INDIGENOUS CINEMA ON TOUR starting on October 26th. We will hosting a total of 5 screenings from October to March 2018. The first two films will be screened at , Odette School of Business (401 Sunset Ave)
Thursday, October 26 – Trick or Treaty
Alanis Obomsawin
2014 | 1 h 24 min
This feature documentary by acclaimed filmmaker Alanis Obomsawin (Kanehsatake: 270 Years of Resistance) profiles Indigenous leaders in their quest for justice as they seek to establish dialogue with the Canadian government. By tracing the history of their ancestors since the signing of Treaty No. 9, these leaders aim to raise awareness about issues vital to First Nations in Canada: respect for and protection of their lands and their natural resources, and the right to hunt and fish so that their societies can prosper. In recent years, an awareness-raising movement has been surfacing in First Nations communities. In this powerful documentary, those who refuse to surrender are given a chance to speak out.
Thursday, November 30 – Angry Inuk
Alethea Arnaquq-Baril
2016 | 1 h 22 min
In her award-winning documentary, director Alethea Arnaquq-Baril joins a new tech-savvy generation of Inuit as they campaign to challenge long-established perceptions of seal hunting. Armed with social media and their own sense of humour and justice, this group is bringing its own voice into the conversation and presenting themselves to the world as a modern people in dire need of a sustainable economy.
Thursday, January 25 – We Can't Make the Same Mistake Twice
Alanis Obomsawin
2016 | 2 h 43 min
In this documentary, distinguished filmmaker Alanis Obomsawin focuses her lens on the landmark discrimination case filed by the Assembly of First Nations and the Child and Family Caring Society of Canada against Indian Affairs and Northern Development Canada in 2007. Obomsawin exposes injustices to the community by showing how the child and welfare services provided to them are vastly inferior to the services available to other Canadian children, while giving voice to the childcare workers at the heart of the battle.
Thursday, February 15 – Souvenir | This River
Souvenir
Series of four films by First Nations filmmakers that remix archival footage to address Indigenous identity and representation, reframing Canadian history through a contemporary lens.
Etlinisigu'niet (Bleed Down) (2015 | 5 min), by Jeff Barnaby
Jeff Barnaby's Etlinisigu'niet (Bleed Down) destroys any remaining shreds of the mythology of a fair and just Canada. His message is clear: attempts to "get rid of the Indian problem" have failed. Featuring music by Tanya Tagaq.
Mobilize (2015 | 3 min), by Caroline Monnet
This short film, crafted entirely out of NFB archival footage by First Nations filmmaker Caroline Monnet, takes us on an exhilarating journey from the Far North to the urban south, capturing the perpetual negotiation between the traditional and the modern by a people moving ever forward.
Nimmikaage (She Dances for People) (2015 | 3 min), by Michelle Latimer
Both a requiem for and an honouring of Canada's First Nations, Métis and Inuit women, this short film deconstructs the layers of Canadian nationalism. In the process, it reverses the colonial lens by shifting the balance of power to reclaim the Canadian narrative, putting the enduring strength and resilience of Indigenous women at the forefront.
Sisters & Brothers (2015 | 3 min), by Kent Monkman
In a pounding critique of Canada's colonial history, this short film draws parallels between the annihilation of the bison in the 1890s and the devastation inflicted on the Indigenous population by the residential school system.
How People Got Fire (2008 | 16 min), by Daniel Janke
This introspective short animation takes place In the village of Carcross, in the Tagish First Nation. Neighbourhood pillar Grandma Kay tell the local children the tale of how Crow brought fire to people. As the story unfolds, we also meet 12-year-old Tish, an introspective, talented girl who feels drawn to the elder. Here, past and present blend, myth and reality meet, and the metaphor of fire infuses all in a location that lies at the heart of this Native community's spiritual and cultural memory.
This River
Erika MacPherson & Katherena Vermette
2016 | 19 min
This short documentary offers an Indigenous perspective on the devastating experience of searching for a loved one who has disappeared. Volunteer activist Kyle Kematch and award-winning writer Katherena Vermette have both survived this heartbreak, and share their histories with each other and the audience. While their stories are different, they both exemplify the beauty, grace, resilience, and activism born out of the need to do something.
Thursday, March 22 – Birth of a Family
Tasha Hubbard
2016 | 1 h 19 min
Three sisters and a brother, adopted as infants into separate families across North America, meet together for the first time in this deeply moving documentary by director Tasha Hubbard.
Removed from their young Dene mother's care as part of Canada's infamous Sixties Scoop, Betty Ann, Esther, Rosalie and Ben were four of the 20,000 Indigenous children taken from their families between 1955 and 1985, to be either adopted into white families or to live in foster care. As the four siblings piece together their shared history, their connection deepens, bringing laughter with it, and their family begins to take shape.
Location
Odette School of Business
401 Sunset Ave, Windsor, ON N9B 3P4
Windsor, Ontario