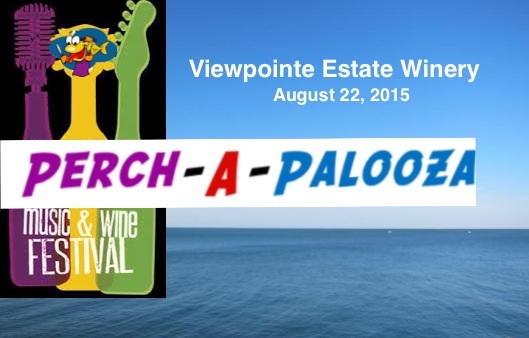 Summer and Reggae go together like good food and wine….
put them together and you have magic!
Perch-a-Palooza…..Viewpointe's ode to warm weather and lakeside living!
Eat Perch, Drink Wine and Every little thing is gonna be alright!
A wine, music and food festival starring Viewpointe's famous Lake Erie Perch.
Starting off the day with a Pancake Breakfast supporting the Harrow Knights of Columbus. Cost: Free Will Offering
We've planned a fun filled family-style afternoon, with pie baking contest, antique car show, and a fabulous display of work by talented local artists.
Take a guided vineyard tour, or spend time tasting a full selection of our award winning vintages in the Wine Tasting Tent.
And did we mention…. Perch-a-Palooza!!
Sneak Peek menu–Perch Tacos, Perch Po'Boys, Perch Kabobs and Old Fashioned Perch 'n Chips!
In addition, we will be offering a variety of our local menu favourites to choose from.
Bring your dancing shoes!!
There's live music on Viewpointe's Lakeside Stage from 1:00 p.m. to 9:00 p.m.
Grab some great food, find a spot on the lawn, and enjoy an amazing summer evening listening to live music on the lake!
Our Summer Lakeside Concert
Canadian Reggae singer Lazo in concert with a TRIBUTE TO BOB MARLEY.
A former member of Bob Marley's world famous Wailers, Lazo was named the top Reggae Performer of the Year by the Reggae Music Awards, and has also won numerous Juno Awards.
A special evening of great music….
Tickets are limited, please call 519-738-0690 or purchase on-line at
Location
Viewpointe Estate Winery
151 County Road 50 East
Harrow, Ontario