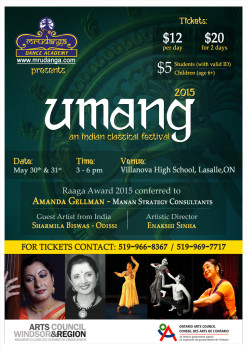 Mrudanga Dance Academy (MDA) is, once again, very proud to announce it's two-day Indian classical dance and music festival, a showcase of the proud heritage of India. UMANG is presented to the Windsor community in the form of a two-day festival featuring artists from Toronto, Montreal, Windsor and even as far as India.
Call the numbers above or visit ACWR for tickets!
Festival Schedule
MAY 30, 2015
• Opening performance by students of MDA
• Conferring of Raaga award to Amanda Gellman
• Trishna – The Thirst. In this dance theatre, we see how a woman thirsts for an identity that society refuses to give her, and how her quest for love and search for justice morph into one. This dance theatre is narrated by the legendary South Asian Canadian artist, Lata Pada (recipient of Order of Canada)
• Hindustani Classical Vocal by Ramneek Singh, acclaimed singer from Toronto
MAY 31, 2015
• Carnatic classical vocal by Rudhran Moodley, a young, emerging talent from Windsor
• Aparkaya, a dance production by award winning dancer, Sharmila Biswas from India. Aparkaya, is a unique blend of Odissi and movements taken from the weavers of traditional textiles in Odisha and merging into a powerful story from mythology in which Vedavati talks through Sita. It compares the rigid threads of the loom with Vedavati, and the emerging cloth — soft yet resilient, with Sita, her incarnation.
• Dance presentation by students of MDA
• Kathak dance recital by Sudeshna Maulik, renowned dancer from Montreal
Location
St Thomas of Villanova High School
2800 Regional Road 8
Windsor, Ontario