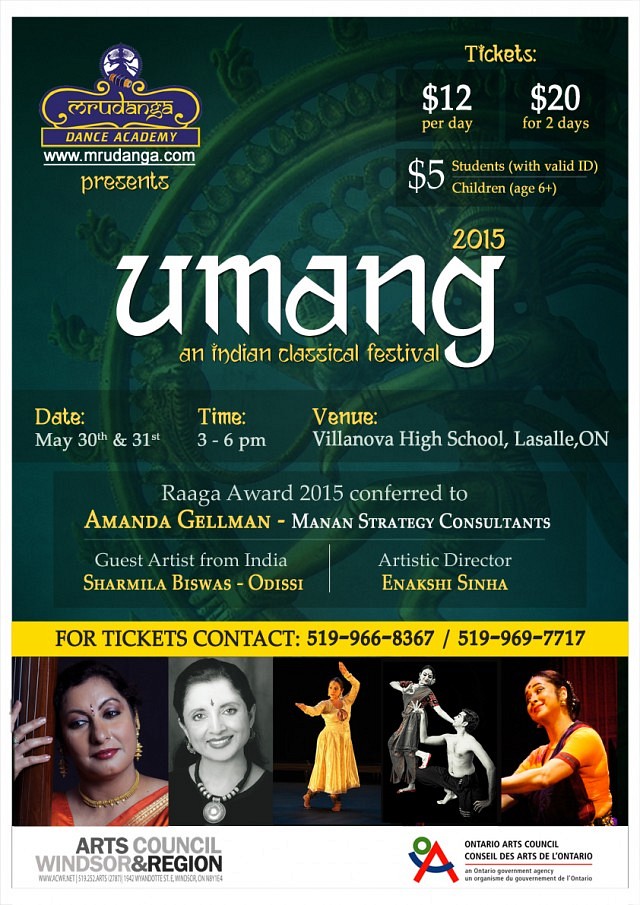 Mrudanga Dance Academy (MDA) presents a two-day enchanting and vibrant Indian Classical Dance and Music Festival. Come and experience ancient dance forms and uplifting music, that is sure to transform you to the mystical land of India.
The program will feature artists from Windsor, Toronto, Montreal and India.
Raaga Award being conferred to Amanda Gellman, CEO of Manan Strategy Consultant on May 30, 2015. The Raaga award was introduced in 2012 to recognize individuals who have brought 'Joy,
Purpose and Change' to the community that they live in.
MAY 30, 2015
• Opening performance by students of MDA
• Conferring of Raaga award to Amanda Gellman
• Trishna – The Thirst. In this dance theatre, we see how a woman thirsts for an identity that society refuses to give her, and how her quest for love and search for justice morph into one. This dance theatre is narrated by the legendary South Asian Canadian artist, Lata Pada (recipient of Order of Canada)
• Hindustani Classical Vocal by Ramneek Singh, acclaimed singer from Toronto
MAY 31, 2015
• Carnatic classical vocal by Rudhran Moodley, a young, emerging talent from Windsor
• Aparkaya, a dance production by award winning dancer, Sharmila Biswas from India. Aparkaya, is a unique blend of Odissi and movements taken from the weavers of traditional textiles and
merging into a powerful story from mythology.
• Dance presentation by students of MDA
• Kathak dance recital by Sudeshna Maulik, renowned dancer from Montreal
The festival will be held in Villanova High School on May 30th and May 31st, 2015 between 3 to 6 pm on both days.
For tickets please contact 519-966-8367 or 519-969-7717
Ticket prices are:
Two day ticket – $20
One day ticket – $12
Children(above 6) and students – $5 (per day)
Location
Villanova High School
2800 County Road #8
LaSalle, Ontario