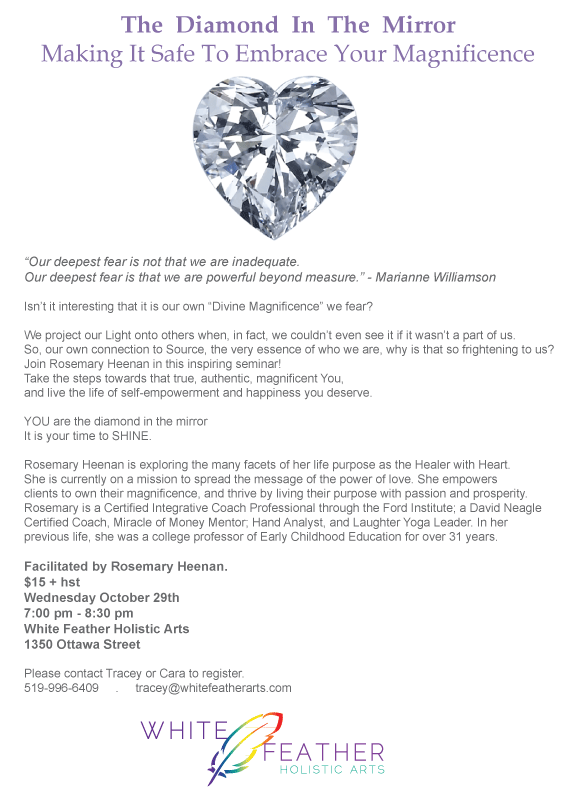 "Our deepest fear is not that we are inadequate.
Our deepest fear is that we are powerful beyond measure." – Marianne Williamson
Isn't it interesting that it is our own "Divine Magnificence" we fear?
We project our Light onto others when, in fact, we couldn't even see it if it wasn't a part of us. So, our own connection to Source, the very essence of who we are, why is that so frightening to us? Join Rosemary Heenan in this inspiring seminar! Take the steps towards that true, authentic, magnificent You, and live the life of self-empowerment and happiness you deserve.
YOU are the diamond in the mirror
It is your time to SHINE.
Rosemary Heenan is exploring the many facets of her life purpose as the Healer with Heart. She is currently on a mission to spread the message of the power of love. She empowers clients to own their magnificence, and thrive by living their purpose with passion and prosperity. Rosemary is a Certified Integrative Coach Professional through the Ford Institute; a David Neagle Certified Coach, Miracle of Money Mentor; Hand Analyst, and Laughter Yoga Leader. In her previous life, she was a college professor of Early Childhood Education for over 31 years.
Facilitated by Rosemary Heenan.
$15 + hst
Wednesday October 29th
7:00 pm – 8:30 pm
White Feather Holistic Arts
1350 Ottawa Street
Please contact White Feather Holistic Arts to register.
519-996-6409 . [email protected]
Location
White Feather Holistic Arts
1350 Ottawa St
Windsor, Ontario