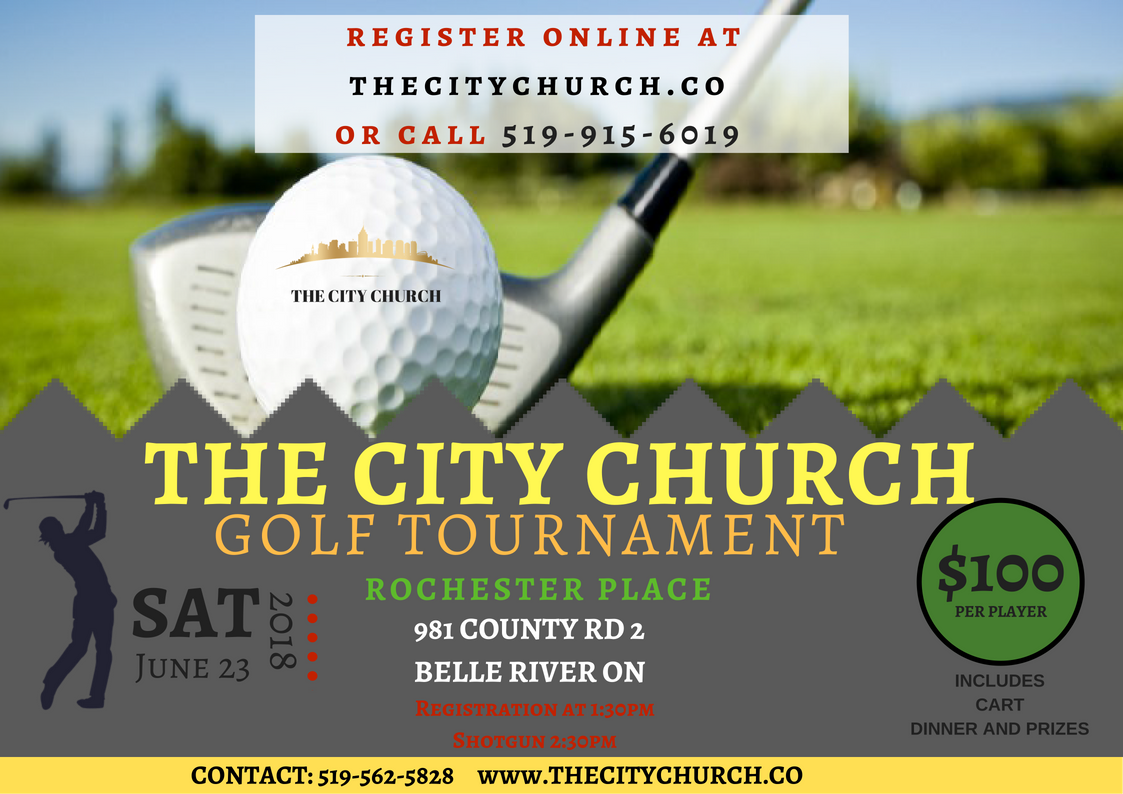 The City Church is a dynamic, non-denominational church where the uniqueness of every person is embraced. Our passion is people, everything we do is centred around supporting the needs of our community through the grassroots programs that we provide. Thousands have been touched by the vital programs we offer.
We feed the hungry, provide street help outreach, care for the elderly, comfort the hurting and grieving, and assist families during difficult transitions. Our growing youth group assists our young people with developing leadership skills through hands on outreach and giving back to their community.
We are excited to be hosting our 3rd Annual City Church Charity Golf Tournament.
When: Saturday June 23, 2018
Where: Rochester Place at 981County Road 2, Belle
River, ON N0R 1A0
Time: Registration at 1:30 pm Shotgun start at 2:30 pm
Proceeds from this tournament will help The City Church building fund so that we can continue to provide these valuable programs to our community.
Here's how you can help:
1. Register to Play: Foursome – $400.00 Individual – $100.00 (incl. cart and meal)
2. In-Kind Donation: Items are needed for the door prize/silent auction table.
(ie: golf related items, gift certificates, apparel, event tickets, sport memorabilia etc)
3. Sponsor a Hole: $200.00 or more your business name will be proudly displayed on the course.
(Sponsors will receive a letter of acknowledgement with our charitable receipt number.)
4. Monetary Donations: Donations of any amount will be accepted.
(Donations exceeding $20.00 will receive a charitable tax receipt)
Sponsorship/Donations can be made through the "City Church Windsor" app available at the AppStore or for Androids at the PlayStore or online at www.thecitychurch.co.
Cheques can be made payable to: The City Church and mailed to 3109 Riberdy Rd Windsor, ON N8W 3T7 with the attached form by June 11, 2018. Registration fees are not included in your donation.
We look forward to your confirmation of support and thank you for your consideration.
Graciously,
Bishop Mel Freeman and Pastor Kim Freeman
Location
Rochester Place
981 County Road 2
Belle River, Ontario