Date
Friday July 8th, 2022
Time
5:00pm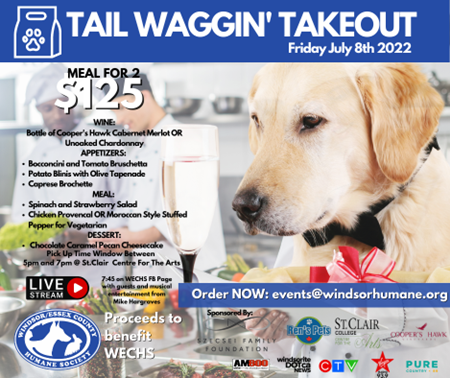 Throw us a bone! Order take out for a great cause.
The Tail Waggin' Take Out event, sponsored by The Szecsei Family Foundation and Ren's Pets, is serving up a delicious take-out meal for two, to benefit The Windsor Essex County Humane Society.
Attendees can order from a specially crafted menu of food options from the St. Clair Centre for the Arts, along with wine expertly paired by Cooper's Hawk Winery, for a delicious and fun food and drink experience in the safety of their own home.
To order now, Call Kim, at 519-818-1600, or email [email protected],
For $125 dollars your 'gala-in-a-bag' experience for two includes:.
WINE: Bottle of Cooper's Hawk White or Red Wine
APPETIZERS: • Bocconcini and Tomato Bruschetta • Potato Blinis with Olive Tapenade • Caprese Brochette
MEAL: • Spinach and Strawberry Salad • Chicken Provencal or Moroccan Style Stuffed Pepper for Vegetarian
DESSERT: • Chocolate Caramel Pecan Cheesecake
All proceeds benefit the WECHS!
Meals will be ready for drive thru take out at St. Clair College Centre for the Arts, in their specialty drive thru lane, between 5pm and 7pm, in scheduled time slots. Your meals will be distributed by our volunteer team.
Be sure to tune in at 7:45pm that evening for a special live stream show on our Facebook page, featuring the chefs, winemakers, music from local artists and info from WECHS' staff, for your chance to win prizes and learn about fundraising for our shelter!