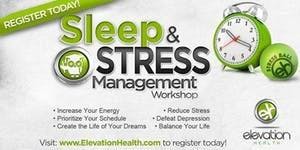 Are You Feeling Tired All the Time?
Join us on Monday, May 14th at 6pm for our Sleep & Stress workshop, where we will share the top energy producing strategies which are simple, yet powerful. People with energy can be more, do more and have a more fulfilling and exciting life!
Tens of Thousands of people have transformed their lives using the tools and principles you're about to learn in this sleep & stress management workshop.
This workshop will teach you about common causes & solutions for insomnia and stress. Did you know that sleep disorders can lead to many other health problems?
What you'll learn at this Blockbuster Event:
Increase your energy
Prioritize Your Schedule
Create the Life of Your Dreams
Reduce Stress
Defeat Depression
Balance Your Life
Register NOW to reserve your spot – seats are limited!
Please call 519-979-2273 to register for this FREE event!
Location
Calvary Community Church
1731 Lesperance Road
Tecumseh, Ontario