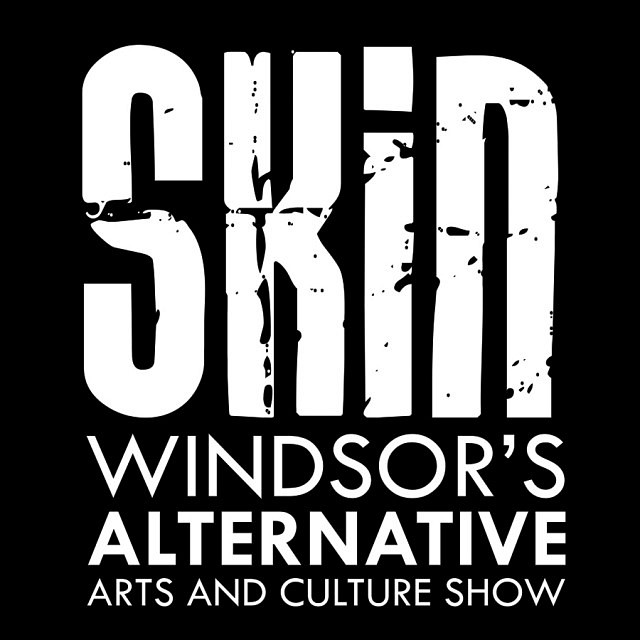 SKIN | Windsor's Alternative Arts and Culture Show is an annual multi-arts event celebrating the diversity of Windsor's artists, performers, musicians, and designers. The show was launched in 2013 to create an opportunity for a variety of artists to network, collaborate, and create new art in a space conducive to fostering the growth of our arts community. The event, SKIN, encompasses the participants under one layer of creative collaboration. It strives to exemplify the first impression – the appearance and sound – of Windsor's Arts Community.
Over 100 participants will come together over two days to create an unforgettable experience, showing how deeply talented and creative Windsor's local arts community is. The doors open to this unique show on June 27th at 7pm. The first night features DJ Double A creating the perfect atmosphere for a fashion show highlighting a variety of local designers and models; 2 belly dance performances and 1 burlesque performance; the music of Crissi Cochrane and the band Fresh Breath. The first night also introduces the Flapper Fashion Design Competition sponsored by Walkerville Brewery in which the 10 finalists from St. Clair College's Fashion Design Technician Program will show their completed designs in a fashion show. The winning design will be featured along with the second and third place designs on popular Alternative Women's Magazine website MissyInk.com. Additionally, the winning design will go into a mini production and be used by Walkerville Brewery to be worn by its Walkerville Brewery girls during promotions.
June 28th is jammed packed with arts experience. The day show, which runs from 11am -5pm features 5 acoustic musicians; the work of 26 awesome artists in the temporary gallery which will be built directly in the brewery; a screening of local action movie "Black Eagle Phantasm"; and select appetizers by Rino's Kitchen. The show is free to the public during the day. The doors reopen at 7pm, offering a range of musical performances by R.Y.E, Menos Mal, and headliners Konqistador. Local artist, Vaughn Beneteau will also be doing a live painting performance to kick off the evening.
It's easy to see that SKIN | Windsor's Alternative Arts and Culture Show is an event not to be missed!
Friday, June 27th – Doors at 7pm • $10 Saturday, June 28th – 11am – 5pm • Free! Saturday, June 28th – Doors at 7pm • $10
Walkerville Brewery 525 Argyle Ave. Windsor, ON
www.skinwindsor.com
www.facebook.com/skinwindsor
Location
Walkerville Brewery
525 Argyle Ave.
Windsor, Ontario