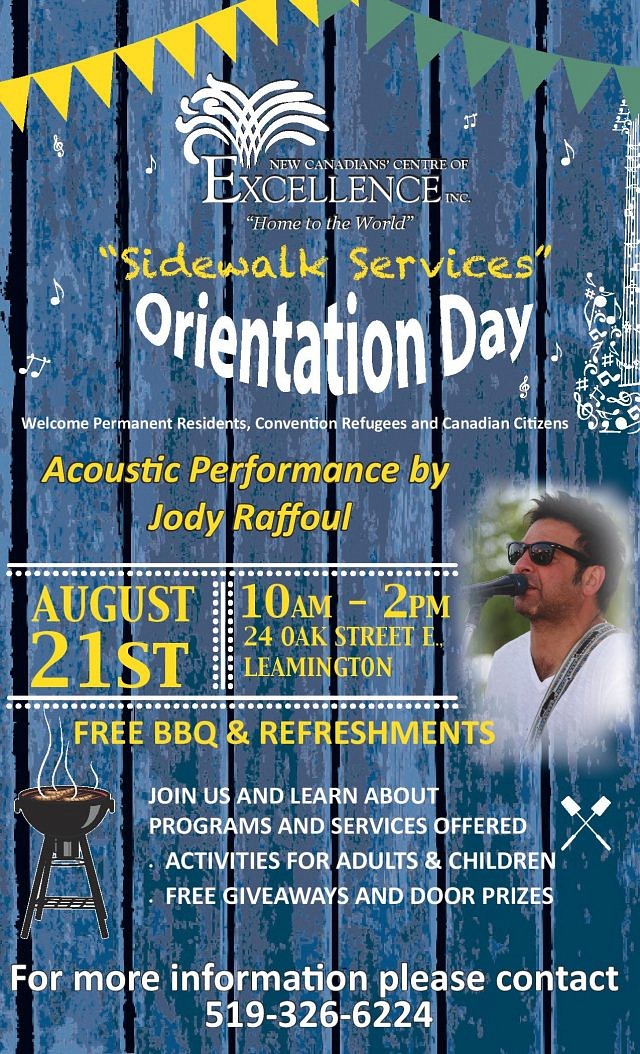 As part of its summer activities, New Canadians' Centre of Excellence (NCCE) Inc. is hosting its 4th Annual Sidewalk Services Orientation Day for newcomers to Canada and individuals on Sunday, August 21st, 2016 from 10am to 2pm at its Leamington Branch located at 24 Oak Street East.
The purpose of this event is to provide an orientation of NCCE Inc.'s programs and services for newcomers to Canada and individuals in Leamington and surrounding area. A variety of activities for children and adults are lined up and refreshments will be available at no cost. Attendees can also participate in a draw to win giveaways and door prizes. This year, the event will feature an acoustic performance by Jody Raffoul. Raffoul is Leamington's pride who has opened for various artists such as Collective Soul, Kid Rock, Nickelback, Joe Cocker, Blues Traveler, Richard Marx, Counting Crows, Uncle Kracker, John Entwhistle, Chris Isaak, Paul Rodgers and most recently Bon Jovi.
New Canadians' Centre of Excellence Inc. is a community-based, direct-service agency which exists to assist, support and promote the full and equitable participation of immigrants and refugees in all aspects of social, cultural and economic life in the Windsor-Essex region.
For further information and interview requests, please contact:
Melissa Ventura
Labour Market Access Manager
NCCE Inc. Main Site
660 Ouellette Avenue, 2nd Floor, Windsor Ontario, N9A 1C1
Tel: (519) 258-4076 ext. 1608
Fax: (519) 258-9510
Email: [email protected]
Location
New Canadians' Centre of Excellence Inc.
24 Oak St. East, Unit 7
Leamington, Ontario