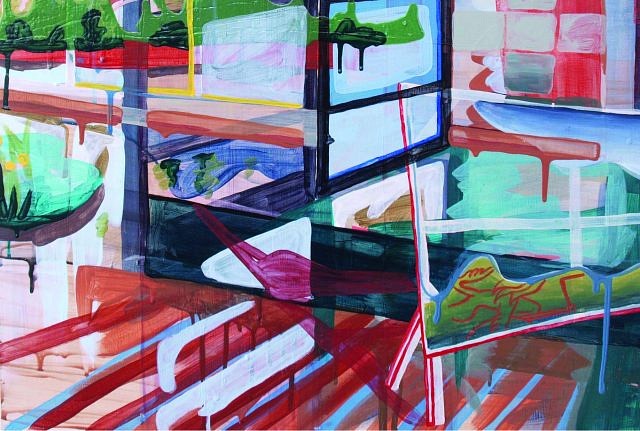 Exhibition Dates: January 13 – February 24, 2017
Closing Reception: Friday, February 24th, 7pm
Artcite Inc. (109 University Ave. W, Windsor, ON)
Please join us for a solo exhibition of paintings by London-based artist Heather Carey. Carey's work is an exploration of spatial relationships and contradictions of experience, memory, and imagination. She paints spaces which are understandable, yet not necessarily possible. This series of work, inspired by London, Ontario, grew from the simple idea of presenting a painting within a painting or a sign within a sign, playing with two separate spaces integrated into one piece. Carey has been exploring ideas of utopias/heterotopias, while referencing the local culture of consumerism, and working with the theme of desire through landscape painting and advertising.
Semi-private Portholes features several diptychs and triptychs of indoor/outdoor spaces separated by windows. They are institutional spaces which are public in theory but exclusive in function. These panels reference the traditional function of paintings as windows to the world, but the space is cut up through the use of different panels. Advertising plays a role in both activating and creating barriers in these types of spaces as well.
Join us throughout the exhibition from January 13th to February 24th, with a closing reception on February 24th at 7pm with the artist in attendance.
Location
Artcite Inc.
109 University Avenue West
Windsor, Ontario