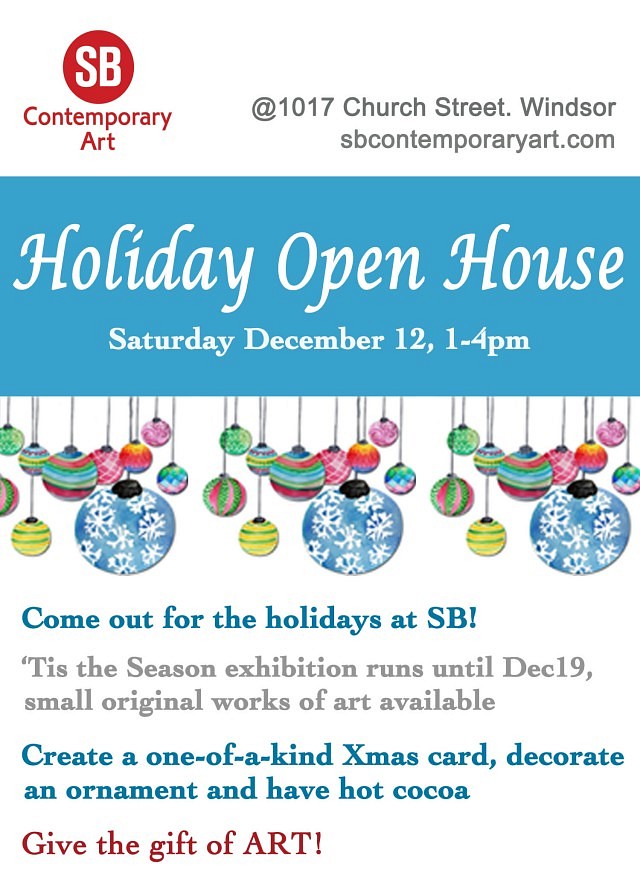 This coming Saturday join us at the gallery to celebrate the holiday season. A fun and festive group exhibition, 'Tis the Season featuring small works of art – a great creative gift ideas – runs until December 19. Come out with the family and create a one-of-a-kind Xmas card, or decorate an ornament in the studio while enjoying art and having hot cocoa and cookies.
For the'Tis the Season exhibition each artist was asked to create one art work, (some have included two) and all works of art were to be no larger then 12 x 12 inches, and the maximum price of each work is $100 dollars. There is a huge variety of works available: painting, mixed media, photography, printmaking, sculpture representing many professional and emerging artists from the Windsor region, but also highlights many contemporary artists from Detroit, Toronto, Montreal, London, Kingston, and Barrie.
Exhibiting Artists: Lindsay Beaubien, Collette Broeders, Sheila Butler, Elaine Carr, Dean Carson, Vanessa Cornell, Ben Darrah, Gary Michael Dault, Justin Elliott, Amy Farkas, Rakan Ghresi, Susan Gold, Carole Harris, Katie Huckson, Karen Anne Klein, Dongjie Lai, Liana Loduca, Lisa Marshall, Lyndsey Matchett, April Morris, Jim Mroczkowski, Sasha Oeipko, Megan Parry, Nadja Pelkey, Ann Roth, Katherine Roth, Victor Romao, Danuta Siniarska, Douglas Scholes, Merry Ellen Scully Mosna, A.G. Smith, Sanja Srdanov, Martin Stevens, Frances Thomas, Gulnaz Turdalieva, Sarah van Sloten, Alexandre Uriy, Olexander Wlasenko, Holly Wolter, and Arren Young
For more information regarding the open house and exhibition, please contact Sarah Beveridge at SB Contemporary Art email [email protected], or call 519-819-0536.
Exhibition Hours: Wednesday to Saturday 12noon to 4pm, or by appointment
We look forward to seeing you!
Location
SB Contemporary Art
1017 Church Street
Windsor, Ontario