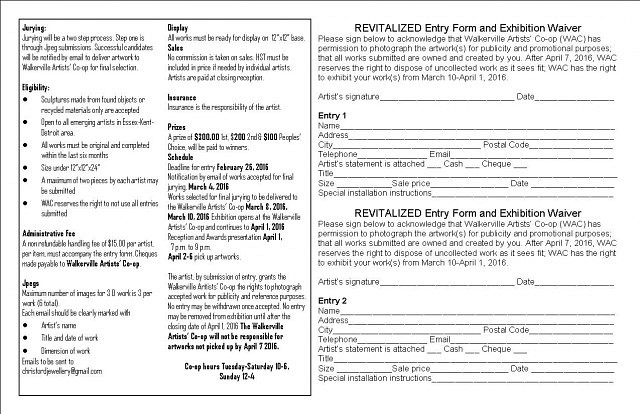 Walkerville Artists' Co-op announces Revitalized, their first ever sculpture contest for emerging artists. Sculptures made from found objects or recycled materials in the last six months are eligible. Cash prizes of $300.00, $200.00 and $100.00 will be awarded.
Walkerville Artists' Co-op (WAC) is Windsor's newest Non Profit and has been in its location at 1974 Wyandotte Street east, in Walkerville, for three years. Working as a true co-op, each member is an owner and has a say in the running of the business, making it a success. 30+ local artists, artisans and authors call WAC home. The members wish to share their success with three winning sculptors, and bring a fresh look to the art scene in Windsor.
Jurying will be a two step process with entrants submitting 3 images to [email protected] by February 26. Each work must be self standing and within 12"x12"x24". Two submissions per entrant are allowed. A $15.00 non refundable entry fee per item must be submitted with official entry form to WAC (available upon request, or at Milk, Taloola's, LeBel or Walkerville Artists' Co-op. Successful candidates will be notified by email to deliver artwork to WAC for final selection. All works must be original and completed within the last six months. No commission will be taken on items for sale.
WAC is known for its annual Visiting Artist Program, Theater in the Gallery and is excited to bring this new event to Windsor patrons. Emerging artists from Windsor-Essex, Chatham-Kent and Detroit will be accepted. Notification by email by March 4, works to be delivered to WAC March 8 for final jurying. Showcase opens March 10 and continues to April 1. Reception and awards presentation is April 1, 7 p.m. to 9 p.m.
For more information contact Chris Ford at [email protected] or
519 674 1931. http://walkervilleartistsco-op.com
Location
Walkerville Artists' Co-op
1974 Wyandotte Street East
Windsor, Ontario