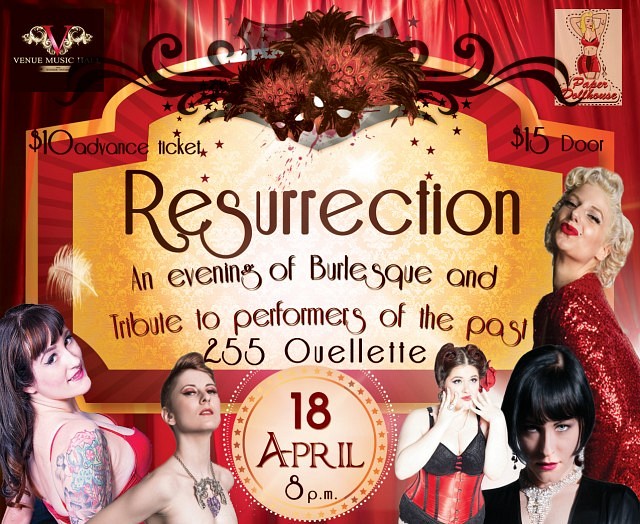 It's an evening of glitz, old romance and tassel twirling! Brought to you by the Paper Dollhouse Pin Up Photography and Venue Music Hall.Watch in awe (and pick your jaws up off the floor!) as the Vintage Vixens of yesteryear are brought back to life by the Delectable Dames of the modern day Burlesque movement! With tributes to classic Showgirl greats like Gypsy Rose Lee and Marilyn Monroe, at "RESSURECTION" this bevy of Burly-Q beauties from all over Ontario are sure to knock your socks off! Featuring performances by "the Glamour in the Hammer" MsChaos Divine, Toronto's own "Ace of Face" Dottie Dangerfield Dottie Dangerfield Burlesque, and Toronto's own Blonde Bombshell, Kitten Monroe "Toronto's Marilyn Monroe" . You'll also be treated to appearances by former Windsor native, Stella Semiautomatic, Local Lovelies: Violet Von Shake , Charlotte Chartreuse, La Petite Dangereuse, and introducing debutant doll, Rosalind St. Pixel. They'll be plenty of shimmying and shaking with Charlie Campari Cabaret, a scintillating belly-dance performance courtesy of Deville O' Quinn, and some soulful singsong from Windsor's Vintage Vocalist, Danielle Lembke . There may even be some shenanigans under stage kitten Little Pearl's sleeve.Come out to Venue Music Hall and let Mistress of Ceremonies, Kat Fox, walk you through an unforgettable night of titillating tease, and celebrate the legacy of luscious ladies who paved the way for our twenty-first century tassels!
Show time starts at 9:00 p.m.
Doors are at 8:00 p.m.
Cost is $10 in advance Door $15
See your local performer for tickets today or get them at snapd Windsor.
Location
Venue Music Hall
255 Ouellette Avenue
Windsor, Ontario