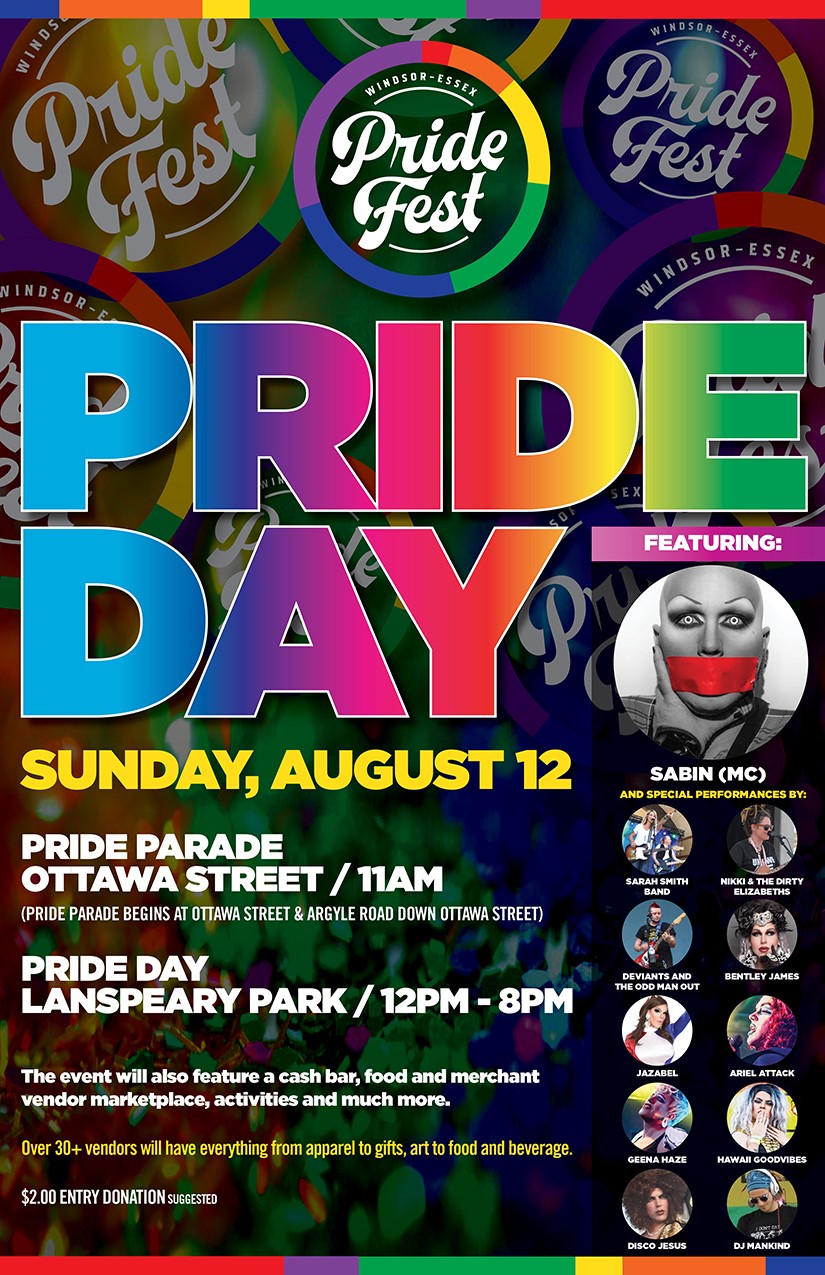 After the fabulous parade is done, join us at Lanspeary Park with Detroit's own Sabin as the official MC for Pride Day!
The day will have special performances of " HAIR" by Art Collective Theatre, exciting artists such as the Sarah Smith Band (London) and Nikki & The Dirty Elizabeths (Michigan), Deviants An The Odd Man Out (Port Hope), special drag performances by Bentley James (Detroit), Jezabel (Toronto), Ariel Attack (Windsor), Geena Hayze (Windsor), Haiwaii Goodvibes (Windsor), Disco Jesus (Windsor) and rapping up the day with mixes by our own DJ Mankind.
The event will also feature a cash bar, food and merchant vendors, activities and much more. Over 30+ vendors will have everything from apparel to gifts, art to food and beverage.
A $2.00 entry donation at the gate will be collected to help fund the cost of the event.The Windsor-Essex Pride Fest aims to promote equality and diversity through all of its events. We use theatre, music, art and entertainment to raise awareness of discrimination and the issues and difficulties affecting the lives of LGBTIQ2S people around the world. Our festival is an explosion of Pride in the heart of Windsor at Lanspeary Park on Ottawa Street, attracting approximately 4,000 people in a celebration of diversity. Through this we aim to promote a sentiment in favour of equality, uniting people in a celebrative atmosphere where all are welcome, and fostering a sense of community within the Windsor-Essex LGBTIQ2S population.
https://www.facebook.com/events/183227452544506/
Location
Lanspeary Park
1250 Langlois Avenue
Windsor, Ontario