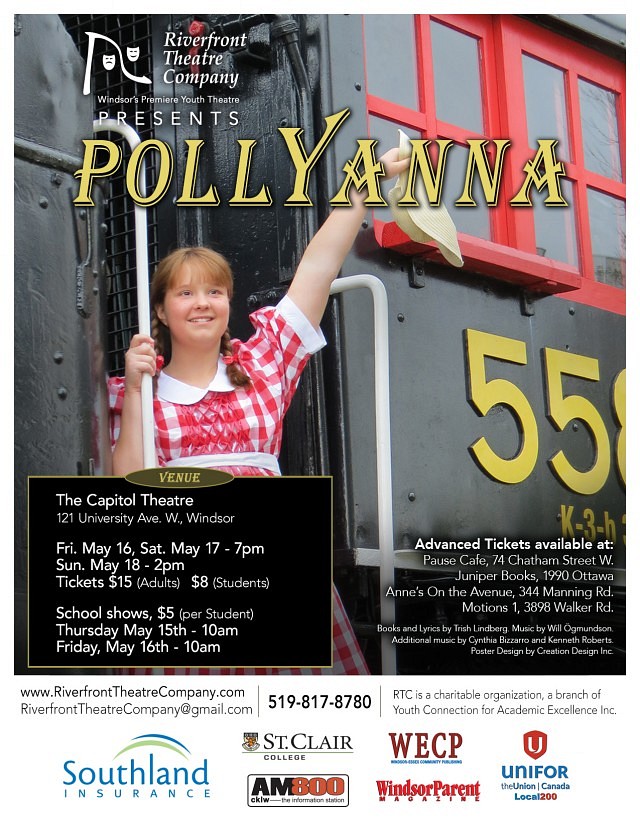 Riverfront Theatre Company, Windsor's premiere youth theatre company, presents the beloved classic, Pollyanna: A Musical.
Friday, May 16, 7 p.m.
Saturday, May 17, 7 p.m.
Sunday, May 18, 2 p.m.
******************************************************************
2 SCHOOL PERFORMANCES ALSO OCCURRING – by pre-booking ONLY:
Thursday, May 15, 10 a.m.
Friday, May 16, 10 a.m.
Students $5 each
******************************************************************
Tickets: $15 for adults, $8 for students under 18.
Purchase at the door one hour before each performance (cash sales only) or in advance at the following locations:
Pause Cafe (74 Chatham St. W)
Anne's on the Avenue (Village Grove Plaza, St. Clair Beach)
Motions 1 (3898 Walker Road)
Juniper Books (1990 Ottawa)
When Pollyanna Whittier finds herself orphaned after her father passes away, she goes to live with her aunt, Miss Polly Harrington, a lonely and bitter middle-aged spinster. Miss Polly's young maid, Nancy, befriends Pollyanna, who teaches Nancy her later father's "Glad Game," where there is "always something to be glad about." This positive message begins to take over the town, including Mrs. Snow, an elderly hypochondriac; Reverend Ford, a discouraged minister; and Mr. Pendleton, a wealthy, lonely bachelor. Pollyanna changes Mr. Pendleton's life for the better forever when she convinces him to take in young Jimmy, a young orphan boy looking for a home. Pollyanna's inquisitive nature begins to uncover the story behind Miss Poly's unhappiness when she befriends Dr. Chlton, Miss Polly's suitor from the past who still loves her, despite the quarrel that broke off their engagement many years ago. Pollyanna is trying to bring the couple back together when an automobile accident threatens her life and her ability to walk. Everyone in the town then realises the impact Pollyanna has had on their lives, and even Miss Polly agrees to play the "Glad Game" to cheer her up. Pollyanna's struggle to remain "glad" despite her injuries brings together the whole town in an effort to help the young orphan girl who brought so much light into their lives.
With over twenty lively and entertaining musical numbers, a cast of nearly fifty students ages 5-18 from all over Windsor and Essex County, this uplifting family play is perfect for all ages.
Based on the classic novel by Eleanor Porter. Book and Lyrics by Trish Lindberg, Music by Will Ogmundson, with additional music by Cynthia Bizzarro and Kenneth Roberts.
Produced by special arrangement with Dramatic Publishing, and with live music performed by Joanna Shultz.
Please contact 519-817-8780 for more information or to book a group.
Location
Capitol Theatre
121 University Avenue West
Windsor, Ontario