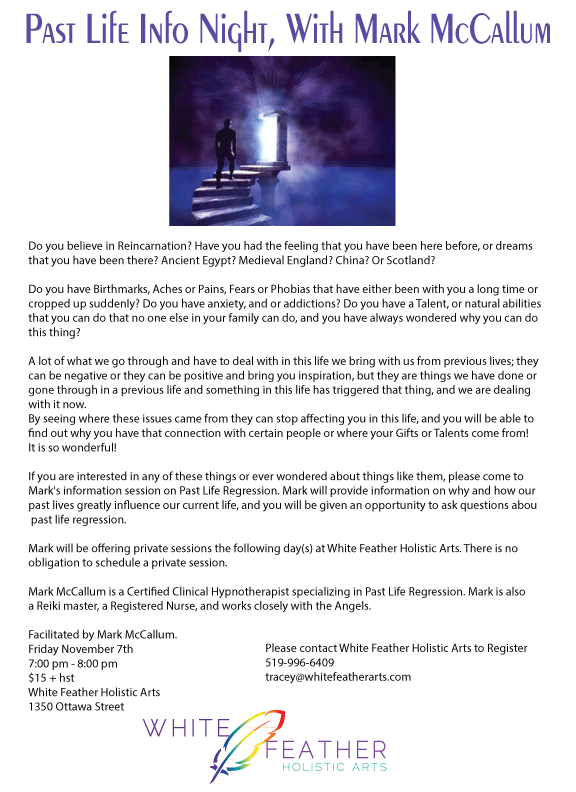 Past Life Info Night, with Mark McCallum
Private sessions to follow the next day(s)
Do you believe in Reincarnation? Have you had the feeling that you have been here before, or dreams that you have been there? Ancient Egypt? Medieval England? China? Or Scotland?
Do you have Birthmarks, Aches or Pains, Fears or Phobias that have either been with you a long time or cropped up suddenly? Do you have anxiety, and or addictions? Do you have a Talent, or natural abilities that you can do that no one else in your family can do, and you have always wondered why you can do this thing?
A lot of what we go through and have to deal with in this life we bring with us from previous lives; they can be negative or they can be positive and bring you inspiration, but they are things we have done or gone through in a previous life and something in this life has triggered that thing, and we are dealing with it now.
By seeing where these issues came from they can stop affecting you in this life, and you will be able to find out why you have that connection with certain people or where your Gifts or Talents come from! It is so wonderful!
If you are interested in any of these things or ever wondered about things like them, please come to Mark's information session on Past Life Regression. Mark will provide information on why and how our past lives greatly influence our current life, and you will be given an opportunity to ask questions about past life regression.
Mark will be offering private sessions the following day(s) at White Feather Holistic Arts. There is no obligation to schedule a private session.
Mark McCallum is a Certified Clinical Hypnotherapist specializing in Past Life Regression. Mark is also a Reiki master, a Registered Nurse, and works closely with the Angels.
Facilitated by Mark McCallum.
Friday November 7th
7:00 pm – 8:00 pm
$15 + hst
White Feather Holistic Arts
1350 Ottawa Street
Please contact White Feather Holistic Arts to Register
519-996-6409
[email protected]
Location
White Feather Holistic Arts
1350 Ottawa St
Windsor, Ontario