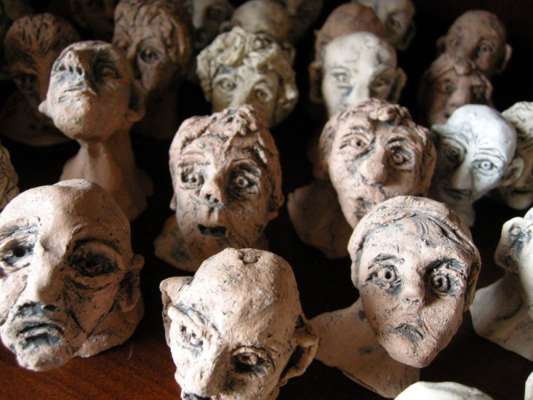 Reception March 7, 7:30 PM at Artcite for
NOWHERENESS by Margie Kelk (Toronto ON)
Free and open to the public
Exhibition runs
March 7 – April 19, 2014
NOWHERENESS is a mixed media installation concerned with issues of pain, rootlessness, and alienation in relation to online and offline social networking sites.
Visitors will be able to view Kelk's ceramic heads–who's distorted faces are filled with despair and sometimes hope– which are placed among models of disassembled computer components. The heads become components themselves, whether victimized or in control. The dialog that emerges veers between 'real,' physical, and virtual ontologies; the pieces become sites of meditation.
On one hand, for example, the elderly are swept aside in society's continuing abandonment of individuals deemed useless; on the other, the elderly may be empowered by social networking.
We're living in a time of high-speed cultural change; Kelk's work asks us to slow down and see what damage we may have caused, what promises may yet be fulfilled (Alan Sondheim).
Margie Kelk has been exhibiting her artwork in Canada since 2000. She was on the Board of the Propeller Centre for the Visual Arts (Toronto, Ontario) for eight years, and was Chair for six of them. Since 2009 she has been an active member and for the last two years, Chair of The Red Head Gallery (Toronto). Her China-based books and drawings were represented by the Headbones Gallery in 2006-7, and she was a member of Gallery 1313 in Toronto, from 2003 until 2007. She has been showing in Canada, the United States and Europe. Recent exhibitions include Beyond Absurd, Nowhereness and SWARF at the Red Head Gallery. She has received prizes for several of her works, and has been awarded grants by the Ontario Arts Council. Margie is a graduate of Wellesley College, The Johns Hopkins University (PhD.), and the Toronto School of Art degree program.
Margie Kelk is represented by the Red Head Gallery, Toronto.
www.margiekelk.com
MORE:
For further information on this, or any Artcite event please contact:
Christine Burchnall, Administrative Coordinator or
Bernard Helling, Artistic Coordinator
Artcite Inc. is located at 109 University Ave. W.,
downtown Windsor, next to the Capitol Theatre entrance
Windsor Ontario, N9A 5P4
ph/fax: 519.977.6564
email: < [email protected]>
web: http://www.artcite.ca
Location
Artcite Inc.
109 University Avenue West
Windsor, Ontario