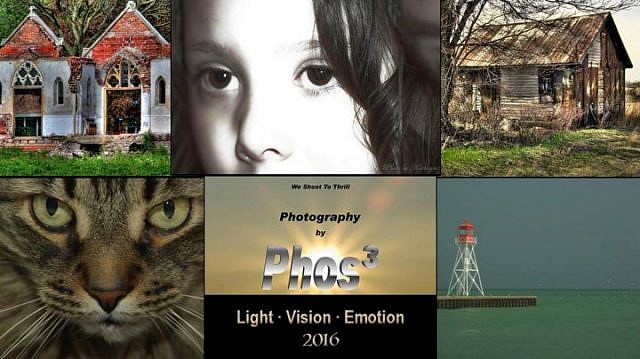 Light ∙ Vision ∙ Emotion – 2016
Opening Reception
Please join us (Dave Paddickand Kathryn Anderson Parent) for light refeshments and food, great conversations and stories, and of course our photographs!
This show features a wide variety of photographs by Dave Paddick and Kathryn Parent under their photography name Phos³
Runs from Sept. 27 to Oct.22 at the Leamington Art Centre in Leamington Ontario. The Opening Reception is on Saturday October 1, 2016 from 7:00pm – 9:00pm light snacks and beverages will be served. Please come out to show your support and see their pieces. There are 2 other exhitibts happening during the same time.
"We are Absolutly, Positively, Passionate about the world we live in and we us our cameras to capture all the big and small moments we encounter. 'The World Is Our Studio'"
Kathryn Parent and Dave Paddick are a husband and wife team, life partners and soul mates. They are from Chatham, Ontario but they are not limited to this area. When not on a shoot you will often find them storm chasing or driving down country roads photographing abandoned houses whatever else catches their eyes.
Phos³ – Where did this name come from? Well after a great deal of thought it was decided that they wanted something very unique without using their names as many photographers do. Yet when they want to take credit of a photo they can put their individual names on it.
Phos – is Greek for light. Phos is pronounced Foss as in Boss
³ superscript – is multi-dimensional = it is perfect balance, aesthetics, tripod, rule of 3rds, a funnel for energy, 3 dimensions, the 3 elements earth, wind and fire, black/white and colour, and Light ∙Vision ∙ Emotion
Speaking of Light ∙ Vision ∙ Emotion, here is a brief description of how these three tag words came to be. There must be light in order to see. A photograph cannot be taken without light. The vision is the composition of the frame. It's the artist's eye. And last but not at all the least. Emotion – hopefully if they have done their job right, using light and their vision, it will stimulate some sort of an emotion within you, letting you feel the story. "We shoot to thrill"
This deep thought process flows into their way of how they photograph their subjects, whether it is people, nature, landscapes, weather, or special events.
Location
Leamington Arts Centre
72 Talbot Street West
Leamington, Ontario